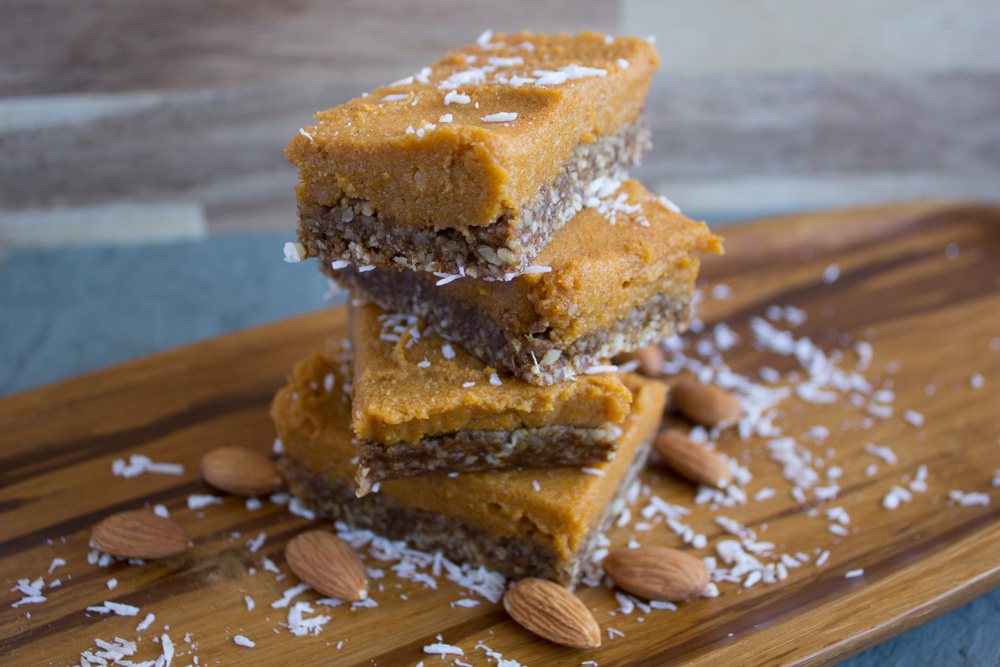 Happy Holidays from Denver, Colorado! 

I'm here visiting Maxx's family for the week. It's been pretty cold the last 2 days, but we haven't gotten snow. I'm okay with that because in the week before I left NYC it snowed three times! It was a sludgy winter wonderland mess. It's so nice to be with family during the holidays. Tomorrow night, I'm flying the Atlanta to be with my parents and grandmother. Then I can share this Sweet potato recipe with them!

Speaking of family…
On Thanksgiving, Maxx's aunt Cathy made these delicious no-bake pumpkin bars from a recipe she found on The Kitchn. They were delicious, healthy, and versatile––meaning they could be enjoyed for breakfast, snack or dessert. The only thing was, I made my raw gingerbread cookies for the dessert, and couldn't help but eat the two together. The combination was spectacular! Like pumpkin pie mixed with gingerbread cookies! 

And what's better than pumpkin pie? Sweet potato pie, of course! Which led me to adapting the yummy recipe into my dream holiday dessert. Sweet potato bars with raw gingerbread crust. Delicious!! 

I made them with pumpkin for Maxx's family, and I cannot wait to make them for my Nana in Atlanta next week. Maybe we'll munch on them while opening presents under the tree.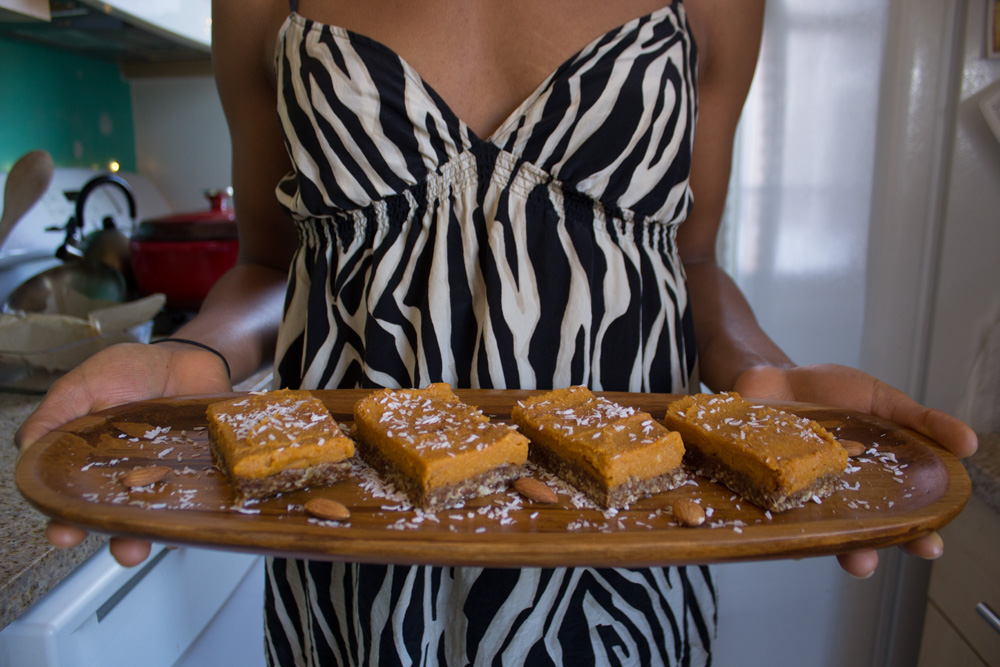 Check out the video below, and the recipe too. 

I hope you have an amazing Christmas! 
Love,
Jenné

No-Bake Sweet Potato Bars with Raw Gingerbread Crust
This recipe is adapted from a no-bake pumpkin bar recipe on The Kitchn blog. Pumpkin can be used in place of the sweet potato if that's what you've got.
Ingredients
Crust
1

cup

almonds

or 1 cup dry almond pulp

½

cup

shredded coconut

unsweetened

1 ½

cup

Medjool dates

3

tsp

molasses

1 1/2

inch

ginger

minced

1

tsp

cinnamon

1/4

tsp

nutmeg

1/4

tsp

ground cloves

1/4

tsp

cayenne pepper

pinch

of black pepper

pinch

of sea salt

1

tbsp

coconut oil
Filling
1 1/2

cups

sweet potato puree

1 large baked sweet potato or canned

1/3

cup

maple syrup or coconut nectar

1/4

cup

melted coconut oil

1

tsp

freshly squeezed lemon juice

1

teaspoon

vanilla

1/4

teaspoon

salt

1 1/2

teaspoons

cinnamon

3/4

teaspoon

cardamom

3/4

teaspoon

ginger

1/4

teaspoon

cloves

1/8

teaspoon

black pepper

2

tablespoons

coconut flour
Instructions
Crust
Line an 8x8" baking pan with parchment paper.

Place the crust ingredients in the food processor and blend until well combined.

Remove the lid and gather some of the crust into your hand, squeezing it to form a tight ball in your palm. If the crust crumbles, and doesn't stick, you'll need to blend it some more, or add another date.

Pour the crumble into the baking pan, and press it firmly to the bottom to create a tight crust. Now you can make the filling...
Filling
Place all of the ingredients in a food processor and blend until smooth. Taste, and add more maple syrup if necessary.

Spoon the filling into the crust and smooth down with the back of a large spoon or rubber spatula.

You can eat it right away, but I recommend letting it firm up and set. Place it in the refrigerator overnight, or for about 6 hours.

Pull the parchment paper out of the pan, and cut into squares. Any uneaten squares can be stored in the refrigerator for up to a week.