This Orange Miso Glazed Sweet Potato recipe is sponsored by the Florida Department of Citrus to celebrate delicious Florida Orange Juice. I grew up drinking Florida OJ all year, so I'm super excited to be partnering with them to spread the love of this wonderful nutritious beverage!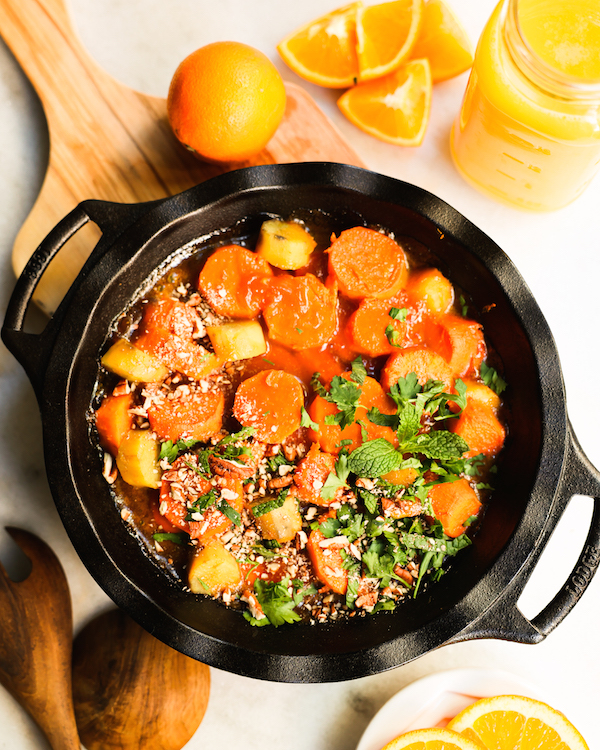 Turns out that orange juice and miso are a match made in heaven! I can imagine these two ingredients coming together to make everything from savory sauces, dressings, and noodle dishes to sweet cakes and cookies. But today we're pairing them with my favorite ingredient: sweet potatoes! These orange miso sweet potatoes are sublime. Tender, sweet, and savory, it's your new favorite nutritious side dish all year round!  
I loved eating candied yams and glazed carrots as a kid. My Nana is a master at making both! Her candied yams look so simple yet taste rich, sweet, and savory all at once. Same with her glazed carrots. So much BUTTER!! These orange miso glazed sweet potatoes are certainly different, but eating them took me back to my Nana's candied yams and glazed carrots. 
There is so much history in this simple little glazed sweet potato recipe. Knowing I was going to use Florida OJ in a recipe really dug up sweet memories in me. Growing up in Georgia we lived on Florida Orange Juice. All year-round Florida Orange Juice was the healthy drink of choice by my parents––next to water. I was even picky about it, and only wanted juice not from concentrate, and preferably with pulp. Yum! When I think of orange juice I picture Sunday breakfast with my Nana's perfect pancakes and home fries. Thinking of that sweetness and subtle tartness makes my mouth water! 
Of course, Florida Orange Juice is not just a tasty beverage. 100% orange juice is a good source of vitamin C, folate, potassium, and thiamin that help support your immune system. In addition to those nutrients with names we're familiar with, 100% OJ also contains phytonutrients like one called hesperidin that may also have benefits to the immune system. 
This whole recipe is actually a vitamin C party! Sweet potatoes are also a great source of vitamin C. 
I wanted to maintain the health benefits of this recipe, so unlike many glazed sweet potato recipes, this one doesn't have a ton of added sugar. Most of the sweetness comes from the natural sweetness in the orange juice and sweet potatoes. The miso balances the sweet with a rich umami flavor, and it adds the saltiness too. This is a recipe you can enjoy all year round. In warmer months try roasting the sweet potatoes then adding the glaze and finishing it off in a cast iron dish on the grill! You'll also want to save this recipe for when the holidays roll back around. With Florida OJ and sweet potatoes available year-round, you cannot go wrong with this one!
Orange Miso Glazed Sweet Potatoes
Ingredients
1

cup

Florida Orange Juice

4

sweet potatoes

peeled & cut into ½ inch thick medallions

1 ½

tbsp

mellow miso paste

¼

cup

brown sugar

1

tbsp

arrowroot powder or cornstarch

1

tbsp

vegan butter

Handful of fresh herbs

I used mint & parsley

Salt flakes

Fresh black pepper
Instructions
Place sweet potatoes in a pot and cover with water. Bring to a boil, then reduce the heat to a simmer. Cook for about 8 minutes, or until they are slightly tender.

Preheat the oven to 350°.

In a small saucepan, combine Florida Orange Juice, miso, and brown sugar. Bring to a simmer and stir. You may need to use a fork to mash and dissolve the miso.

Reduce the heat to low.

Remove ¼ cup of the liquid and transfer it to a bowl. Add the arrowroot powder to the bowl and whisk to combine. Be sure to break up all clumps.

Pour the arrowroot drizzle into the pan with the glaze, and whisk. Add the vegan butter and stir well.

Remove from the heat.

Transfer the cooked sweet potatoes to a baking dish (I use a pie pan) and cover with the orange miso glaze.

Bake for 20 minutes, until the sweet potatoes are totally tender, and the glaze has thickened.

Serve with fresh herbs, Maldon salt, and black pepper.
Looking for more sweet potato recipes? Check out my sweet potato burgers, stuffed sweet potatoes, and tangy sweet potato noodles. Or click the sweet potato tab on my recipes page.