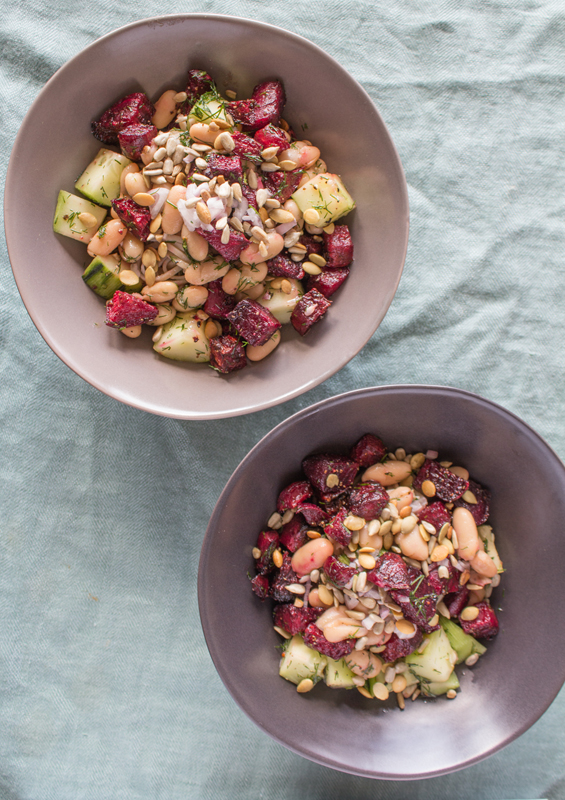 One of the best things about being a food blogger has got to be the free books and food I occasionally receive for review. The yummiest thing I've received this summer has been Terry Hope Romero's new cookbook, Salad Samurai. She truly is a samurai, and this book will make you one too. The recipes are unique, colorful, and varied. Plus, there are super healthy recipes like the Green Papaya Salad with Lemongrass Tofu, and more comfort food salads like the BBQ Tempeh N' Dilly Slaw Bowl, for instance. The book is also divided into sections for each season, and it has me looking forward to winter so I can try the Beet Ball N' Fries Salad. Okay, I'm exaggerating, it's impossible to make me look forward for winter. Still, like all of Terry's cookbooks this one rocks!
Remember that Samosa Cauliflower recipe I shared a couple of weeks ago? That was adapted from the Coconut Samosa Potato Salad in this book.
Have you gotten your hands on Salad Samurai yet? What recipes have you tried?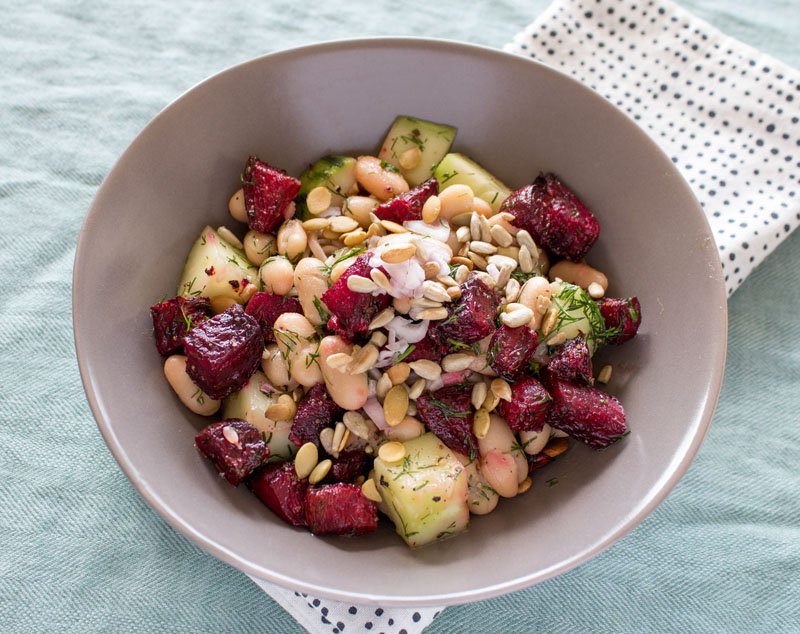 Polish Summer Soba Salad
I made a couple of alterations to the recipe in the video. Instead of using scallions I used shallots, and instead of walnuts I used seeds. The recipe below is the exact one from Salad Samurai by Terry Hope Romero. Reprinted with permission from Da Capo Lifelong, © 2014
Ingredients
For the Soba Salad
1

⁄2 pound uncooked beets

peeled and diced

1

tablespoon

plus 1 teaspoon olive oil

divided

1

⁄4 teaspoon celery seeds

Pinch

of salt and a few twists of freshly ground black pepper

6

ounces

soba noodles

2

scallions

green part only, thinly sliced

1

English cucumber

peeled and sliced into thin half-moons

1

cup

cooked white beans

3

tablespoons

chopped roasted walnuts
For the Dill Dressing
1

⁄2 cup finely chopped fresh dill

3

tablespoons

rice vinegar

4

teaspoons

olive oil

1

tablespoon

organic granulated sugar

1

⁄2 teaspoon freshly ground black pepper

1

⁄2 teaspoon salt
Instructions
Preheat the oven to 400°F and line a baking sheet with parchment paper. Spread the diced beets on the parchment paper, drizzle with 1 tablespoon of oil, celery seeds, salt, and pepper and toss. Roast for 20 minutes, or until tender and easily pierced with a fork.

Prepare the soba noodles according to package directions, but slightly undercook them to al dente. Drain, rinse with plenty of cold water, and transfer to a mixing bowl.

In another mixing bowl, combine the scallions, cucumber, and white beans. Whisk the dressing ingredients together in a glass measuring cup or bowl, pour half over the bean and vegetable mixture, and toss. Add the remaining dressing to the soba noodles and toss.

Divide the soba noodles among serving bowls and twirl into a mound in the center of each bowl. Spoon the bean and vegetable mixture over the soba, garnish with roasted beets, and sprinkle with roasted walnuts.
Leave a comment below and let me know what recipes from the book you've tried. Also tell me if you loved this recipe! I'll also be sure to pass the message along to Terry.