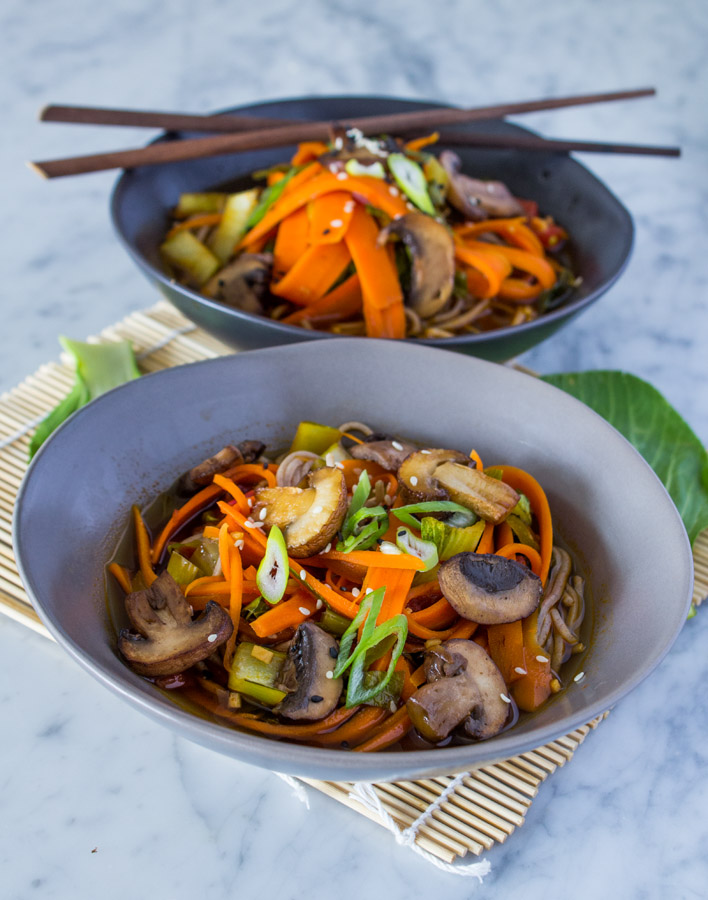 I've always been a big fan of soba noodles. For years I've served them with a rice vinegar and tamari based sauce, and then I discovered ponzu. Made from Japanese citrus (sudachi), ponzu is tart, acidic, and the perfect vinegar replacement for a soba noodle sauce. Similar to lime juice, it brightens up the sauce, and adds a level of complexity that just isn't present when using vinegar.
I've already made these delicious ponzu soba noodles 3 times (in a week)! The sauce comes together in 5 minutes, the noodles are ready in 4, and the veggies––the most time consuming part––can be washed, chopped, and cooked in 15. Make a large batch, and these easy soba noodles will keep you nourished and happy all week.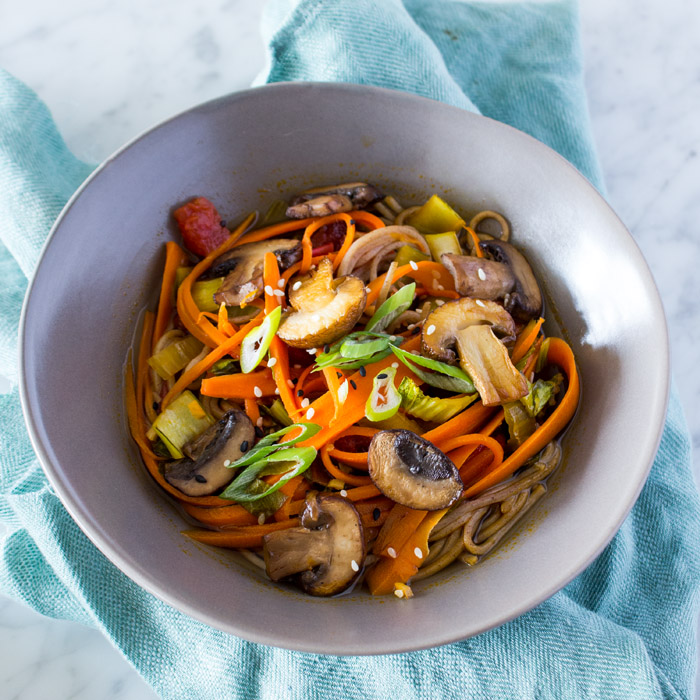 Confession: I love to cook, but don't do it often for myself.
Unless I'm creating a recipe for Sweet Potato Soul or cooking for my clients, I rely on quick and easy eats. I will make a large batch of these soba noodles to munch on throughout the week, and the rest of my meals are things like my Buddha Bowl, Kale and Kimchi Salad, Quinoa Porridge, Avocado Toast, and Chia Seed Pudding. For snacks I usually eat fresh fruit, chocolate, and very occasionally I'll have popcorn or nuts. Something else I rely on is my Vitamix to make smoothies. I keep pre-washed greens in the refrigerator, and always have bananas and blueberries in the freezer. Those ingredients combine with non-dairy milk or coconut water to make an uber simple, healthy, and tasty smoothie.
Here's a look at what I will eat in a day (well, maybe not all this in one day). The salad shown is about 1/4 of the size I eat it:
Ponzu Lime Soba Noodles
If you are 100% gluten-free look for the 100% buckwheat soba, or King Soba brand noodles. Ponzu can be found at most grocery stores in the "Asian" or "International" section. Make sure, for this recipe, you buy the plain citrus ponzu without added soy sauce/shoyu. If you don't have a julienne peeler for the carrots, simply peel them into noodles with a normal peeler.
Ingredients
2

tbsp

coconut oil

1 to

mato

diced

4

carrots

peeled into skinny strips with a julienne peeler

2

heads baby bok choy

chopped

2

cups

baby bella mushrooms

sliced

3

bundles of soba noodles
Sauce
6

tbsp

soy sauce

shoyu or tamari

1/4

cup

ponzu

or lime juice

3

tbsp

maple syrup

1

clove

garlic

minced

2

tsp

ginger

minced

1/2

cup

water
Instructions
Heat 2 tbsp coconut oil in a large skillet or wide pot.

Add the tomato, and saute on medium heat until soft.

Add the carrots, bok choy, and mushrooms, and cook until tender (about 8 minutes).

Meanwhile make the soba noodles. Boil 6-8 cups of water, then add the soba. Stir for the first 30 seconds, then allow to cook for another 4 minutes. Drain and run under cold water to cool. Set aside.
Sauce
Combine the sauce ingredients in a large jar with a lid, or a bowl, Shake or stir to combine, then pour them over the cooked veggies.

Combine the soba and the cooked veggies with sauce.

Serve warm or chilled (my favorite).
This week I decided to take off from releasing a cooking video. My camera man and I have gotten very busy with work, and haven't edited the new content just yet. Because of this, I figured it would be an opportune time to ask you for your video requests. What is it that you'd like to see more of on the Sweet Potato Soul channel? It could be anything from fitness to cakes, salads to interviews. Let me know in the comment section below, please!!