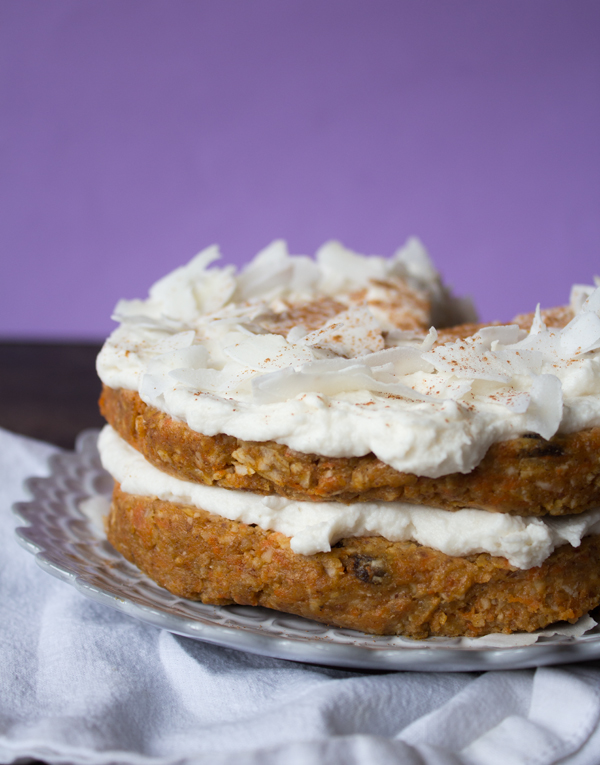 Raw Carrot Cake? This might be my new favorite dessert. It's so moist, rich, and amazingly similar in texture and taste to the baked version of carrot cake that we all know and love. Unlike the real deal carrot cake, this one is super healthy and easy to make. The filling is made with raw walnuts, pecans, shredded coconut, dates, dried pineapple, and raw Thai coconut water from Harmless Harvest. So sublime!!
Coconut water
I'm sure you're familiar with coconut water by now. This popular and all-natural beverage started gaining popularity in the United States when I was a senior in college. I remember drinking it after Bikram yoga to replenish my electrolytes. Not only is it good for you, but it's also refreshing and delicious. However, not all boxed or bottled coconut waters are created equal. Some are pasteurized or made from concentrate, and if you've ever had fresh coconut water right out of an actual young coconut, you'll know the quality pales in comparison. Of course, real coconuts are a pain to open, and not readily available in most parts of the united states. Enter Harmless Harvest. 
When this coconut water company reached out to me to do a sponsored post to help promote their new 32-oz pure raw coconut water I jumped at the opportunity. I spent 2 months in Thailand in 2011, and I haven't forgotten the joy of drinking coconut water right out of a young Thai coconut. Harmless Harvest works with local Thai farmers to bring that tropical liquid bliss to the US market. 
Coconut water is great to drink after working out, when traveling, to use in smoothies, or just because…after all it is delicious. But you can also make fun recipes with it. The key with this Harmless Harvest coconut water is to keep it raw. In it's raw state coconut water has more nutrients, and simply tastes better. And so I made a delicious, easy, and healthy raw vegan coconut carrot cake.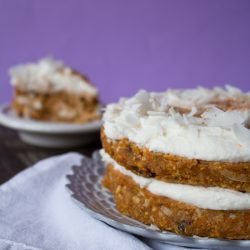 Raw Coconut Carrot Cake
Look for Harmless Harvest coconut water at your local health food store, or use the vendor locator on their website: http://www.harmlessharvest.com/find-us/
Ingredients
1

cup

pitted medjool dates

1/4

cup

dried unsweetened pineapple

chopped

2

cups

unsweetened shredded coconut

1

cup

walnuts

1/2

cup

pecans

1

tsp

fresh ginger

grated

1

tsp

cinnamon

1/4

tsp

nutmeg

1/8

tsp

allspice

1/8

tsp

ground cloves

dash of sea salt

1/4

cup

Harmless Harvest coconut water

1

cup

shredded carrot

1/4

cup

raisins
Coconut cream icing
1

cup

coconut cream

thick cream from the top of a can of coconut. Or buy a can of pure coconut cream

1

tbsp

agave or maple syrup

3

tbsp

coconut flour

1/2

cup

chunky coconut shreds to garnish
Instructions
In a food processor combine dates, coconut, walnuts, cinnamon, sea salt, and ginger. Pulse until combined, but still a hearty crumbly texture.

Add the shredded carrot and coconut water, and pulse 5 times.

Remove the blade from the food processor, and add the raisins.

Use a wooden spoon to stir the ingredients together. The batter will be sticky, but don't worry. It will firm up a bit in the fridge 🙂

Draw a 5-inch circle diameter circle onto 2 sheets of parchment paper. For this I traced a Pyrex bowl.

Place the parchment paper onto your counter, pencil/pen side down.

Scoop half of the carrot cake batter into the center of the circle, and smooth down with a spatula to make a cake layer. It should be about 1 inch thick.

Do this with the other circle and remaining batter.

Place the two halves into the fridge to firm for at least 30 minutes.

To make the icing combine the coconut cream, agave, and flour in a standing mixer and whip until fluffy and creamy. Or use a hand mixer to do this.

Place in the fridge to firm for at least 20 minutes.

Ice one of the cake layers with half of the icing.

Top with the other cake layer, and top with the remaining icing.

Garnish with thick shreds of coconut and a sprinkle of cinnamon on top, then serve!

Form into 2-3 tablespoon sized balls. Roll in extra coconut shreds, and place in the refrigerator to firm, or serve immediately.