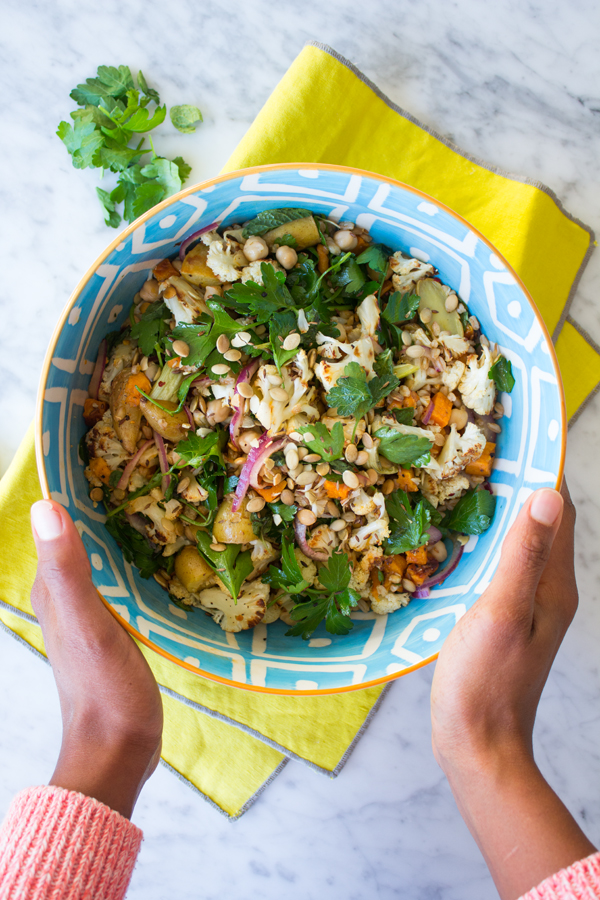 I'd like to thank whoever came up with the concept of cooked salads. Raw salads are fantastic, but in the dead of winter I crave something warm but healthy like roasted vegetables tossed in a tasty dressing with whole grains and beans and fresh raw herbs. Every bite is full of complex flavors, exquisite textures, and satisfaction. This Roasted Cauliflower and Sweet Potato Salad is my favorite at the moment. Favorite meaning I want to eat it every single day!! I think you're going to enjoy it too 🙂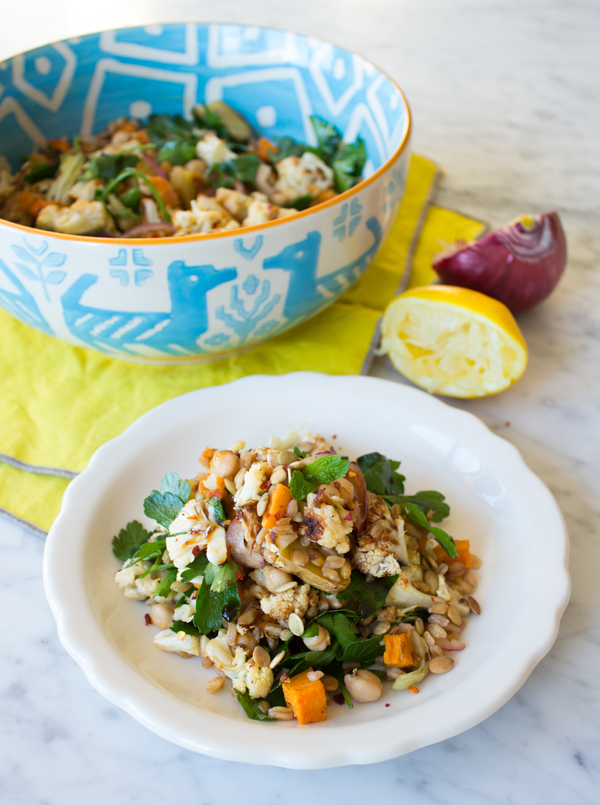 I created this recipe and video in collaboration with Karolina Sobanska. Like me, she's a vegan Youtuber, and we each created a recipe using cauliflower. It was Karolina's idea to use cauliflower as our ingredient, and I couldn't have been more excited. I LOVE cauliflower so much. Raw, sautéed, pureed, roasted, grilled, broiled, I don't discriminate. The video is below. Check it out, and don't miss the video Karolina made for her vegan cauliflower alfredo.
What I like most about this salad is the balance of roasted cauliflower and potatoes with raw fresh mint and parsley along with the incredibly delicious pomegranate molasses vinaigrette. Hey, it's also got toasted cumin seeds in it. Next level, yo! You're going to want to add this roast cauliflower salad to your weekly meal planning repertoire.
Roasted Cauliflower & Sweet Potato Salad
The quick-cook farro I used was purchased at Trader Joes. If you have regular farro keep in mind that it will take about 30 minutes to cook, not 10 minutes. Other whole grains can be used instead of the farro, by the way. However, I think farro is the bomb!!
Ingredients
1

head cauliflower

chopped

1

large sweet potato

cubed

3

tablespoons

extra virgin olive oil

1

cup

fingerling potatoes

halved or 2 cubed Yukon potatoes

salt

½

cup

raw quick-cooking farro

1 ½

cups

garbanzo beans aka chickpeas

¼

red onion

thinly sliced

2

cups

parsley

roughly chopped

1

cup

fresh mint leaves

½

cup

pomegranate vinaigrette

recipe below

¼

cup

toasted pumpkin seeds
Pomegranate Vinaigrette
1

tablespoon

pomegranate molasses

2

tablespoons

dijon mustard

1

tablespoon

freshly squeezed lemon juice or apple cider vinegar

1

teaspoon

toasted cumin seeds or ground cumin

½

teaspoon

black pepper

½

teaspoon

red chili flakes

½

teaspoon

sea salt

¼

cup

extra virgin olive oil
Instructions
Preheat oven to 400° and line 2 baking sheets with parchment paper.

Toss the chopped cauliflower with about 1 1/2 tablespoons of oil, and a sprinkling of salt. Spread evenly on one baking sheet and roast 30 minutes.

Do the same with the sweet potatoes and fingerlings: toss with oil, spread on baking sheet, and roast 30 minutes or until tender.

Bring 1 cup of water and 1/2 cup of farro to a simmer. Reduce the heat to medium-low and continue to cook until tender, about 10 minutes for quick-cooking farro.

While the vegetables and farro cook, make the dressing.

Place the dressing ingredients into a jar with a lid. Tighten the lid and shake until dressing is emulsified and creamy. If you don't have a jar with a lid, whisk the ingredients together in a bowl until creamy.

Place the cooked cauliflower, potatoes, cooked farro, beans, sliced red onion, parsley, mint, and dressing into a large salad bowl.

Stir well to combine. Season to taste with more salt, and finish off with black pepper, red chili flakes, and toasted pumpkin seeds.