This post is sponsored by Califia Farms, maker of fine (and super yummy) non-dairy milks, creamers, yogurts, and coffee drinks. I used the Califia Farms Oatmilk to make this Sweet Potato & Brussels Sprouts Gratin. The oat milk makes it creamy without the need to use cheese or cream. With just 3 ingredients and no gums or stabilizers, Califia Farms' Oatmilk is my favorite!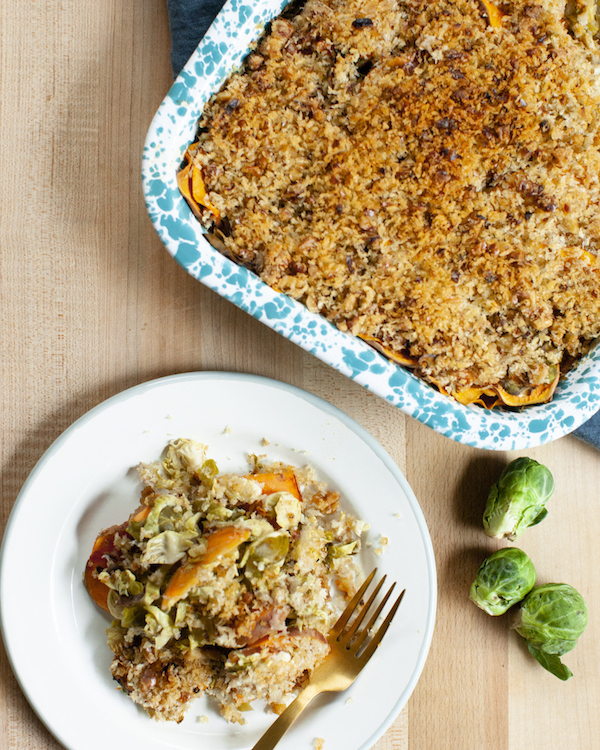 I'm so pleased to introduce you to one of my new favorite recipes: Sweet Potato & Brussels Sprouts Gratin. She's easy to make, nutritious, and tastes like comfort food. If you're not careful you might just eat the whole pan––which wouldn't be so bad. I plan on adding this wholesome dish to my weekly meal prep rotation. I especially love that it is a one-pan meal. Aside from the small mixing bowl that I used to mix the crunchy bread crumb topping, I only used a baking dish to cook it. This recipe is perfect for a one-pan meal prep!! Check out the video below to see me make this AND 2 other amazing one-pan recipes. Also, don't miss this week's downloadable meal prep guide that includes these recipes and a shopping list.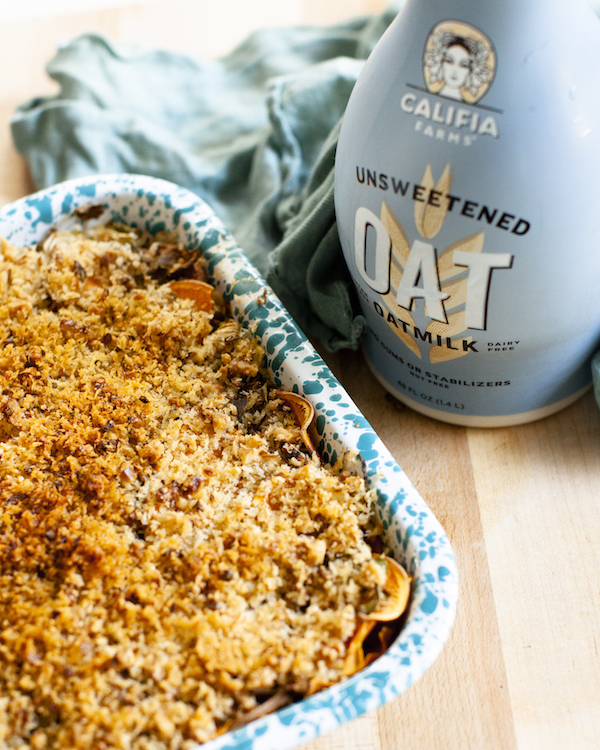 Having a baby brings new meaning to too-busy-to-cook. I totally understand how parents fall into the trap of feeding their kids store-bought frozen dinners, McDonalds, and takeout. After a long day of work, sleep deprivation (if you're a new mom), and being a parent I find myself hangry and confused about what I should make for lunch and/or dinner. This is a daily struggle for me UNLESS I meal prep. Meal prepping at least once a week means that I can open my fridge and eat right away. It's as simple as that. 
But don't expect me to meal prep for hours like I used to. Now it has to be quick. I'm really digging one-pan meals now because not only can I throw together a bunch of ingredients and let it cook at once, but it makes the clean up easier too.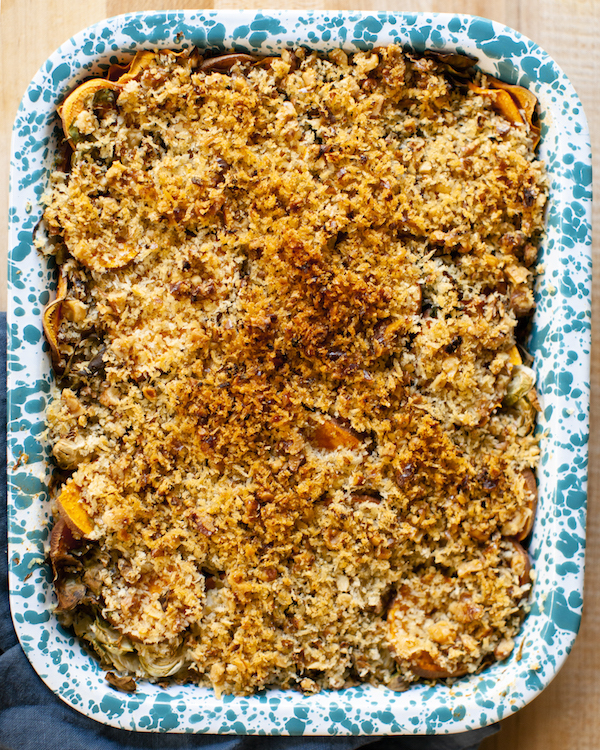 This week's meal prep includes 3 very delicious and nutritious one-pan meals, including this sweet potato & brussels sprouts gratin. Make these recipes during your meal prep day, and follow my meal prep guice to make a few other things (or buy them pre-made to make life even easier) like brown rice, lentils, and salad dressing. Each dish has about 4 servings, but all can be doubled or tripled if necessary. I actually recommend doing that because then you can freeze extras for later. Meal prep like the boss that you are!
Click here for the meal prep guide. Click here to go straight to the one-pan maple teriyaki tofu recipe. 
Sweet Potato & Brussels Sprouts Gratin
Ingredients
1

lb

brussels sprouts

thinly sliced

1

large sweet potato

thinly sliced (peeling optional)

½

cup

Califia Farms unsweetened oat milk

1

cup

vegetable broth

1 ½.

tbsp

dijon mustard

2

tbsp

nutritional yeast

1

tsp

dark maple syrup

1

tsp

sea salt

½

tsp

freshly ground black pepper

1

cup

panko bread crumbs or homemade bread crumbs

¾

cup

finely chopped walnuts or pecans

2

cloves

garlic

minced

2

tbsp

extra virgin olive oil

1

tsp

sea salt
Instructions
Preheat oven to 350°.

Place the sliced brussels sprouts and sweet potato in a baking dish.

In a mixing bowl, combine the oat milk, broth, mustard, nutritional yeast, maple syrup, salt and pepper.

Stir well, then pour over the vegetables.

In another bowl, combine the bread crumbs, nuts, garlic, olive oil and salt. Stir well.

Pour the mixture over the veggies then spread evenly.

Bake for 40 minutes, rotating the baking dish halfway through.