I'm excited to announce the pre-order of my cookbook, SWEET POTATO SOUL. Purchase your copy today at Amazon, Barnes & Noble, Books-A-Million, Indie Bound, or iBooks.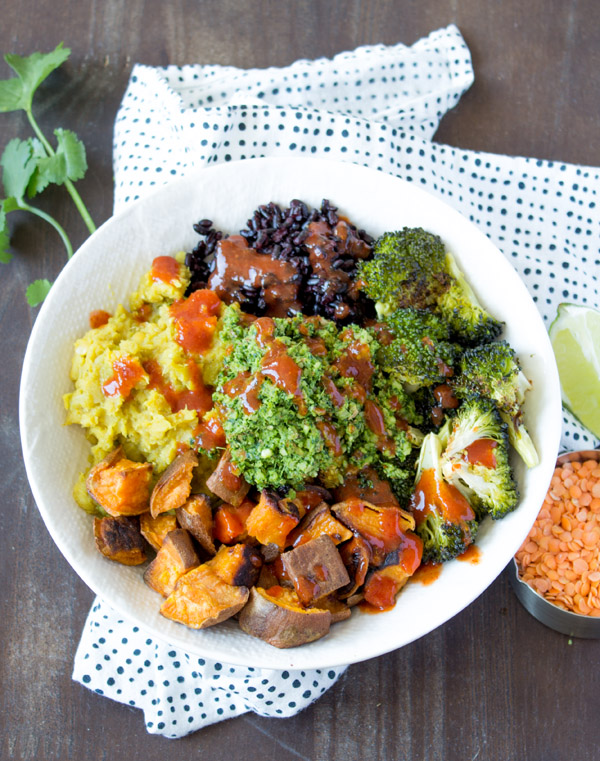 Want to know where you can find the fountain of youth, the secret to health, and the meaning of life?
My friends. I have discovered it––well maybe not the last one 😉 Luckily, we all have access to it. This miracle solution (cue the "heavenly gates opening sound effect): a balanced plant-based diet.
Since inviting the goodness of plant-based/vegan meals into my life, I have had no shortage of energy, great digestion, menstrual health, and compliments on my "vegan glow". The spirit of plants is within me.
Over the years I have come to discover the easiest and most satisfying way to eat a balanced plant-based diet: The Buddha bowl!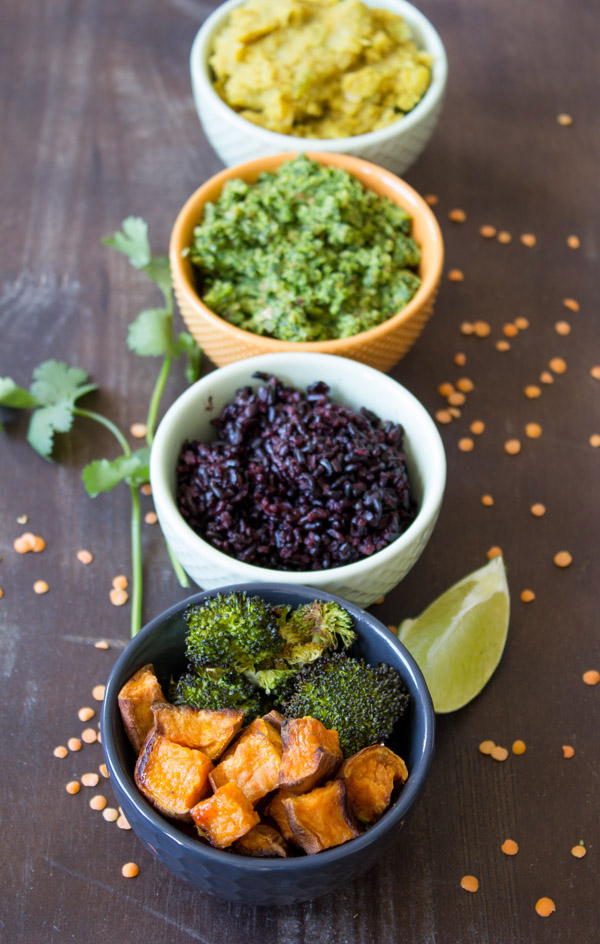 You may have seen my colorful recipes for these super balanced one-bowl meals. In 2015 my "Everyday Buddha Bowl" was THE most popular recipe on my blog––with double the traffic of the next most popular, vegan sweet potato pie. The extreme success of that Buddha Bowl recipe inspired me to share more of these colorful,easy-to-make recipes. I teamed up with my friend Isabelle of The Plantiful to create Buddhalicious Meal Plans. Yep, vegan meal plans comprised of delicious buddha bowl recipes. It is as exciting as it sounds!
Buddha Bowls
Since I've been working on this program for so long, and since we just launched our 30-Day Buddhalicious challenge, I have a lot of Buddha bowl on the brain. The options for Buddha bowls are endless, so I'm constantly inspired to try a new creation. Today's recipe marries my favorite food––hail the almighty sweet potato––with my other favorite food––roasted broccoli––with my other favorite food––cilantro pesto––with my other…. I think you got the point.
This sweet potato lentil bowl is the epitome of balance. It is radiance in a bowl; with longevity and energy in every bite. A masterpiece of macronutrients, phytonutrients, minerals, antioxidants, and vitamins. It is delicious, filling, and easy-to-make, as every Buddha bowl should be. It's absolutely Buddhalicious!
Head to your kitchen, whip up this sweet potato & lentil Buddha bowl, and let amazing health rain down!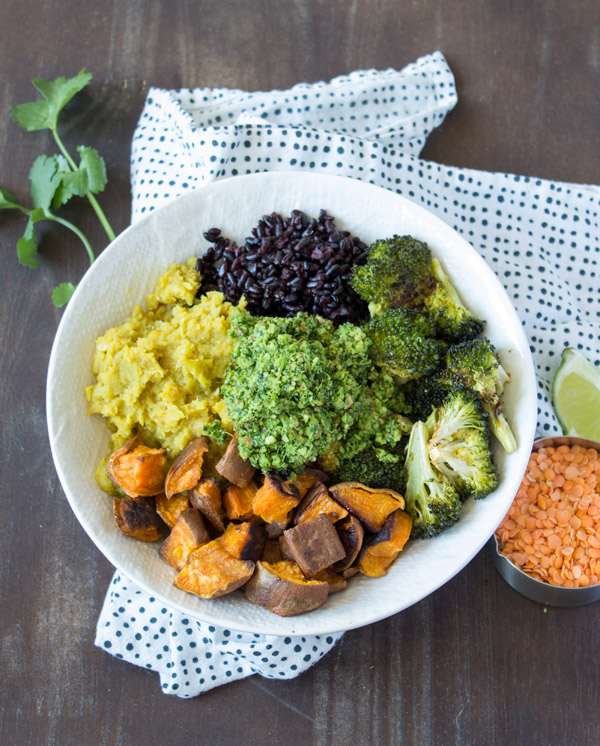 A note about the superpowers of select ingredients:
Sweet Potatoes: I am an ambassador for coolest organization, the North Carolina Sweet Potato commission. Fitting, right? From perusing my blog I'm sure you can attest to the tremendous versatility of sweet potatoes. However, don't forget how healthy these tubers are. High in beta-carotene (vitamin A), B vitamins, vitamin C, and fiber, sweet potatoes are an easy to access super food.
Almond-cilantro pesto: By eating a bit of healthy fat with sweet potatoes you can better absorb their nutrients. Adding an almond based pesto to a dish is a fantastic way to add both healthy fats and flavor. The flavor of cilantro balances the entire bowl, and it also provides vitamin K, phytonutrients, and anti-bacterial powers––keeps bad bacteria at bay, and meal fresher for longer.
Black rice: I encourage you to go out of your way to find this eye-catching black rice. It hasn't been dyed, this rice gets its magnificent dark hue from potent antioxidants called anthocyanins. This rice is also high in fiber, protein, and minerals.
Now, on to the recipe. Bon appetit!
Sweet Potato & Lentil Buddha Bowl
Though there are a lot of ingredients in this recipe, if you follow the order of the recipe it will be easy to make. In my new Buddhalicious meal plan program I send out prep instructions so that you prep all of the ingredients for your Buddha bowls on Sunday, and whip up meals like this throughout the week in just minutes. Have your sea salt out for this recipe. You'll need to salt the lentils at every step––about ¼ tsp will do each time I call for a "pinch".
Ingredients
2

tbsp

coconut or grapeseed oil

2

medium sweet potatoes

cubed

2

medium heads of broccoli

chopped

1

cup

black rice

2 ½

cups

water

for rice

1

tbsp

chana masala

or another curry powder

1

tbsp

minced ginger

1

leek

chopped

1

cup

red lentils

sorted and rinsed

3

cups

water

for lentils

1

bunch cilantro

washed thoroughly. don't discard the stems.

¾

cup

toasted almonds

½

tsp

sea salt

juice of 2 limes

2

tbsp

water or oil

to thin pesto

Sriracha for serving
Instructions
Pour the rice and water, along with a pinch of salt, into a saucepan and bring to a boil.

Reduce heat to medium-low and cover (keeping lid ajar). Cook until tender; about 30 minutes.

Toss the cubed sweet potatoes and broccoli (separately) with about ½ tbsp oil.

Spread evenly on 1-2 baking sheets and roast until tender, about 35 minutes (maybe 30 for the broccoli).

In a large pot melt the remaining oil over medium heat.

When the oil is hot, add the chana masala to toast for 10 seconds.

Stir in the ginger and leeks, along with a pinch of sea salt. Continuing to stir until they cook down a bit.

Stir in the red lentils and water. Raise gas to high heat.

Cover, and bring to a boil. Reduce heat to medium, and simmer with lid ajar until for about 20 minutes.

While the rice, veggies, and lentils are cooking, make your cilantro pesto.

Place the cilantro, almonds, ½ tsp sea salt, lime juice, and 2 tbsp water in a food processor and blend until smooth.

Serve all of the ingredient together in a bowl, and finish off with a drizzle of Sriracha.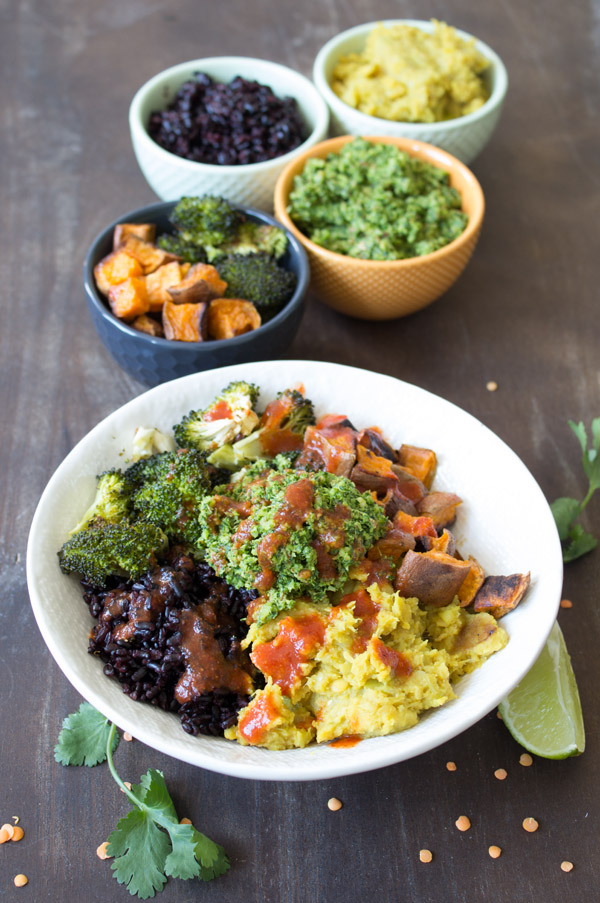 What are your thoughts on this sweet potato & lentil Buddha bowl? Comment below & let me know!