Hello from maternity leave!! I'm excited to share this guest post from Megan Roosevelt of Healthy Grocery Girl. This sweet potato tortilla soup is simple, nutritious, delicious, and perfect for a new mama like me–– I'm definitely having Maxx make this for me during my postpartum chill period 😉 For more recipes keep coming back to the blog, and follow me on Instagram @sweetpotatosoul to see what I'm eating and new-mom life updates✌️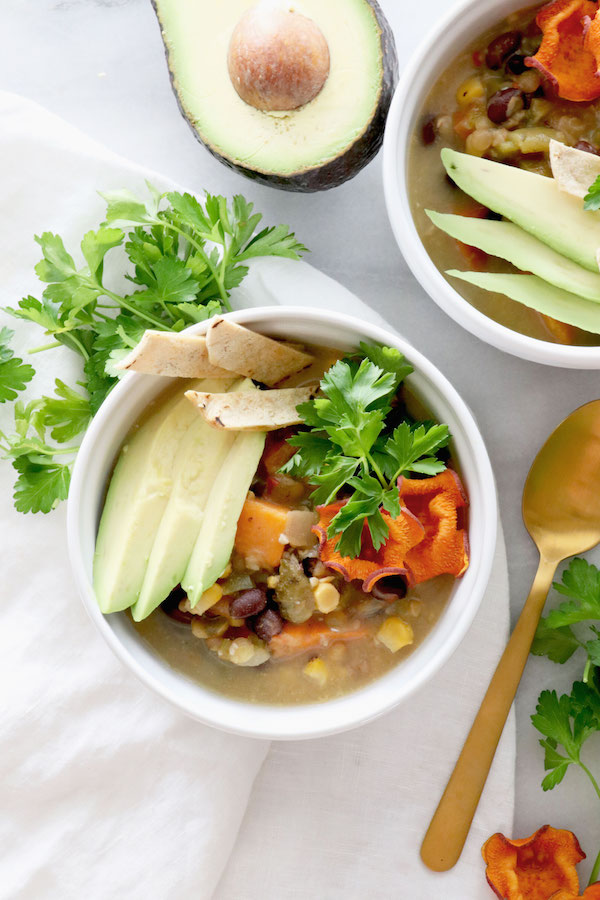 Hi Sweet Potato Souls! First, let me say what a joy and honor it is to share a recipe here on my sweet friend Jenné's blog! I first met Jenné through YouTube and we then collaborated on some videos for our YouTube channels! Jenné is so sweet, caring and her recipes are (as you know) so delicious!
While Jenne is getting settled into life as a new mama, I'm here to give her a little blog break and share a recipe with you!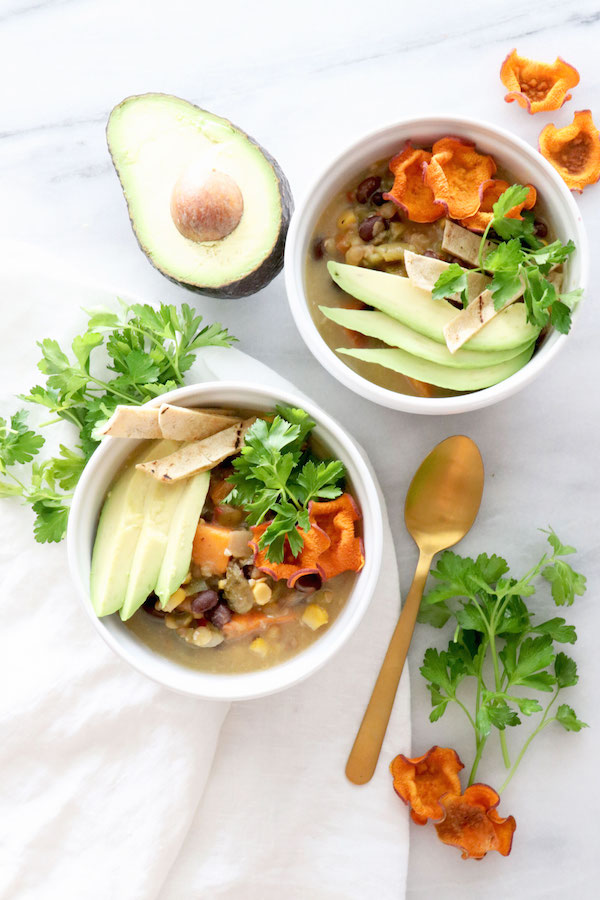 But before we jump into today's recipe I'd love to get to know one another! My name is Megan Roosevelt and I'm a Registered Dietitian Nutritionist and the founder of the Food, Family & Wellness website HealthyGroceryGirl.com and YouTube channel Healthy Grocery Girl! I'd love to get to know you so please come say Hi and Hello over on Instagram @HealthyGroceryGirl!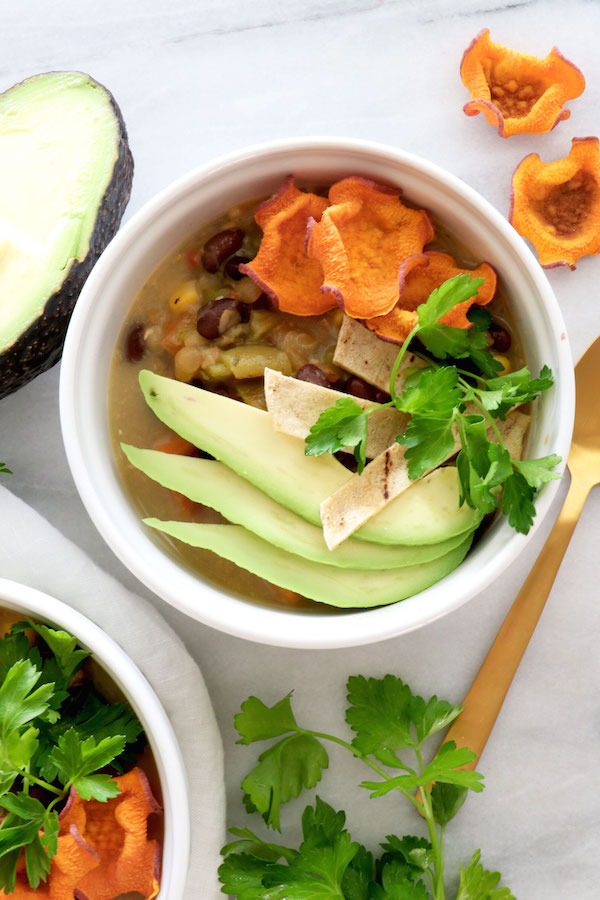 Okay so now onto our recipe. I love making soup! It's great to meal prep, a fantastic way to use up veggies and herbs that are over ripe or need to be used ASAP and soup is just so comforting. This Sweet Potato Tortilla soup is packed with protein, fiber, energizing carbohydrates and loads of flavor. I hope you enjoy it!
If you re-create + share on social please tag @SweetPotatoSoul and @HealthyGroceryGirl so we can find + like your photos!
Jenné, thanks so much for letting me share a recipe here on your blog! We are so excited for you as you embark on your role as mama!
Sweet Potato Tortilla Soup
Ingredients
1

large

wide sweet potato

2

tablespoons

coconut oil

½

cup

onion

diced

½

red bell pepper

diced

3

garlic cloves

minced

1

teaspoon

ground cumin

1

4 ounce can hatch green chiles, diced

4

cups

vegetable broth

¼

cup

fresh cilantro

chopped

4 6-

inch-diameter soft corn tortillas

cut into 1/2-inch-wide strips

3

roma tomatoes

diced

1

can black beans

drained & rinsed

½

cup

full fat canned coconut milk

1

lime

juiced
Instructions
Sweet Potato Chips
First let's make some sweet potato chips! I like to use the widest sweet potato I can find because this helps to make bigger chips. Using only the widest part of the sweet potato, slice thin even rounds. I like to do this on a mandolin slicer. Use about ½ of the sweet potato for chips; chop the remaining sweet potato into cubes about ½ inch in size. Lightly brush the thin rounds with oil and bake in the oven at 400 degrees Fahrenheit for around 10 minutes, flipping twice and watching carefully so they do not burn. Once they have started to brown, turn the oven off and leave the door cracked open, this will help them crisp up as they dry out. This is also a good time to throw in half of the sliced corn tortilla shells, to also dry and crisp up.
The Soup
And now to the soup, in a large soup pot over medium-low heat add the coconut oil, diced onion and red bell pepper; saute, stirring often until onion starts to turn translucent.

Add the minced garlic, cumin, green chiles, vegetable broth, cubed sweet potatoes, remaining sliced corn tortillas and 2 tablespoons of chopped cilantro. Bring soup to a boil, then reduce the heat to low, cover and simmer for 15 minutes.

Finally add the diced tomatoes, black beans, coconut milk and lime juice. Cover and simmer for another 10 minutes.

Serve soup topped with avocado, fresh cilantro, toasted tortilla strips and sweet potato chips.