I'm excited to announce my cookbook, SWEET POTATO SOUL. Purchase your copy today at Amazon, Barnes & Noble, Books-A-Million, Indie Bound, or iBooks.  This vegan chicken and waffles recipe is not in the book, but it is a little taste of what you'll find inside.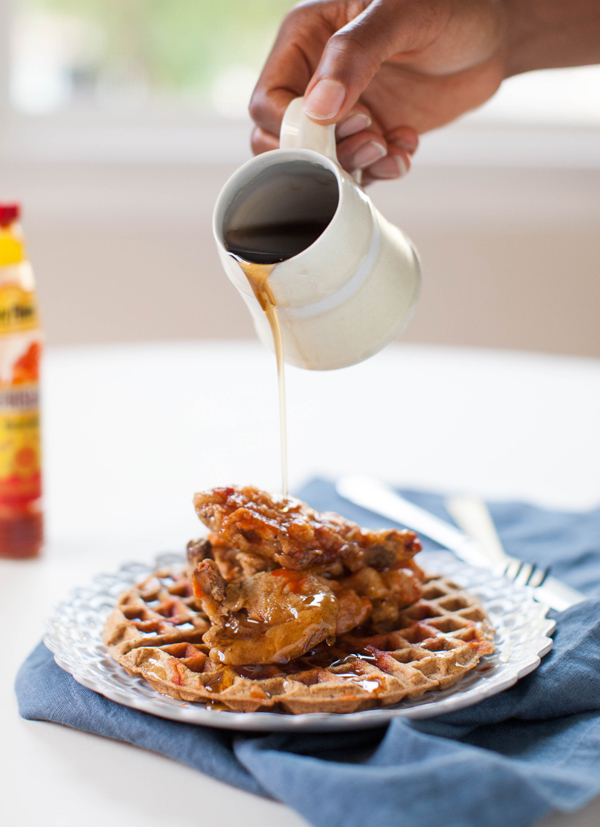 On February 6, 2018 my first published cookbook, Sweet Potato Soul, will be released. I've been working on this book since June 2016: perfecting recipes, researching the history of soul food, and writing about food, veganism, and life. And the most common question I'd get during the process was, "Is it hard to veganize soul food?" Short answer, yes…and no.
I wouldn't say it was hard—the hard parts were meeting deadlines, reading through edits, and finding time to sit down to write. But it was a bit tricky. For my first published cookbook I needed to share original recipes that reflected my way of cooking, my experience growing up in the south, and my tastes as a southern vegan. At the same time, I wasn't only relying on myself, because I'm not the first person to do this.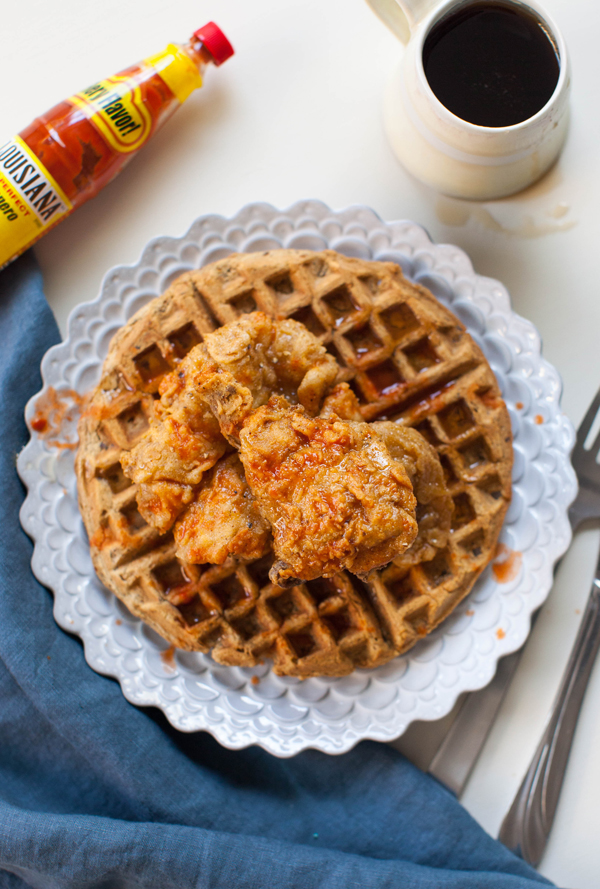 For decades black folks have been spinning gold out of whatever they had access to, not least in the kitchen. And for decades black folks have been making vegan soul food. My own dad worked at one of Atlanta's very first vegan restaurants, Soul Veg, in the mid 80s. Before we had Whole Foods, and a national dialogue around limiting animal products, or a strong vegan movement, restaurants like this were serving collard greens, mac and "cheese", cakes, pies, and ice cream without animal products. 
Google "vegan soul food" and you will find an amazing array of blogs, recipes, restaurants, and cookbooks dedicated to offering vegan options for this quintessential cuisine. Of course, we must also acknowledge that most traditional foods throughout the world are plant-based. Relying on animal meat and secretions is, has always been, and will always be an egregiously inefficient way to nourish ourselves—an indulgence most people in most parts of the world can't afford.
Look back just a couple of generations and you'll find that soul food is highly plant-based. After all, my African and southern US ancestors did not have an industrialized food system to feed them. Rather, they relied on family gardens. Thus we have the essential plant-based soul foods like collard greens, candied yams, cornbread, red rice, and gumbo. 
As you can imagine, it's not too hard to create vegan versions of recipes that are already so plant-centric. Making them unique, fun, beautiful, and absolutely delicious is my job.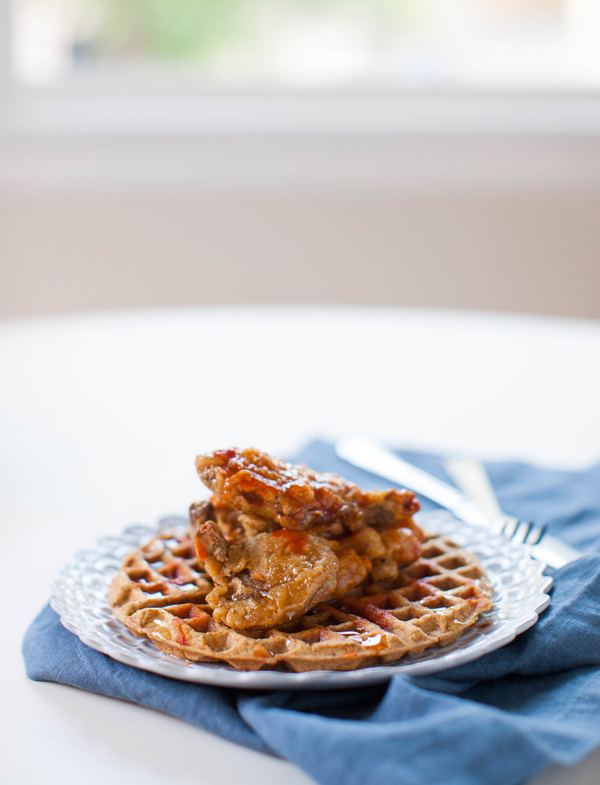 This recipe for vegan "chicken" and waffles is a fine example of how creating vegan soul food can be both easy and tricky. Easy because people have been making vegan chicken and waffles for a long time. I came at it knowing all the cool swaps: cauliflower for chicken…soy for chicken…gluten for chicken…mushrooms for chicken…
And tricky because I want this one to be uniquely delicious while still staying true to the original. (Just without the dead animal.) The result is crispy, juicy, double-breaded oyster mushrooms over fluffy waffles. Top that with a drizzle of real maple syrup and some southern hot sauce and you've got yourself a crazy good meal. 
You won't find this vegan soul food recipe in my upcoming cookbook (I've got 100 more for you in there), but I made this recipe as part of a collab with fellow vegan blogger and YouTuber Kim of The Chic Natural, and Thrive Market (video below). Get all of the ingredients you need to make this vegan chicken and waffles on Thrive Market (except for the fresh oyster mushrooms—I usually buy those at farmers markets or local Asian grocery stores), and get $60 off of groceries if you use my code. 
Spicy Fried Cauliflower "Chicken"
This spicy fried cauliflower recipe has been updated since I created the video. The flax "egg" has been replaced with arrowroot which is added to the dry ingredients. This creates a crispier batter when fried. However, if you do not have arrowroot (or cornstarch), feel free to use the flax "egg" like shown in the video.
Ingredients
1

cup

all purpose flour

1

tablespoon

arrowroot powder or cornstarch

½

teaspoon

salt

½

teaspoon

cayenne pepper

½

teaspoon

white pepper

½

teaspoon

onion powder

½

teaspoon

garlic powder

½

teaspoon

sweet or smoked paprika

¼

teaspoon

Old Bay seasoning

1

tablespoon

nutritional yeast

⅓

cup

hot sauce

1/4

cup

unsweetened plain soy milk or other non-dairy milk

1

tablespoon

Dijon mustard

5

cups

safflower oil

or other frying oil

1

large head of cauliflower

cut into large florets
Instructions
In a medium-sized mixing bowl combine the flour, arrowroot powder, salt, cayenne pepper, white pepper, onion powder, garlic powder, paprika, Old Bay, and nutritional yeast.

In another bowl combine the hot sauce, soy milk, and Dijon mustard and whisk until creamy.

Heat the frying oil in a large dutch oven or fryer. It should be around 350°.

Use one hand to carefully dip a cauliflower floret into the wet mixture, then drop it into the flour mixture. Use your other hand (it should be dry) to coat it completely. Dip it back into the hot sauce mixture, and again into the dry mixture, keeping one hand devoted to wet and one to dry.

Carefully lower the twice coated cauliflower into the hot oil. Repeat with remaining cauliflower until you can't fit any more into the pot. Cook for about 4-5 minutes, until the pieces are golden.

Transfer fried cauliflower to a large plate covered with two sheets of paper towel to absorb excess oil.

Continue to cook the remaining cauliflower.

Serve hot.
Save
Save
Save
Save
Save