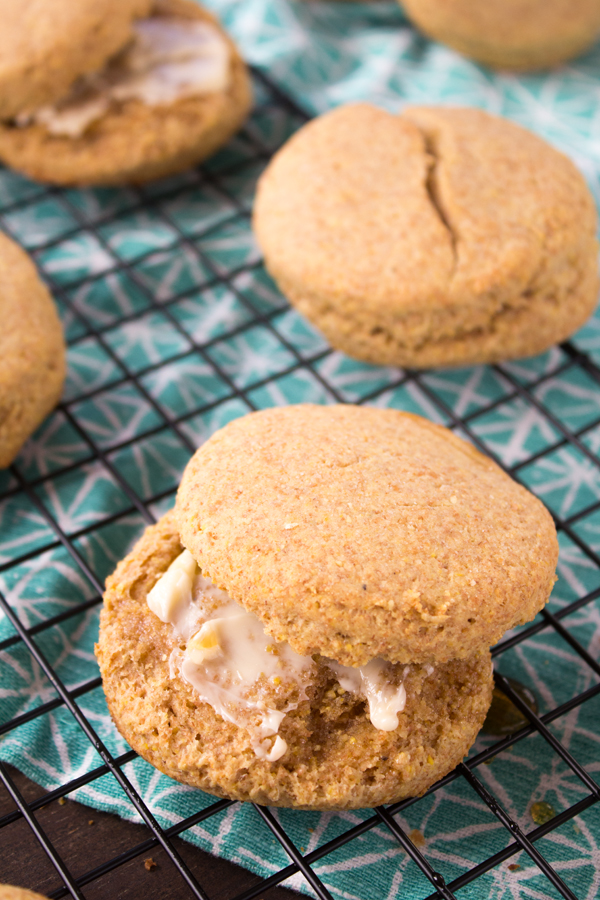 If you want to show someone you love them, make them vegan cornmeal buttermilk biscuits. Serve them hot right out 0f the oven, with coconut butter, bee free honee, and lots of love. These would be perfect for Mother's Day brunch. Just don't forget the mimosas ✨
Growing up, biscuits were such a special treat. My nana always served them with home fries, and we'd sit around the table singing along to the gospel music playing on the radio. Nana would make enough biscuits so that we could snack on them later in the day, or make Monday morning breakfast sandwiches with them.
These vegan biscuits combine a couple of my favorite southern ingredients: cornmeal and buttermilk. Vegan buttermilk. No lactating cows necessary; let the calves have their milk 🐮. To make vegan buttermilk we combine non-dairy milk with vinegar (or lemon juice), and let it curdle and thicken up for 5 minutes or so.  Add that to the batter and you're going to have the yummiest fluffiest biscuits. This method can be used to replace buttermilk in any recipe, by the way.
I love these biscuits because they're so easy to make. You'll probably have most of the ingredients in your kitchen already, so you can whip them up whenever you or your honey gets a craving.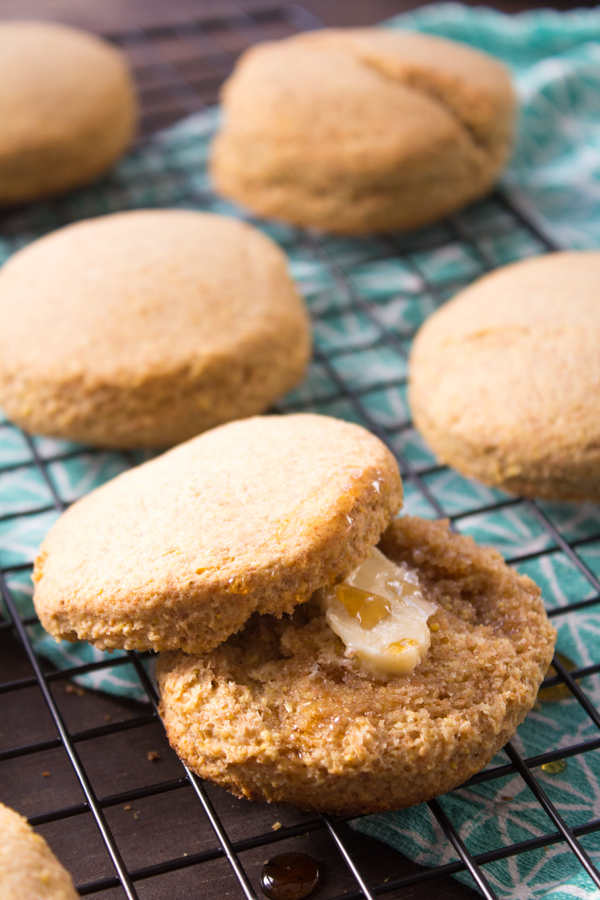 Vegan Cornmeal Buttermilk Biscuits
The biscuits pictured have more cornmeal in them than the final recipe I created. So yours won't be as grainy, FYI. They will be more tender and fluffy than the ones pictured 👅 Look for fine ground cornmeal to make these biscuits. Other grinds will work, but I prefer finely ground for it's soft texture. I've never tried making biscuits gluten-free, but it surely can be done, I'm just not sure what the best method is for that.
Ingredients
1/2

cup

+ 2 tablespoons plain unsweetened soy milk

or other non-dairy milk

2

teaspoons

apple cider vinegar or white vinegar

1 1/3

cup

unbleached all-purpose flour

1/2

cup

yellow cornmeal

2

teaspoons

baking powder

2

teaspoons

sugar

1

teaspoon

salt

6

tablespoons

hard coconut oil
Instructions
Combine the soy milk vinegar in a small mixing bowl. Stir well, and set it aside to thicken and curdle.

Preheat oven to 425°, and line a baking sheet with parchment paper or a silicone mat.

In a large mixing bowl combine the flour, cornmeal, baking powder, sugar, and salt. Whisk well.

Add the coconut oil in chunks.

Use a pastry cutter to blend the coconut oil into the flour. You should have a course flour blend with some pieces as large as peas.

Pour the soy milk mixture into the batter, and stir using a wooden spoon, until just combined.

Lightly flour a work space, and transfer the dough onto it.

Use your hands to flatten the dough ball to about 1/2 inch thick.

Use a biscuit cutter to cut out biscuits, then place them onto the baking sheet. You should have 8 biscuits. Once you get to the end of the dough, form the last biscuit by hand.

Continue with the rest of the dough.

Bake for 15 minutes, or until the biscuits are golden around the edges.

Enjoy immediately with coconut oil, and/or Bee Free Honee or Sorghum syrup.

Keep fresh in an air tight container for up to 3 days.
Save