Vegan cupcakes!! Colorful icing!! Homemade food coloring!! Yay!!
Does vegan baking still have a stigma of being bland, dry, and boring? I hope not. Since becoming vegan 5 years ago I have eaten the most delicious baked goods. Next to my Nana's baking, no non-vegan dessert has compared to the level of blissfulness I experience when eating a homemade vegan cupcake, chocolate mousse, or pecan pie. I've even had incredible vegan French macaroons, croissants, and old fashioned donuts. Vegan desserts are really giving the traditional stuff a run for its money 🙂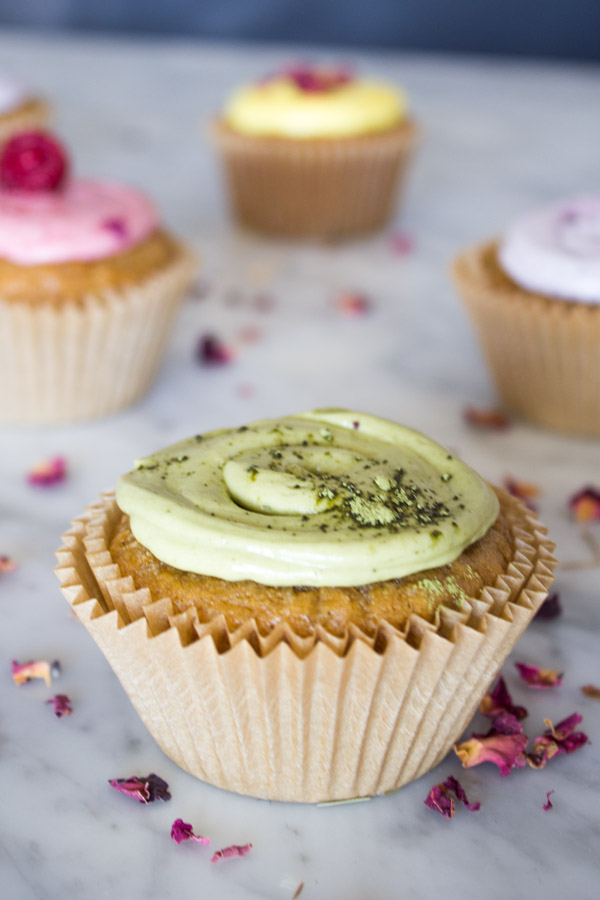 To make these super fluffy and moist cupcakes I used Chloe Coscarelli's vanilla cupcake recipe. It is perfection. How do you make something perfect even more incredible? You add colorful icing made with homemade food coloring!
Of course I don't use artificial food coloring. That stuff has been linked to cancer, hyperactivity, and asthma. Plus, artificial food coloring doesn't has any flavor. Alternatively, my DIY food coloring adds a touch of flavor to the icing. My favorite one is definitely the green matcha color/flavor. All four colors are easy to make. For the red I used beet reduction––I boiled beets and reduced liquid. For the yellow I used mango puree and turmeric powder––what an amazing "exotic" flavor it gives. The purple is made with the liquid from thawed frozen blueberries, and of course the green is just matcha powder, culinary grade.
Now go make you some!

Vegan Vanilla Cupcakes + Icing with DIY Food Coloring
The cupcake recipe comes from Chloe Coscarelli's cookbook, Chloe's Vegan Desserts.
Ingredients
1 1/2

cups

unbleached all purpose flour or spelt flour

1

tsp

baking soda

1/2

tsp

salt

1

cup

sugar

3/4

cup

unsweetened non-dairy milk

soy, almond, or rice

1/2

cup

canola oil

2

tbsp

vinegar

white or apple cider vinegar

1

tbsp

vanilla extract
colorful frosting (recipes below)
Vegan Icing Base
1

cup

vegan butter

Earth Balance

3

cups

powdered sugar

1

tbsp

soy milk

not necessary for the yellow or red coloring
Red Food Coloring
1

beet

quartered

3

cups

water
Yellow Food Coloring
1/2

cup

mango puree

1

tsp

turmeric powder
Green Food Coloring
2

tsp

culinary matcha powder
Purple Food Coloring
1/4

cup

frozen blueberries
Instructions
Preheat oven to 350°. Line a cupcake pan with liners.

In a large bowl, whisk together the flour, baking soda, and salt.

In another bowl, whisk together the sugar, non-dairy milk, oil, vinegar, and vanilla.

Pour the wet into the dry, and mix. Be careful not to over mix it.

Fill the cupcake liners with the batter, two-thirds full.

Bake for 18-20 minutes.

Do the toothpick test: Stick toothpick in the center of a cupcake. If it comes out dry and clean or with a few crumbs they are done. Allow the cupcakes to cool at least 30 minutes before icing them.
Vegan Icing Base
Place the vegan butter and soy milk (or liquid coloring) in a large mixing bowl.

Use a hand mixer to cream the "butter" until smooth.

Slowly add in the powdered sugar, and beat until smooth.
Red Food Coloring
Bring water to a boil, and add the beet.

Cook covered for 30 minutes on medium heat, until the beet is tender.

Remove the lid and the beets. Continue to cook for another 20 minutes on medium-low to reduce the liquid––which will thicken the liquid and concentrate the color.

Set aside to cool.

Stir the cool food coloring into the icing––start with 1 tsp–– until your desired color is reached.
Yellow Food Coloring
Blend the mango puree and turmeric until smooth.

Stir or whisk into the icing base.
Green Food Coloring
Whisk matcha into the icing.
Purple Food Coloring
Thaw blueberries on the counter, stove-top, or microwave.

Strain the blueberries through a sieve.

If the liquid is warm, allow it to cool in the fridge.

Stir the cool food coloring into the icing––start with 1 tsp–– until your desired color is reached.
What did you think of these vegan cupcakes?! Comment below 🙂