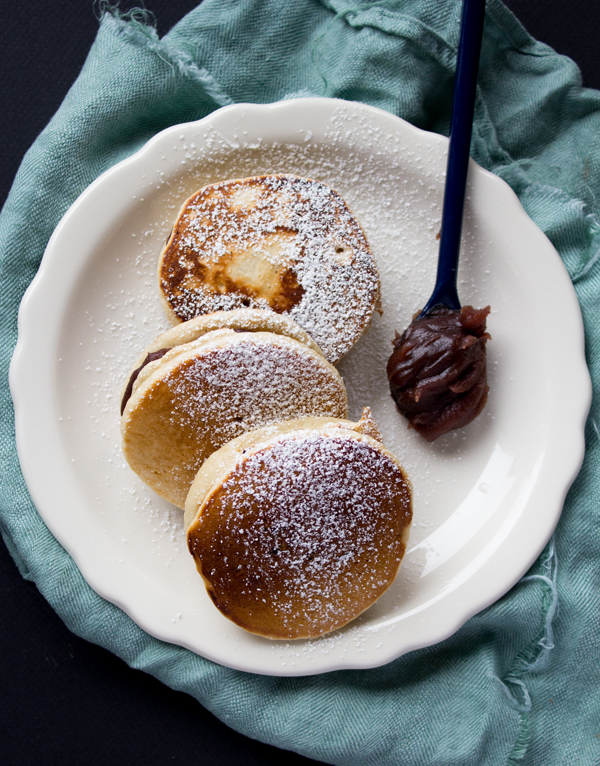 I miss Japan. Since traveling there in early 2015 my desire to return has gotten stronger and stronger every day. The people in Tokyo and Kyoto––the two cities I visited––were so kind and especially patient with my no-Japanese-speaking-butt. Of course I still dream about the food. From the fresh mochi to the aged-tofu, I loved every bit of it.
This recipe for vegan Dorayaki is very close to my heart because I made it in collaboration with one of the lovely people I met in Japan. My friend Ryoya from Peaceful Cuisine and I did a cross cultural collab on Youtube. He made a southern American classic, Pecan Pie, and I made a Japanese traditional sweet, Dorayaki. Dorayaki is a Japanese pancake with sweet adzuki red bean paste (anko) sandwiched between two. Usually it is made with eggs and milk, but I found the perfect vegan recipe to replicate this classic.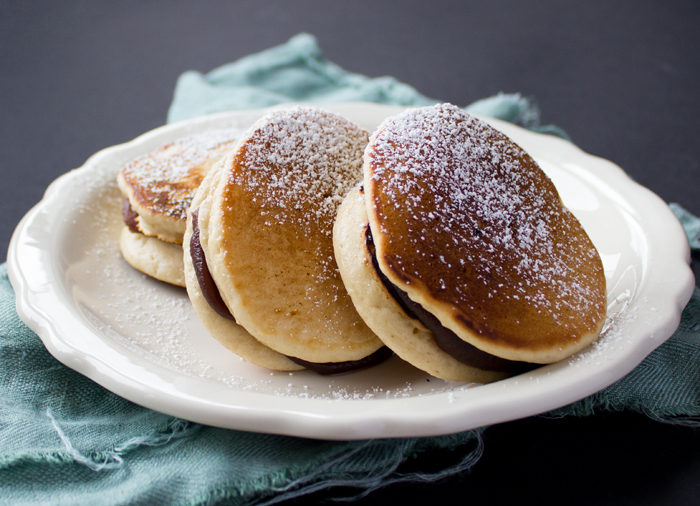 Vegan Dorayaki
Unlike Americans who eat pancakes exclusively for breakfast, Japanese people usually eat them for dessert. I remember seeing Japanese pancakes on the dessert menu at restaurants and being shocked. Japanese pancakes are also much fluffier than the American version. The pancakes for Dorayaki look a lot like American pancakes, but they should have a smooth brown finish––not the uneven coloring, and crispy edges I'm used to. These vegan Dorayaki are fluffy, and light, and the red bean paste in the middle is sublime. In America we are beginning to use beans in "healthy" desserts (ex. black bean brownies or cookies and aquafaba desserts). Japanese cooks have been using red bean paste as a sweetener in desserts for ages in everything from Dorayaki to mochi/daifuku to anmitsu. The paste has sugar added, so it's not a sugar-free sweetener. 

After you check out my video, be sure to watch Ryoya's fantastic vegan Pecan Pie video here. You can find my version of the same recipe here. And be sure to subscribe to both of our Youtube channels, mine Sweet Potato Soul, and Ryoya's Peaceful Cuisine.
Vegan Dorayaki
This recipe was adapted from Kansha by Elizabeth Andoh, a fabulous vegan Japanese cookbook. In her recipe she calls for kinako, toasted soy bean flour. I left it out because I didn't have any yet. You may add 1 tbsp to this recipe if you have it. Look for kinako and anko/adzuki red bean paste at your local Japanese grocery store or online. These pancakes are also commonly filled with chunky red bean ice cream or fruit marmalades.
Ingredients
1/2

cup

sifted cake flour

I used bleached white flour

2

tbsp

powdered sugar

2

tsp

baking powder

1/3

cup

soy milk

2

tbsp

mirin or maple syrup

1/4

tsp

soy sauce

grapeseed

canola, vegetable, or coconut oil for the pan

1/2

cup

red bean paste

preferably chunky (mine is not chunky, but worked fine)
Instructions
Sift the flour, powdered sugar, and baking powder into a mixing bowl.

To another bowl add the soy milk, mirin/maple syrup, and soy sauce.

Pour the dry mix into the wet, and stir to make a smooth batter. It should not be too thick, but thin enough to pour. Let it sit for 10 minutes.

Add a little bit of oil to a non-stick skillet or non-stick pan, and warm it on medium-high heat. Use a paper towel to spead the oil evenly.You want only the smallest amount to help the pancakes brown and not stick.

Reduce the heat to low, and pour about 2 tbsp of the batter onto the non-stick pan in as perfect a round as you can get. You want them to all be about the same size. I was able to fit 4 in the pan at a time.

Cook on the first side for about 1-2 minutes, bubbles will pop on the surface and the edges will cook rather quickly. Flip and cook on the other side for about 1 more minute.

Allow your pancakes to cool for a few minutes, and then fill half of them with a spoonful of anko, the red bean paste. Top with another pancake and sandwich it together to make your Dorayaki.

Serve them with a sprinkle of powdered sugar, and/or with coconut whipped cream, or sliced strawberries.