If you love recipes like these vegan hot chicken biscuits, make sure to order my new cookbook SWEET POTATO SOUL. Purchase your copy today at Amazon, Barnes & Noble, Books-A-Million, Indie Bound, or iBooks.
I grew up on chicken biscuits, though certainly not the vegan variety. Next to Waffle House waffles, a hot chicken biscuit wrapped in foil from Chick-fil-A was my favorite restaurant treat! I remember begging my mom to buy me one as we'd drive by Chick-fil-A on our way to school. And if there wasn't a Chick-fil-A around, I could smell the chicken biscuits at Popeye's from a mile away. I loved theirs too.
I didn't try *hot* chicken biscuits until I visited Nashville for the first time in 2017. Sure, I lived a mere 4 hours away, in Atlanta, for my entire upbringing, but we never visited. On my cross country road trip with my boo last summer, we ate at Nashville's The Southern V, a hugely popular black-owned vegan restaurant that serves the most delicious and authentic vegan soul food. We ordered their vegan hot chicken biscuits, and I was immediately transported back to the biscuits of my childhood, only these had an amazing spicy kick!
I still think about those vegan hot chicken biscuits from The Southern V, so naturally I had to go 'head and make my own. To replace the chicken I used good ol' cauliflower. Not only is it a compassionate alternative, but it makes for the juiciest vegan "chicken", and it's full of nutrients to help offset some of the damage done by frying. I made a buttermilk biscuit using a combination of soy milk and apple cider vinegar. If you mix any acid like vinegar or citrus juice with non-dairy milk, it'll curdle and develop a tangy taste just like buttermilk. No cows harmed in the process! And lastly, if you don't like your hot "chick'n" so darn hot, use the batter from this recipe for vegan chicken & waffles.
My friend Koya Webb joined me in the kitchen to make this classic southern recipe. She's from Tennessee, so she knows hot chicken better than most! I had so much fun cooking with my southern vegan friend. Enjoy the video below, then keep scrolling for the easy-to-make recipe!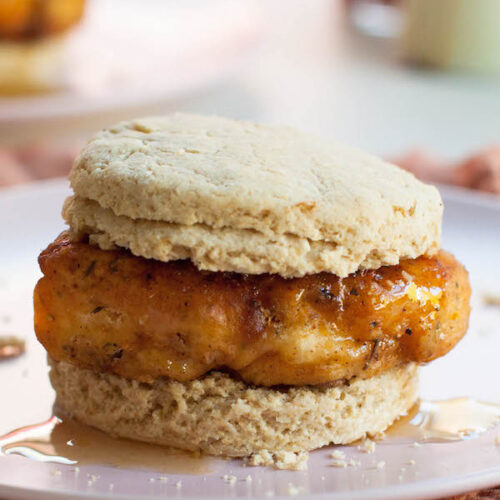 Vegan Hot Chicken Biscuits
These vegan hot chicken biscuits are simple, and easy to make. To see a more detailed video of making the vegan cauliflower chicken
watch this video
. The type of flour you use for the biscuits will change the texture slightly. So you can see the texture of each, I used white flour for the biscuits in the video, and I used whole wheat pastry flour for the biscuits in the photos here on the blog. Don't want the "chicken" spicy?
Use the batter from this recipe.
Ingredients
VEGAN BUTTERMILK BISCUITS
2

cups

white flour or whole wheat pastry flour

1

tablespoon

baking powder

1

teaspoon

salt

1

tablespoon

sugar

1

cup

soy milk

2

teaspoons

apple cider vinegar

1/2

cup

cold vegan butter
HOT CAULIFLOWER "CHICKEN"
1

cup

all purpose flour

1

tablespoon

arrowroot powder or cornstarch

½

teaspoon

salt

½

teaspoon

cayenne pepper

½

teaspoon

white pepper

½

teaspoon

onion powder

½

teaspoon

garlic powder

½

teaspoon

sweet or smoked paprika

¼

teaspoon

Old Bay seasoning

1

tablespoon

nutritional yeast

⅓

cup

hot sauce

¼

cup

unsweetened plain soy milk or other non-dairy milk

1

tablespoon

Dijon mustard

5

cups

safflower oil

or other frying oil

1

large head of cauliflower

cut into large florets

maple syrup

agave, or Bee Free Honee for serving
Instructions
VEGAN BUTTERMILK BISCUITS
Preheat oven to 425°.

In a mixing bowl combine the flour, baking powder, salt, and sugar. Stir well.

In another bowl or cup, combine the soy milk and apple cider vinegar. Stir, and set aside to thicken.

Add cold vegan butter to the flour, and use a pastry cutter to blend the butter into the flour. You should end up with a grainy mix with clumps no bigger than peas.

Pour in the soy milk mix, and use a wooden spoon to quickly stir. Don't overstir it.

Transfer the dough to a floured surface and form the dough into an oval, about 1 inch thick.

Use a biscuit cutter or small round bowl to cut the biscuit shapes. Re-form the extra dough and continue with the flattening and cutting until you've used it all up.

Bake for 13-15 minutes until they're slightly golden on the bottom.
HOT CAULIFLOWER "CHICKEN"
In a medium-sized mixing bowl combine the flour, arrowroot powder, salt, cayenne pepper, white pepper, onion powder, garlic powder, paprika, Old Bay, and nutritional yeast.

In another bowl combine the hot sauce, soy milk, and Dijon mustard and whisk until creamy.

Heat the frying oil in a large dutch oven or fryer. It should be around 350°.

Use one hand to carefully dip a cauliflower floret into the wet mixture, then drop it into the flour mixture. Use your other hand (it should be dry) to coat it completely. Dip it back into the hot sauce mixture, and again into the dry mixture, keeping one hand devoted to wet and one to dry.

Carefully lower the twice coated cauliflower into the hot oil. Repeat with remaining cauliflower until you can't fit any more into the pot. Cook for about 4-5 minutes, until the pieces are golden.

Transfer fried cauliflower to a large plate covered with two sheets of paper towel to absorb excess oil.

Continue to cook the remaining cauliflower.

Serve in a biscuit, and drizzle on maple syrup before eating.