The following blog post is my first as a MegaFood ambassador! I'm extremely happy to be working with this supplement company because they deliver vitamins and minerals with real foods to make their line of high quality health supportive products. I've been using their nutrient booster powders and supplements for a couple of months, and am so pleased to start sharing my experience with you here on my blog and YouTube channel!! This vegan maca nutella is the bomb 💥
You know me. I like eating wholesome foods, and rarely eat highly processed things. And even though I know I'm getting my nutrients from the earth, I love giving my body a boost with superfoods: turmeric, matcha, goji berries, raw cacao. That little boost of nutrition helps me feel more energized and in balance throughout the day. Plus I can add them to my recipes to whip up delicious and unique creations.
MegaFood sent me 5 jars of their amazing nutrient booster powders: Daily Maca Plus for Women, Daily C-Protect, Daily Energy, Daily Purify, and Daily Turmeric. These unsweetened powders are expertly crafted blends of superfoods and herbs—all whole food based. Even better, MegaFood sources its ingredients directly from farmers, so they know and trust the quality of every ingredient that goes into one of these blends. Obviously I wanted to try them all at once. Each one had an ingredient that especially stood out to me. For example, reishi mushroom in the Daily Purify, or ashwaganda in the Daily Energy. However, the one that drew me in the most was the Daily Maca Plus.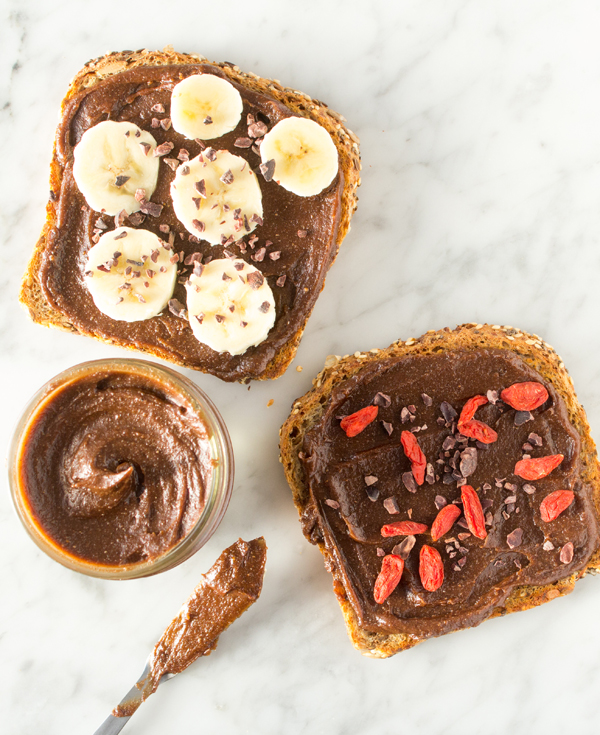 What is Maca?
Maca is a root vegetable from South America, and for thousands of years people in and around the Andes have been consuming this tuber as food and medicinally.
Maca helps to support women experiencing the everyday hormonal imbalance and discomforts related to the female cycle. Though people in South America have been cultivating maca for literally thousands of years, it is a fairly new arrival to the US superfood scene. I love it for its health benefits, but also for its taste. Maca has a nutty and earthy flavor that pairs well with a wide variety of recipes.
This recipe for Boosted Vegan Maca Nutella is nuts! It combines my favorite flavors and ingredients to create a healthy, creamy, and not-too-sweet treat to enjoy any time of day. Like traditional nutella it is made with roasted hazelnuts and chocolate. However, this version is much healthier, and totally vegan. I swapped out the white sugar and used a blend of dates and maple syrup. In place of cocoa powder, I used raw cacao powder which is high in antioxidants and magnesium. Instead of dairy cream, I used plain ol' soy milk to whip this spread to perfection. The star ingredient is of course the Daily Maca Plus for women. Maca's nutty flavor pairs brilliantly with chocolate and hazelnut spread, and adds a nutrient and flavor boost to this simple recipe.
Serve this Boosted Vegan Maca Nutella on toast for breakfast, or eat it with fruit or crackers throughout the day. It may taste decadent and sinful, but this vegan nutella will actually support your health, and a healthy stress response.* Just don't eat the whole jar in one sitting 😉
Vegan Maca Nutella with Daily Maca Plus MegaFood Nutrient Booster Powder
Ingredients
1 ¾

cups

hazelnuts

½

cup

pitted dates

if they are not soft, soak them in the soy milk for an hour before using

¼

cup

+ 2 tablespoons maple syrup

2

tablespoons

MegaFood Daily Maca Plus Nutrient Booster Powder

½

cup

+ 2 tablespoons unsweetened plain soy milk

or another non-dairy milk

3

tablespoons

raw cacao powder

or cocoa powder
Instructions
Preheat oven to 350°, and evenly spread hazelnuts onto a baking sheet. Toast them for 10-12 minutes, until you start to smell them, and see them darken slightly. Make sure to set a timer so that the nuts do not burn.

Remove hazelnuts, and pour them into the center of a clean kitchen towel, and wrap tightly. Once they've cooled for about 2 minutes, rub them in the folds of the towel to loosen the skins. Transfer the skinned nuts back to the baking sheet and let them cool for another 10 minutes or so.

Place the nuts into a food processor. Blend until they have turned into a grain nut butter. Add the dates, maple syrup, and maca and continue to blend for 1 minute, until the dates have blended into the butter. It will be chunky and not spreadable at this point. As it blends, slowly drizzle in the soy milk until the nut butter becomes a creamy spread. Add the cacao powder, and continue to blend until very creamy.

Transfer to a glass jar to store, or use immediately. The nutella will keep fresh in the refrigerator for about 7 days.
See how I use this delicious vegan nutella in my morning routine 🙂