Don't miss the video for this silky vegan pumpkin pie and 2 more delicious vegan dessert recipes below!
I'm excited to announce the pre-order of my cookbook, SWEET POTATO SOUL. Purchase your copy today at Amazon, Barnes & Noble, Books-A-Million, Indie Bound, or iBooks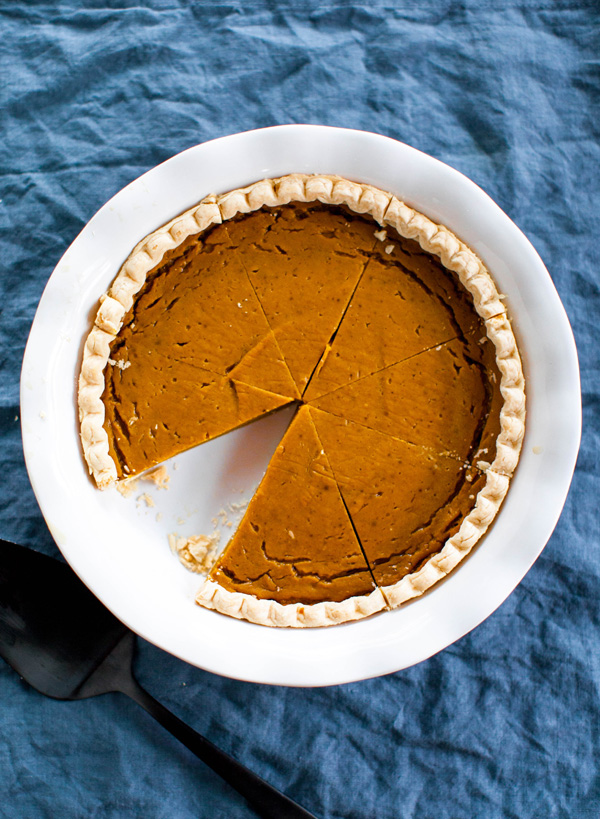 I love the kinds of hearty, warming, and soothing foods that come with autumn. Orange, brown, and yellow gourds, nuts, and tubers match up so beautifully with the turning leaves, and they taste amazing no matter what color they are!
In LA, yes, there are a lot of palm trees and succulents, and it doesn't get very cold, so foliage seems to stay green year-round, but we do occasionally come across those multicolored fall leaves that are a perfect companion to Thanksgiving dishes. And I'm making sure to make up for the scarcity of fall leaves by stocking up on fall treats!
After putting together 3 very colorful and incredibly delicious savory Thanksgiving dishes (mashed potatoes with mushroom gravy, smoky maple roasted vegetables, and butternut squash lasagna—also check out the video featuring all 3 🎃😋🍂), I moved onto 3 equally scrumptious desserts. Following a light, healthy apple tart and a fancy crustless pecan pie, I present to you the easiest to make of the bunch (although your family will never guess it once they taste how perfect it is): Vegan Pumpkin Pie.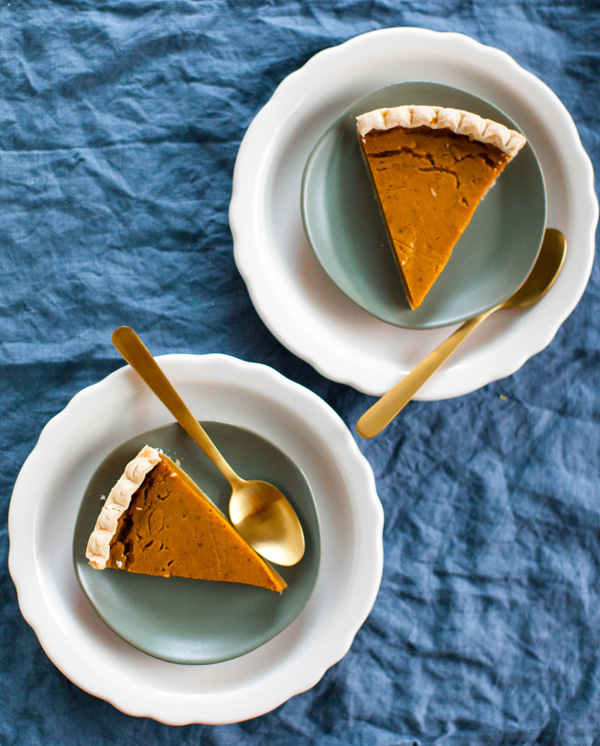 While this vegan pumpkin pie does not skimp on the ingredients, the preparation is so simple. Throw everything in the blender, and a few minutes (or even seconds…) later pour the resulting creamy orange deliciousness into a store-bought crust. Leave it in the oven for 50 minutes, and then the fridge overnight, and in the end you've got a vegan pumpkin pie that will put you and your family in their feelings 😊
This one is so easy that you might want to up the difficulty level a bit, so feel free to make your own crust at home. I have a couple of great ones for you to try, one flaky and one nutty—both vegan! The store-bought crust I like to use is by a brand called Wholly Wholesome. They make a few different types of vegan pie crusts; I like the traditional one. Any of crust these options, store-bought or homemade, will result in an amazing vegan pumpkin pie for your Thanksgiving table.
One last thing! This vegan pumpkin pie is a dessert and it does not taste like a healthy dessert, but it is pretty healthy! It's high in fiber, low in sugar (per serving, that is—don't eat the whole pie), high in beta-carotene (the powerful antioxidant that orange foods like pumpkin and squash have a ton of), and cholesterol free. The filling contains no added oil or vegan butter 👍🏾
Have a beautiful fall and a happy Thanksgiving! If you're eating with carnivores, bring some vegan treats to show them what they're missing. I have lots more ideas for you on my Thanksgiving Pinterest board.
Vegan Pumpkin Pie
This recipe was adapted from my vegan sweet potato pie recipe https://sweetpotatosoul.com/2014/01/how-to-make-vegan-sweet-potato-pie.html MAKES 2 PIES. Half the recipe if you'd only like to make one pie.
Ingredients
2

cups

pureed pumpkin

2

cup

mashed butternut squash

roast squash whole or cut in half, and scoop out filling

1

cup

sugar - half light brown

half cane

½

tsp

salt

1/2

teaspoon

ground cloves

2

tsp

cinnamon

½

tsp

nutmeg

freshly ground if possible

1

tsp

vanilla extract

1

cup

plain unsweetened soy milk

4

tbsp

arrowroot powder

2

vegan pie crusts

store bought or use one of the crust recipes from this post.
Instructions
Preheat oven to 350°,

Place all of the filling ingredients into the blender and blend until smooth.

Fill the crusts with batter, and bake for 50 minutes.

Remove from the oven to let cool for at least 30 minutes, then set in the fridge to chill for 6 hours or overnight.