I originally created this stuffed sweet potato recipe for a partnership I did with Well & Good for Imagine Foods.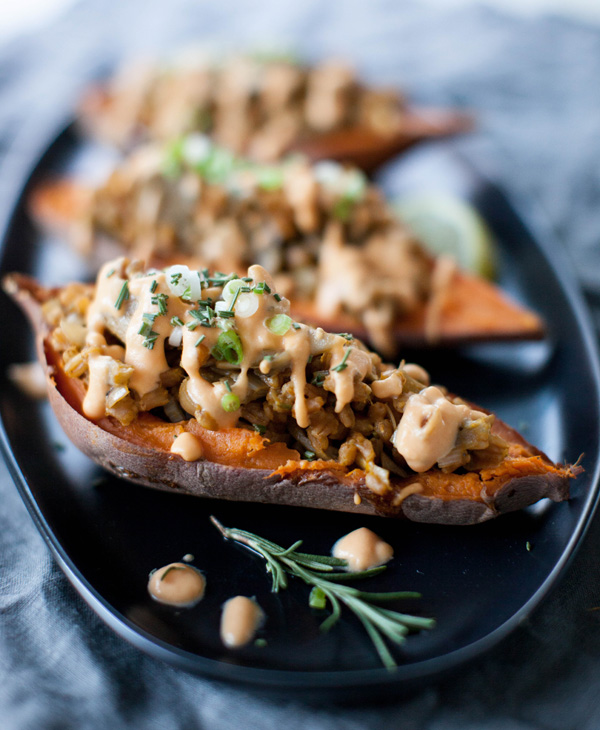 New favorite recipe alert! There are a few meals that I cannot get enough of these days: roasted brussels sprouts, apple walnut tart, salads with mint & dill, and this wild mushroom and leek stuffed sweet potato. It's the ultimate comfort food, only it's good for you! To make it even better, this stuffed sweet potato is topped with a sweet potato aioli. Next level, y'all!
This recipe is so easy to make, and perfect for everything from a dinner party to packed lunch.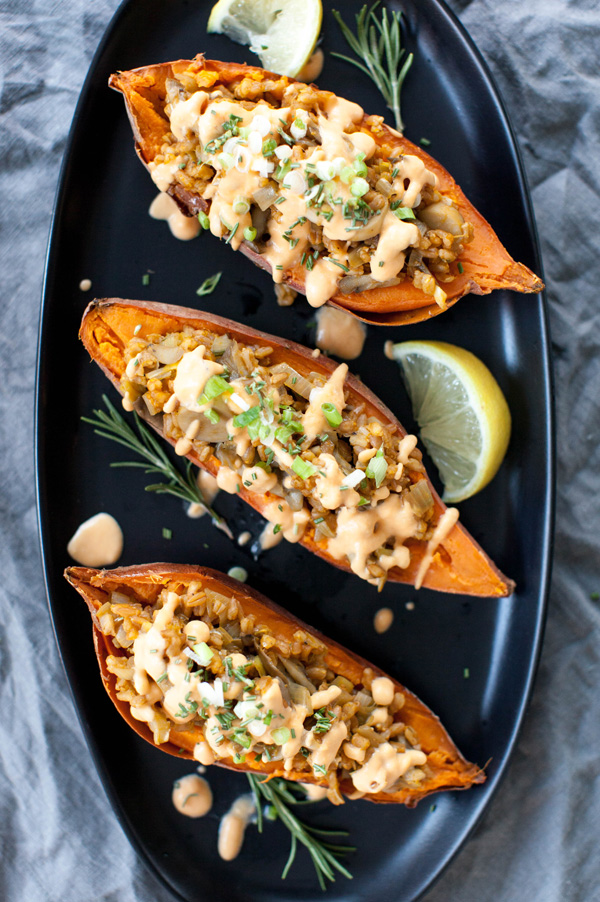 I've been trying to eat a larger assortment of whole grains lately, because they are crucial for getting enough dietary fiber. They're also a great source of protein, vitamins, minerals, and antioxidants. Farro is one of my favorites. It's an ancient grain, and cousin of wheat, that is high in b vitamins, magnesium, iron, and zinc. This nutty-tasting whole grain is super healthy, but I especially love it for its chewy texture. In this stuffed sweet potato it truly shines! Cook it in vegetable stock for the very best flavor!
Wild Mushroom & Leek Stuffed Sweet Potato
To save time making this stuffed sweet potato recipe soak the farro for at least 1 hour before cooking. This will reduce the cook time from 30 to 20 minutes. Any leftover sweet potato aioli can be used as a dipping sauce for roasted vegetables, for raw vegetables, or as a spread on sandwiches.
Ingredients
Stuffed sweet potato
4

sweet potatoes

2

tsp

grapeseed oil

1

cup

whole grain farro

3 1/4

cup

low-sodium vegetable broth or 3 1/4 cup water + 1 1/2 teaspoon vegetable bouillon paste

1

leek

white part only, thinly sliced (about 1 1/2 cups)

3

cups

wild mushrooms

this version features maitake and trumpet mushrooms, but any will do

1

tsp

fresh rosemary

minced (or 1/2 tsp dried rosemary)1/2 tsp sea salt

1

tsp

black pepper
Sweet potato aioli
1/2

cup

vegan mayo

1/2

raw garlic clove

1 1/2

Tbsp

apple cider vinegar

1 1/2

Tbsp

lemon juice

1-2

Tbsp

water

1/2

Tbsp

sea salt
Instructions
Preheat oven to 375°.

Poke fork holes into the sweet potatoes, then rub a bit of oil onto each one. Place them on a baking sheet and bake for 45 minutes, or until tender.

While the sweet potatoes are in the oven, make the rest of the items.

To a saucepan add 1/4 cup of vegetable broth. Bring it to a simmer, then add the leeks. Cook the leeks until they begin to soften. Add the mushrooms, farro, rosemary, and remaining 3 cups of vegetable broth. Bring it to a boil, then reduce the heat to medium-low and simmer. Place a lid over the pan, keeping it ajar, and cook for 30 minutes, or until the farro is tender. Stir every 5-10 minutes, and add more broth or water if the liquid evaporates too quickly. Season with salt and pepper, and add more to taste if necessary.

Once the cooked sweet potatoes are out of the oven and cool enough to handle, cut them in half. Scoop out the center of each sweet potato and set it aside. Some will be for the sweet potato aioli, the rest you can save. It'll stay fresh in the refrigerator for about 7 days.
Sweet Potato Aioli
Into a blender add 3/4 cup of sweet potato, vegan mayo, garlic, apple cider vinegar, lemon juice, salt, and 1 tablespoon of water.

Blend until creamy. If you'd like the sauce a bit thinner add 1 more tablespoon of water.

Assembling the sweet potatoes: Fill the scooped out sweet potatoes with the mushroom and leek filling, and top with aioli. Serve with fresh lemon on the side and minced rosemary to garnish.