These 5 minute easy vegan recipes are full of flavor and nutrition. These balanced dishes are great for packed lunches or a quick dinner. Let me know which one you like best!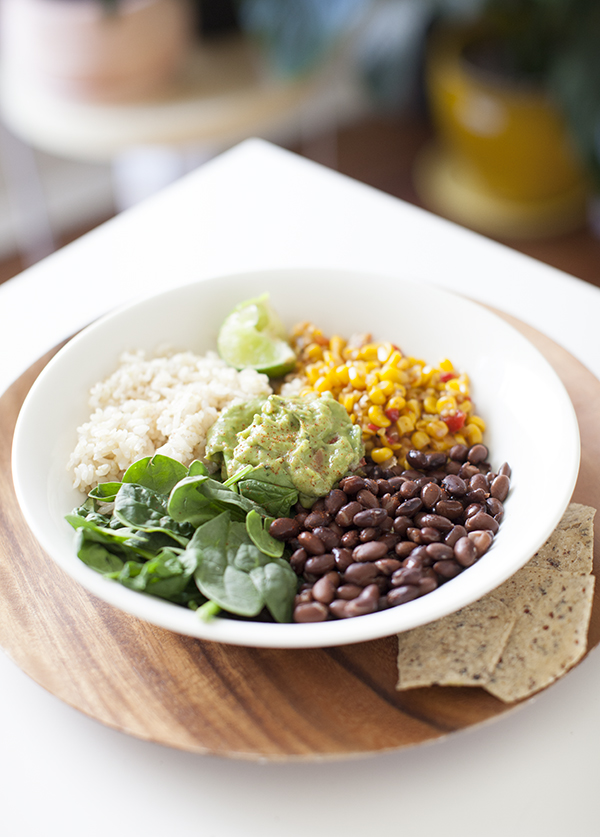 People are always telling me how they'd love to go vegan, but they don't have time to cook healthy balanced meals for themselves. Sure, it can take a lot of time to make a meal, but it can also take as little as 5 minutes. All it takes is a little foresight! These three easy vegan recipes take just 5 minutes to prepare because I'm using pre-washed and pre-cooked ingredients. For example: pre-washed arugula and spinach, pre-made guacamole, and frozen pre-cooked rice.
When you're short on time, investing in pre-prepared ingredients can be a game changer!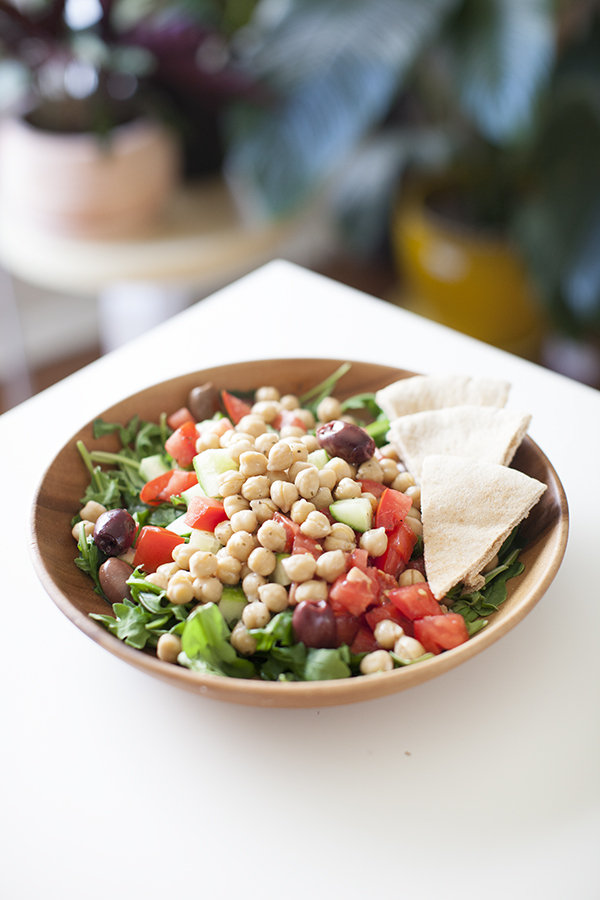 As you'll see in the video below, in the time it takes me to cook soba noodles I can whip up a pan of vegetables and tofu, then toss all of the ingredients together with flavorful sauces. 5 minutes…done!
If you'd rather not purchase pre-cooked or frozen ingredients, simply take an hour or two on your off day to prep ingredients for the week. Keep them stored in the refrigerator so that you can still put together these easy vegan recipes in 5 minutes.
Burrito Bowl | 5 Minute Easy Vegan Recipes
Look for pre-cooked frozen rice at any grocery store. I prefer making my own guacamole, but when I don't have time I'll buy it pre-made. Just be sure to check that icky ingredients like food coloring or preservatives haven't been added.This easy vegan recipe is also great served in a large wheat tortillas as a burrito or as tacos.
Ingredients
1 10-

oz

pack frozen pre-cooked brown rice

1

cup

cooked black beans

I used canned

2

handfuls raw pre-washed spinach

1/2-1

cup

corn salsa

or tomato salsa

1/2

cup

fresh guacamole

a handful of corn tortilla chips
Instructions
Follow the package instructions to warm the brown rice for 3 minutes.

While the rice is heating, assemble the beans, spinach, and salsa in large bowls).

Add the rice, then top the dish with guacamole and corn tortilla chips.
Mediterranean Salad | 5 Minute Easy Vegan Recipes
Use your favorite vegan vinaigrette for this easy vegan recipe. I used a red wine vinaigrette from Trader Joes. If you want to make your own salad dressing, check out some of my homemade recipes. https://youtu.be/tFeDy5uIfDM
Ingredients
4

handfuls fresh pre-washed arugula

1/2

large cucumber

seeded and diced (about 1 cup)

1

ripe tomato

diced (about 1 cup)

1

cup

cooked chickpeas

1/4

cup

pitted kalamata olives

2-4

tablespoons

red wine vinaigrette

1

pita

cut into triangles
Instructions
Toss the arugula, cucumber, tomato, chickpeas, and olives in a mixing bowl with the vinaigrette.

Place in serving plates and serve with pita wedges.
Veggie & Tofu Soba Noodles | 5 Minute Easy Vegan Recipes
There is so much wiggle room with this recipe. Use any type of frozen veggies, or sub beans (like edamame) for the tofu. You could even use a pre-made teriyaki sauce, or curry sauce instead. It comes together quickly, and is very satisfying!
Ingredients
2

bundles of soba noodles

2

cups

of frozen veggies

1/2

package of extra-firm tofu

3

tablespoons

soy sauce

2

tablespoons

rice vinegar

2

teaspoons

toasted sesame oil
Instructions
Bring 6 cups of water to a boil, and cook the soba noodles for 4 minutes, or until tender.

While the soba is cooking sauté the frozen veggies and tofu on medium heat. I didn't add any oil to the pan to do this because the frozen veggies add plenty of water the pan while they cook. Feel free to sauté in oil if you prefer.

Cover and cook the veggies and tofu for about 4 minutes while the soba is cooking.

Drain the soba noodles then toss them into the skillet with the veggies, and remove from the heat.

Add the soy sauce, rice vinegar, and sesame oil, and toss the noodles and veggies well.

Season with more sauce to taste then serve.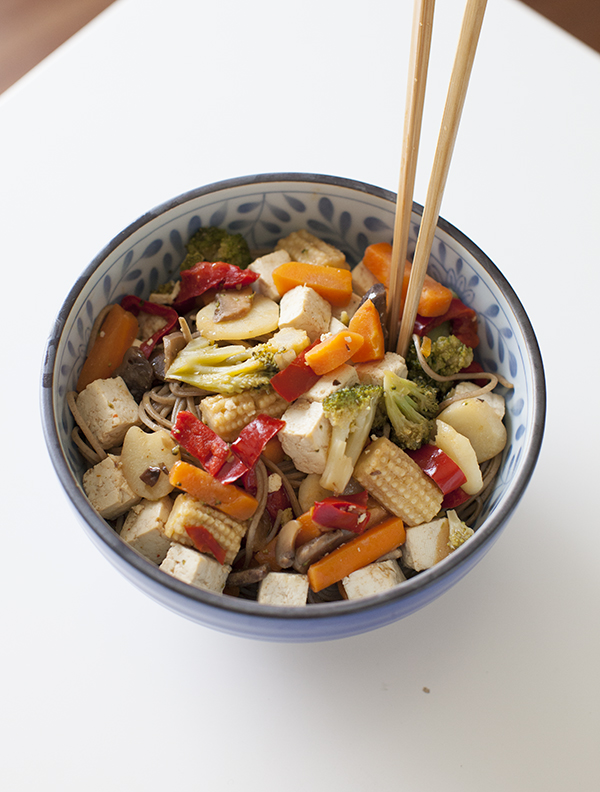 Save
Save