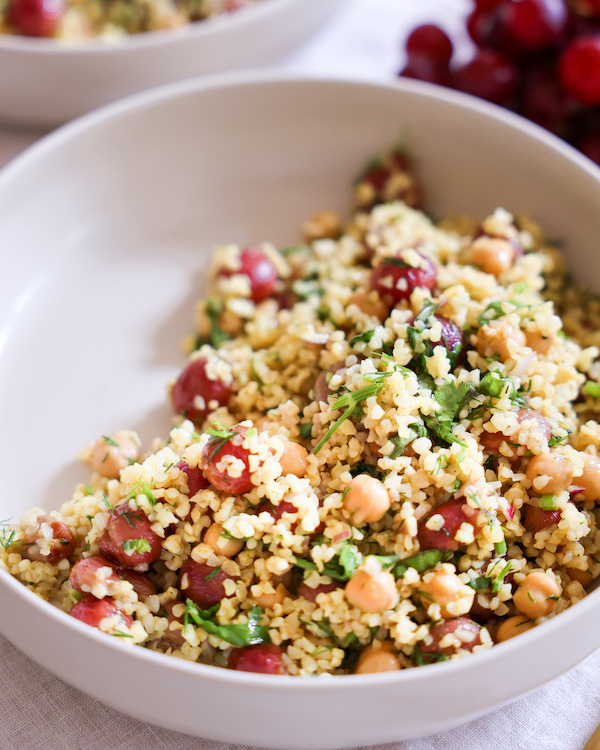 I love all whole grains, but I especially have a thing for bulgur. This hearty bulgur salad bursting with flavor, and amazing texture is my favorite way to enjoy it. Roasted grapes add texture and sweetness that pairs perfectly with the savory curry dressing. Toss your grain salad with as many fresh herbs as you'd like, and top it off with toasted slivered almonds or pumpkin seeds. Serve it warm or cold. 

What is bulgur?
Bulgur is parboiled cracked wheat. The cooked grain is tiny, fluffy, and has a mild savory flavor. If you're a fan of cous cous, quinoa, or freekeh, you're going to love bulgur wheat. If you're a fan of Middle Eastern food, you may have had bulgur in tabbouleh––a simple but delicious salad made with loads of fresh herbs, tomatoes, bulgur, lemon, and olive oil. 
Did you seriously roast the grapes?
Yes, I did. And I hope you will too! I haven't been a fan of grapes or raisins since I was 10 years old––too sweet, too boring––but I've been stocking up on grapes all summer just so I can stick them in the oven. Roasting grapes concentrates their sweet flavor and adds some (needed) dimension. The grapes soften as they cook, but don't split like tomatoes do. The final texture is smooth with a slight crunch, and just the right amount of juiciness.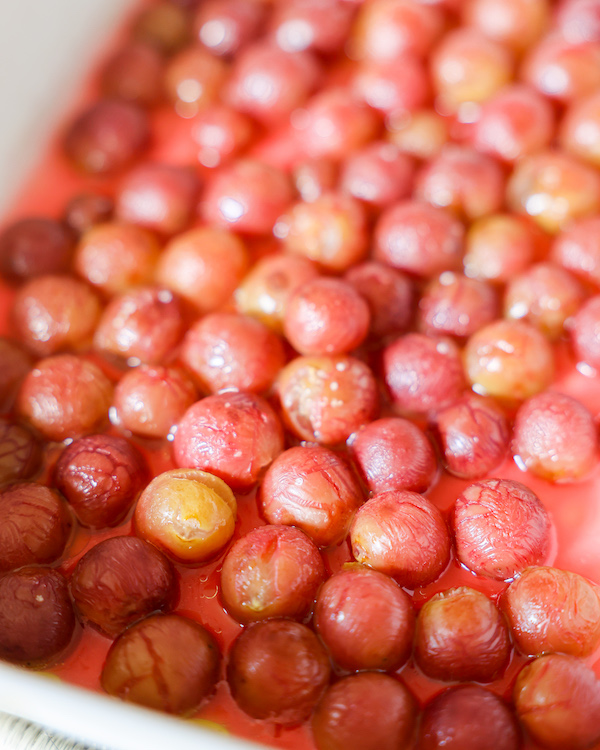 The other ingredients
Of course, a great recipe is all about the ingredients. Bulgur and roasted grapes might be the star of this show, but they are nothing without their supporting cast:
Chickpeas: A whole grain salad isn't complete without a grain's best friend, beans. To make this bulgur salad heartier, tastier, and more nutritious add chickpeas. Other beans will work too, but the texture and size of chickpeas goes best in this salad. 
Curry vinaigrette: This curry vinaigrette recipe is inspired by one of my favorite dressings ever. It is made for those who can appreciate flavor. While the original recipe has a lot of individual spices, this one uses just a few, including a curry powder, which makes it easy to make. 
Lots of herbs: Cilantro, mint, and parsley are a must for this bulgur salad. Basil and dill make it even better. You really can't have too many of these herbs. Don't like cilantro? Skip it and use mint and parsley. Don't have mint, use what you've got. 
Fun Fact about Bulgur
You don't have to cook it! To make fluffy bulgur you can simply soak the grains in water or vegetable broth for 90 minutes. This works well when you are meal prepping, don't have an open burner, or want to avoid heating up the kitchen. You'll obviously need to plan ahead if you're using this method. 90 minutes is a long time to wait.
The fast way to cook bulgur on the stove: Bring 1 ½ cups of bulgur to a simmer in 3 cups of water or vegetable broth. Cover with a lid, keeping it ajar, and cook for 10 minutes. Remove from the heat, and cover completely for 5-10 more minutes, or until you're ready to use it. 
Meal Prep Perfect
This bulgur salad gets a gold star for being meal prep perfect. It is easy to make, filling, and gets better each day. My only tip is to save the toasted nuts or seeds for when you serve it. Sprinkle them on right before enjoying so they're still crunchy. 
For a free meal prep guide every Monday, sign up for my newsletter here!
Bulgur Salad with Roasted Grapes & Curry Vinaigrette
Enjoy this hearty bulgur salad warm or cold.
Ingredients
½

lb

red seedless grapes

½

tbsp

extra virgin olive oil

⅛

tsp

sea salt

1 ½

cups

raw bulgur

or freekeh (toasted cracked wheat)

3

cups

water or vegetable broth

2

cups

cooked chickpeas

from 1 can, drained and rinsed

1-2

cups

chopped fresh herbs

cilantro, parsley, mint, dill, and/or basil

¼

cup

toasted slivered almonds

or toasted pumpkin seeds
Curry Vinaigrette
⅓

cup

extra virgin olive oil

¼

cup

apple cider vinegar

1 ½

tbsp

maple syrup

1

tbsp

dijon mustard

2

tsp

curry powder

2

tsp

sea salt

use less if cooking bulgur in a salty broth

2

tsp

pepper

1

tsp

ground cumin

½

tsp

kashmiri chili or cayenne pepper

optional
Instructions
Preheat the oven to 350°.

In a baking dish, toss the grapes with olive oil and salt. Spread evenly, and roast for 30 minutes, until grapes are tender.

Bring bulgur and water or broth to a boil, and reduce heat to simmer. Place a lid over the pot, keeping it ajar. Cook for 10 minutes, then remove from heat. Completely cover with the lid, and let sit for 5-10 minutes, or until ready to use.

Combine the ingredients for the curry vinaigrette in a jar with a lid, and shake vigorously.

In a large mixing bowl, toss the cooked bulgur with the chickpeas, herbs, grapes, and curry vinaigrette. Season to taste with salt if desired.

Finish with toasted nuts or seeds before serving.