This post is sponsored by Bob's Red Mill, my go-to company for organic and natural whole grains, baking essentials, and flours. I especially love them because they make it easy to get my hands on more exotic whole grains like freekeh! Keep reading to learn more about this Middle Eastern grain and how I use it to make delicious nutty freekeh porridge. Get ready to fall in love with this ingredient!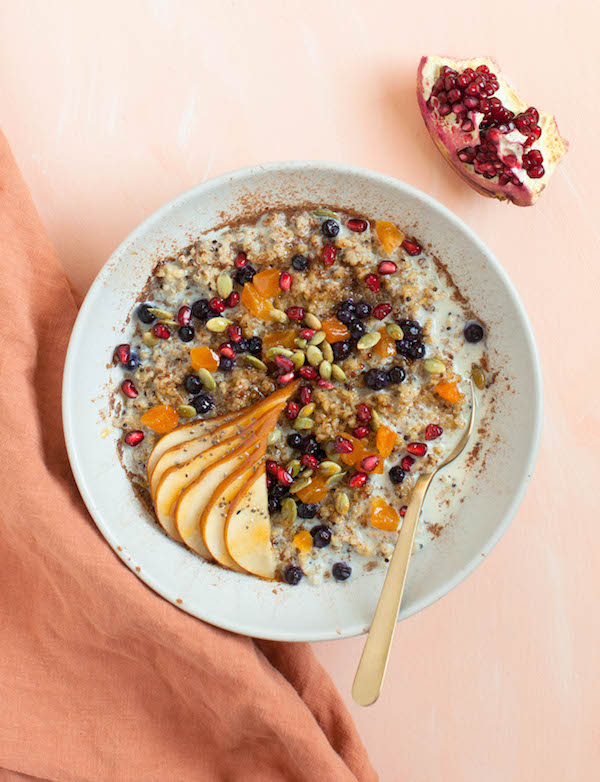 As fall rolls in, so do my cravings for hearty and sweet breakfast porridges. Oatmeal is delicious but oats aren't the only whole grain you can use to make creamy delicious breakfast porridge. My favorite grain at the moment is freekeh! If you're familiar with Middle Eastern cooking, you may already know and love it. Freekeh is roasted and cracked green durum wheat. It cooks quickly, and fills the kitchen with an alluring toasty aroma. The flavor is nutty and toasty, and the texture is slightly chewy. It's perfect!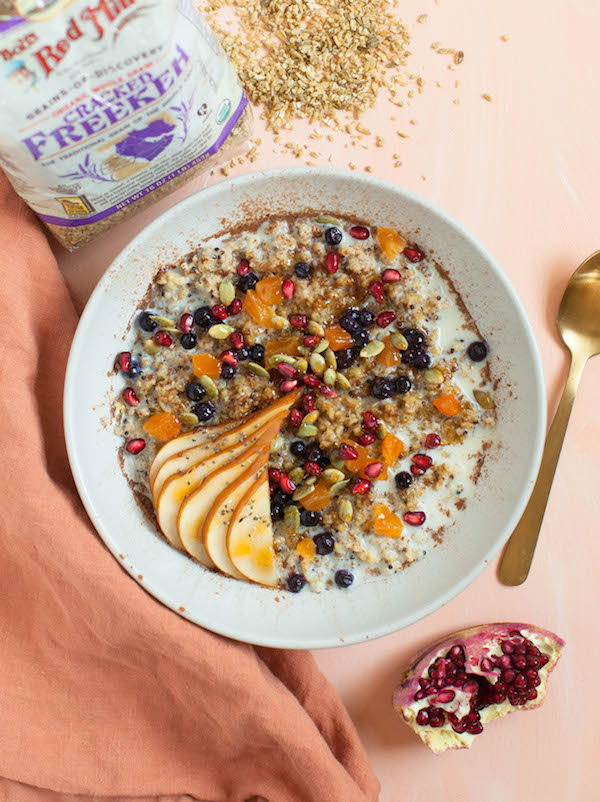 Traditionally freekeh has been used throughout the Middle East in pilafs made with other regional ingredients: think cinnamon, cumin, and nuts. I've used it in pilafs myself, but also tossed it in salads, stirred it into soups, and served it with curry. With the arrival of cooler mornings, I've most often been eating it as a porridge.
Perhaps the best thing about this freekeh porridge is that you can make it with pre-prepped grains. I like to cook a cup of the freekeh with a half cup of red or tri-color quinoa to give it a little more color, then store it all in the fridge until it's time to whip up breakfast. In the morning simply warm a serving of the grains with some non-dairy milk, and top with your favorite porridge fixin's. For me that's cinnamon, seasonal fruit (currently pear and pomegranate), nuts or seeds, and a sweetener. Since this is a Middle Eastern grain, I've been sweetening it with chopped dates and Bee Free Honee.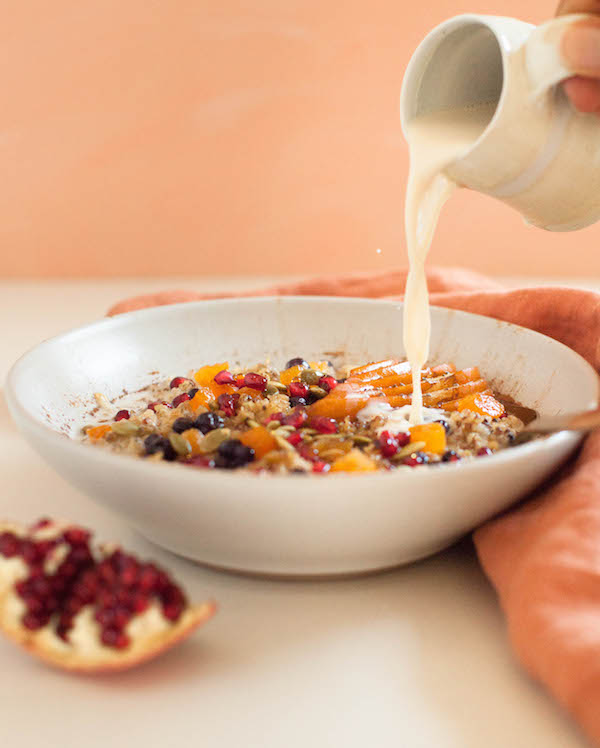 Freekeh porridge is high in protein, fiber, complex carbohydrates, B vitamins, zinc, magnesium, iron, and manganese. One bowl in the morning will keep you full for hours! Or if you're pregnant, like I am, a small bowl before bed will keep you nourished throughout the night, eliminating those 3am fridge runs 😉
I always buy my freekeh from Bob's Red Mill, and not just because they're the only company that sells it my local big grocery stores. I like that they are 100% employee owned, and the quality is always the best. Of course you can buy the quinoa for this freekeh porridge from Bob's Red Mill too! Here are a few other whole grains from them that I recommend trying + vegan recipes to use them in: creamy quinoa porridge, teff & almond flour pancakes (recipe below video), teff porridge, farro pilaf with arugula pesto, farro stuffed sweet potatoes with leeks & wild mushrooms.
Cracked Freekeh Porridge with Quinoa
This freekeh porridge is so heavenly, and it's super versatile. Feel free to follow my recipe as is, or swap out the toppings for your favorites. You can also use this porridge making technique (meaning: using pre-cooked whole grains) with farro, bulgar, teff, rice, barley, wheat berries, or oat groats. Cooking it from scratch this dish should take 25 minutes. Making it with pre-cooked grains will take you just 5 minutes in the morning. This recipe is for 4 servings so you can eat it throughout the week.
Ingredients
1/2

cup

red or tricolor quinoa

about 4 cups non-dairy milk

1

tsp

cinnamon

1/4

cup

maple syrup

agave or sorghum syrup

8

dried apricots and/or dates

1/4

cup

pomegranate arils

1

pear

cored and sliced

1/4

cup

blueberries

fresh or frozen

1/4-1/2

cup

toasted pumpkin seeds

or slivered toasted almonds
Instructions
Pour quinoa into a saucepan over medium heat, and toast for about 30 seconds, or until you smell it toasting. Give it a shake every few seconds.

Add the freekeh, 3 cups of water and 1/2 teaspoon of salt and bring to a boil.

Cook over medium-low heat with the lid ajar for about 25 minutes, or until grains are tender.

Warm non-dairy milk on the stove or in the microwave. If you are making just one serving, warm just 1 cup, or less if you want a thicker porridge.

Spoon a serving of the freekeh and quinoa (about a quarter of what you made) into a bowl, and top with the non-dairy milk, cinnamon, and maple syrup.

Then top with fruit and nuts.

NOTE: Grains will stay fresh in fridge for 5-7 days. If you are making this with pre-cooked grains warm them and the non-dairy milk separately or together before enjoying.