This post is sponsored by Barilla. We teamed up to introduce you to their new line of one-ingredient legume pastas made from chickpeas or red lentils. If you love pasta, and you love getting the most nutrition out of every meal, then you're going to love their new legume pastas, and this Creamy Avocado Pesto Pasta.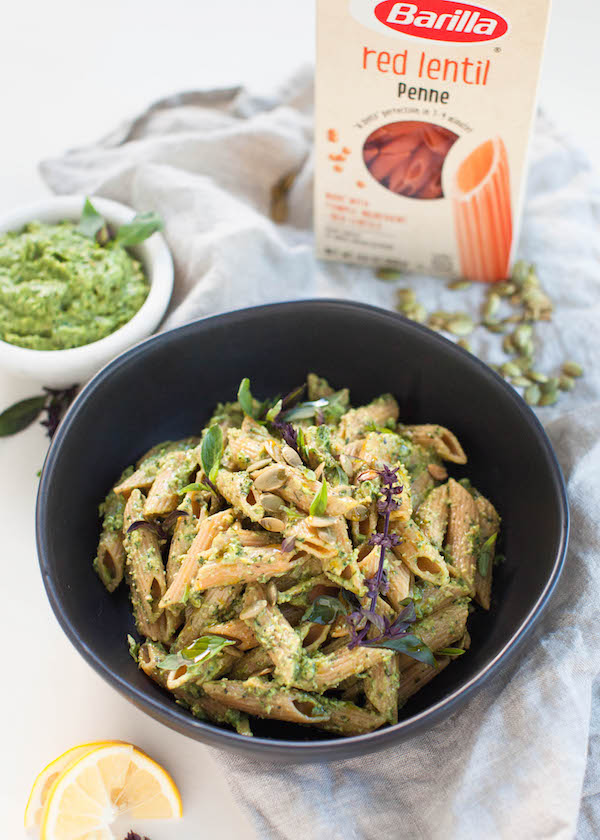 Avocado is easily one of my favorite foods. Obviously, I love its rich creamy texture and light flavor, but another thing I love about it is something that is too often overlooked: its versatility! Most of us only know avocado from having guacamole, or perhaps avocado toast if you're a city-dwelling millennial. That's really a shame because avocado can be used in so many ways, savory or sweet. And because avocados are so nutritious––high in vitamin E, A, C, K, B, potassium, magnesium, and healthy fats––there's even more reason to enjoy them often.
Though I most often eat avocado on toast (yes, I'm obsessed), my favorite ways to eat it are as guacamole on chips or tacos, blended with dates and cocoa powder to make a chocolate mousse (insanely delicious), massaged into kale as the base of a salad, and now as a creamy and light avocado pesto. Avocado pesto is sort of like a vegan green goddess dressing, so you can use it as a dressing on salads or grains, as a dip, or be more traditional and toss it with pasta.
For this recipe, I went with the traditional option and created an avocado pesto pasta. To make it an extra nourishing entrée, I used Barilla Red Lentil Penne from their new line of one-ingredient legume pastas. This avocado pesto pasta can be enjoyed hot or room-temperature, and this Red Lentil Penne has the perfect al dente texture no matter how you serve it.
While this might look like normal rotini pasta, it's got some added nutrition superpowers. Because the pasta is made from legumes (aka beans and lentils), it has all of the good stuff of this very nutrient-dense food. It is high in fiber, B vitamins, iron, potassium, and protein. Fiber, in particular, is one of the main nutrients that we do not eat enough of as Americans. Simply swapping in legume pasta is an easy way to increase your fiber intake––which is important for heart health, cancer risk reduction, digestion health, weight loss, and feeling full.
As you can see, there isn't much to this simple yet delicious avocado pesto pasta. The pasta cooks in just 7 minutes, and the pesto comes together in about the same amount of time. You can make this dish as a lazy weeknight meal or serve it at a dinner party to impress your guests. If you'd like to bulk it up a bit, try adding grilled or roasted vegetables, or topping it with grilled or seared mushrooms. Yummy!!
You can find the Barilla Legume pastas on Amazon, and at select grocery stores nationwide. The pastas come in four varieties: Chickpea Rotini, Chickpea Casarecce, Red Lentil Penne, and Red Lentil Rotini. Have fun exploring them all and keep returning to my blog for more recipe ideas! For more on the new pastas from Barilla, visit www.barilla.com/legume.
Check out these other recipes I created using the Barilla Legume pasta: Eggplant Red Lentil Penne Pasta, Mediterranean Pasta Salad, Oyster Mushroom Red Lentil Pasta Alfredo, Spicy Pasta Arrabbiata, and Pasta Puttanesca.
Avocado Pesto Pasta
Ingredients
1

box Barilla Red Lentil Penne

1

ripe avocado

pitted

1

cup

fresh basil leaves + more for garnish

¼

cup

toasted pumpkin seeds

or pine nuts

1-2

cloves

garlic

chopped

Juice of ½ lemon

about 1-2 tbsp

2

tbsp

olive oil

½

tsp

sea salt + more to taste

¼

tsp

Black pepper
Instructions
To make the pasta: boil 4 quarts of salted water, add pasta and boil for 7 minutes for al dente (I add 2 more minutes when cooking the red lentil penne because I like a softer pasta). Drain well, then toss immediately with a drizzle of extra virgin olive oil in the colander.

In a food processor combine the avocado flesh, basil, pumpkin seeds, garlic lemon, olive oil, salt, and pepper. Blend until creamy. Season to taste with more salt and pepper if necessary.

Toss the pesto with the red lentil penne.

Serve garnished with fresh basil and black pepper.