I'm excited to announce the pre-order of my cookbook, SWEET POTATO SOUL. Purchase your copy today at Amazon, Barnes & Noble, Books-A-Million, Indie Bound, or iBooks.
This BBQ Tempeh sandwich is part of my back-to-school lunch ideas series!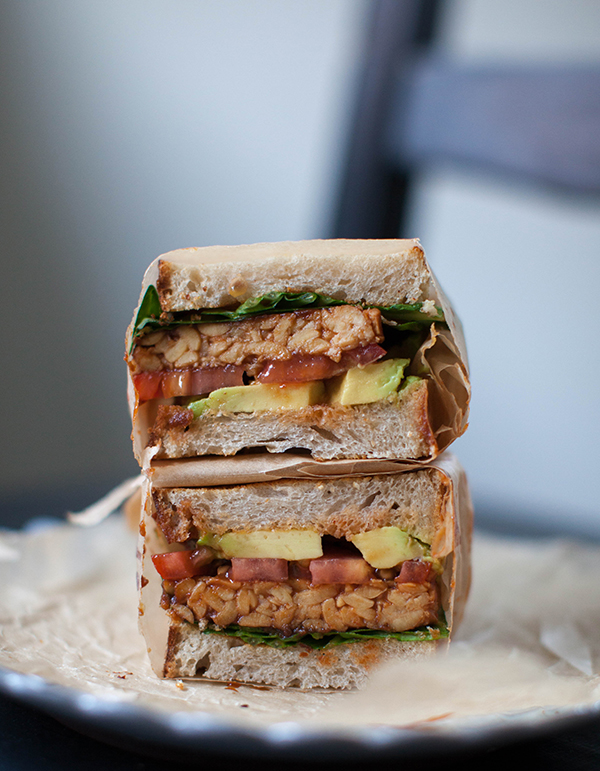 I don't eat sandwiches often, but when I do they are GOOD! This BBQ Tempeh Sandwich has it all: perfectly toasted sourdough bread, fresh lettuce and ripe tomatoes, creamy avocado, and savory sweet BBQ tempeh. Wrap the sandwich in some parchment paper and take it with you for lunch. It's back-to-school lunchtime perfection!
If you're new to tempeh, then this recipe is a great one to start with. Tempeh is a fermented soy bean cake. Sounds a little funky, but it's delicious. In Indonesia, where tempeh originated, it has been eaten for hundreds of years as a terrific source of protein, fiber, healthy bacteria, and B vitamins. Tempeh doesn't have much flavor of its own, but it takes on the flavor of whatever you marinate or cook it in. After cooking sliced tempeh in barbecue sauce for 20 minutes, you've got the most delicious, rich, and satisfying treat.
If for some reason you cannot get your hands on tempeh, you can try this recipe with extra-firm tofu, portabello or oyster mushrooms, jackfruit, or a vegan meat substitute. And if you'd rather make your own sauce from scratch, check out my recipe for chipotle BBQ sauce.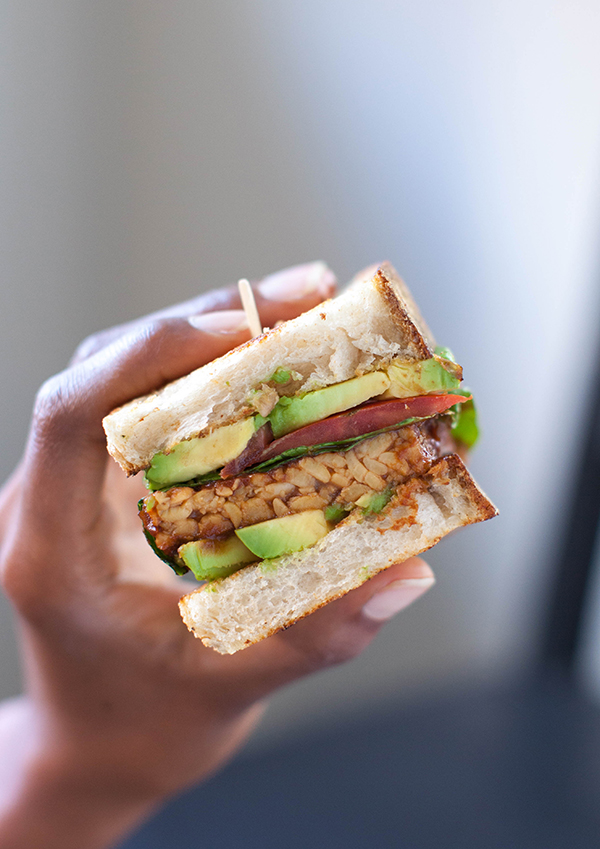 If you're looking for more clean and delicious back-to-school recipes, don't miss my vegan Panda Express recipes—Date Teriyaki Chickpeas and Orange Chickpeas!! And I recently shared a detailed back-t0-school meal prep guide plus recipes.
Vegan BBQ Tempeh Sandwich
I used the apple smoke BBQ sauce from Sprouts market for this tempeh sandwich. If you'd rather make your own, check out my recipe for chipotle BBQ sauce. To keep the sandwich from being too messy if you take it to lunch I recommend wrapping it tightly in parchment paper, cutting it in half (while wrapped), then rewrapping in aluminum. That way you can keep your hands clean while you eat this saucy tempeh sandwich. The recipe is for 4 servings, so keep that in mind if you're just making 1 sandwich at a time. Cook all of the tempeh at once, but prep your other ingredients fresh before putting together each sandwich.
Ingredients
1

package soy tempeh

cut in 3 large square pieces, then thinly slice each piece

1

cup

BBQ sauce + 1/4 cup water

8

slices

of sourdough bread

toasted

1/2

vine-ripenend tomato

sliced

4

large romaine leaves

halved

1

small avocado

or 1/2 large avocado
Instructions
Place the tempeh in a saucepan, and cover with the BBQ sauce and water. Stir to make sure the water and BBQ sauce mix well, and make sure that the tempeh slices are covered on all sides.

Cook and simmer on medium-low heat for 20-30 minutes.

Assemble tempeh sandwich

On toasted bread layer the sliced tomato, romaine leaves, avocado, and BBQ tempeh. I like to do avocado on both sides of the bread 🙂