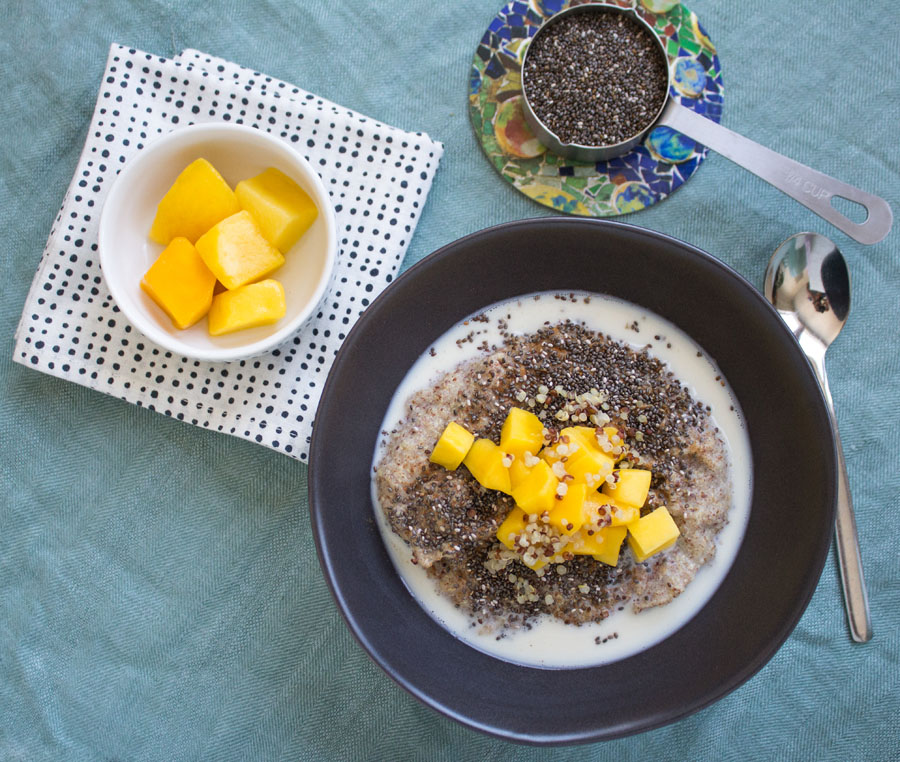 Let's talk about breakfast!
It's definitely my favorite meal of the day. Yet, as a vegan people always wonder what I eat, as though when you remove animal products there is nothing left to eat. Honestly, I still eat the same foods I ate growing up. I eat pancakes, waffles, oatmeal, sausages, muffins, and scrambles; only I don't use animal products. Vegan pancakes are delicious, as are waffles. Replace the dairy milk with non-dairy milk, the egg with flax, and the butter with Earth Balance, and you're good to go! Vegan breakfast sausages are delicious, especially the Field Roast and Gardein. No meat necessary! Muffins definitely don't require animal products to be delicious, and neither do scrambles––just use tofu in place of the eggs!!
My favorite vegan breakfast these days is warm and creamy quinoa porridge. Like so many of us, I grew up eating and adoring oatmeal and Cream of Wheat porridge. Quinoa porridge has all of the comforting goodness of oats, but it's more filling, and even more nutritious. Quinoa is a great source of protein and fiber. Together they keep you full for hours, and help keep your blood sugar levels stable. This gluten-free pseudo-grain also contains anti-inflammatory phytonutrients (plant nutrients), antioxidants, minerals, and even small amounts of Omega-3 fatty acids. One of my favorite things about quinoa porridge is how easy it is to prepare. Even better,  you can make a big batch and warm it up with non-dairy milk throughout the week. Can't get any easier than that!
This simple quinoa porridge recipe comes from my e-cookbook 5 Ingredient Vegan. For more simple breakfast recipes (plus recipes for any occasion), download the book!
Quinoa Porridge
Like any other breakfast porridge, this one can be dressed up with dried and/or fresh fruit and nuts. I like to add raisins, mango/banana, and chopped walnuts or pecans. The chia seeds add an extra boost of complete protein, fiber, and omega-3s. This is a truly nourishing and delicious breakfast. I don't usually rinse my quinoa, but feel free to if you usually do.
Ingredients
1

cup

quinoa

2

cups

water

2 ½

cups

non-dairy milk

I like homemade almond milk, or Westsoy organic soy milk

2

tbsp

chia seeds

2

tsp

cinnamon

¼

cup

maple syrup
Instructions
Toast quinoa in your pan for about 30 seconds, then add water. Bring to a boil, then reduce heat to a soft simmer on medium-low heat, and cover (keeping the lid ajar). Cook for 15 minutes. Transfer the cooked & fluffy quinoa to your blender. Pour in the the non-dairy milk, maple syrup, and cinnamon, and blend until smooth. Add more maple syrup if necessary, and reblend.

At this point you can add the blended quinoa back to the pot if you'd like it hotter. If not, pour it directly into serving bowls and top with a sprinkle of cinnamon and chia seeds (1 tbsp spoon each bowl).