I'm excited to announce the pre-order of my cookbook, SWEET POTATO SOUL. Purchase your copy today at Amazon, Barnes & Noble, Books-A-Million, Indie Bound, or iBooks.
On the morning of July 3rd we headed out from Memphis, TN and made our way south to New Orleans—my spirit city. The drive through Mississippi was lovely, and we even stopped in Jackson for lunch at one of the city's few vegan joints, The High Noon Cafe. A couple hours later we were driving down LA 55 over the magical bayou, and into New Orleans. 
New Orleans has long been my favorite city, but it was Maxx's first time visiting. We were so excited to get to explore it together, but we didn't expect there would be many vegan food options. At first a vegan New Orleans can seem like an oxymoron, but look a little deeper and you'll find that it isn't so. We were pleasantly surprised by how easy it was to eat well in NOLA.
Watch the video below, then we'll get into the nitty gritty of vegan New Orleans!
For the first 3 nights we were in town we stayed in the French Quarter at the Maison Dupuy. It's an old hotel with lots of character, history, and a stunning courtyard. There's a restaurant in the hotel, but we didn't find it very vegan-friendly. Instead we went to Whole Foods and made sure to stock up on ingredients to make salad in our room. It didn't hurt that we had a sick furnished balcony attached to our room. Why eat out when you can dine all fancy like that? During the entire trip we always made sure to have a refrigerator in our hotel room so that we could store our food. And of course we kept a cooler in the car. 
FRENCHMEN ST. 
If you're a music lover you've got to spend some time on Frenchmen St. It's one of my favorite things to do in NOLA. Get there at the right time (I think around 9-10pm most nights…) and you'll see a huge brass band playing at the corner of Frenchmen & … There are tons of clubs lining both sides of the street, and most do not have a cover charge. In New Orleans it is legal to drink alcohol on the streets, so feel free to grab a cocktail and pop in and out of bars to hear as much live music as possible. 
What started as a little neighborhood wine shop has turned into one of the coolest spots in the Bywater. Bacchanal is like an outdoor beer garden, but with wine and live jazz. Buy a bottle in the wine store, grab a couple glasses and a bucket of ice (if you're drinking white or rosé), and find a table to enjoy the live jazz show and/or people watch. I would love to find a place like this in Los Angeles. I'd be there every weekend 🍷
Our favorite meal was at this Israeli restaurant run by Chef Alon Shaya. Though it is not a vegan restaurant, there are plenty of options for compassionate eaters. Everything was sensational, from the chanterelle mushroom hummus to the fresh baked pita bread. Check out the footage of the bread rising in my video above! Shaya is in uptown New Orleans, which is a beautiful area for walking, biking, and shopping.
Right across the street from Shaya is the a thrift store run by the Louisiana SPCA called No Fleas Market that raises money for animal rescue. I didn't look at the clothes because they had the cutest kitten and pup up for adoption. Of course I played with them instead of shopping. Also check out Peaches Record Shop down the block. And just a few doors down from Shaya is the area's only vegan restaurant, Superfood Bar. We didn't make it there on this trip, but I've been before and loved it. 
New Orleans most well-known vegan restaurant is Seed. They pride themselves on crafting vegan versions of the local cuisine: vegan po' boys, gumbo, crab cakes, and beignets are on the menu. The food is gorgeous, but honestly not as good as it could be. Though the Hearts of Palm cakes are delicious!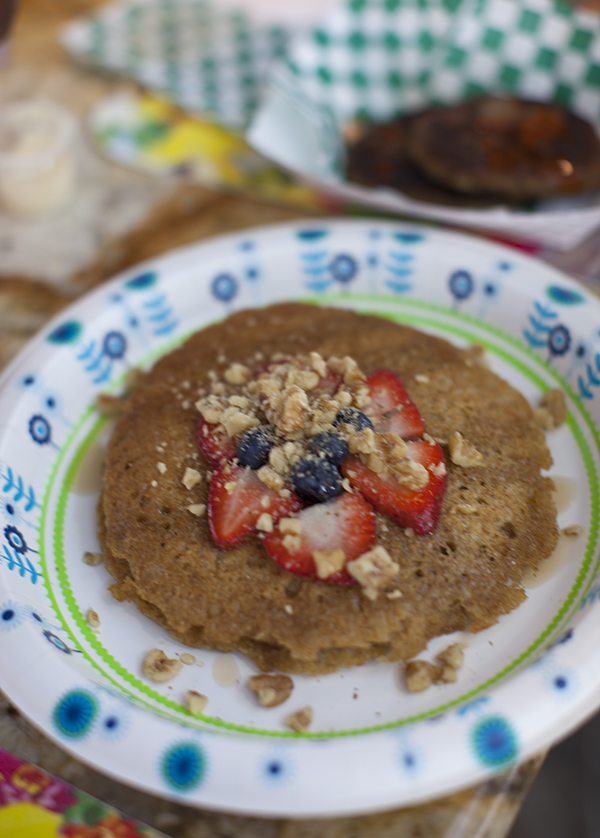 When you're in New Orleans, don't miss the amazing vegan pancakes with vegan sausage at this food counter in the French Market. This was not my first time here, I actually included them in my 2015 New Orleans post. Can't wait to go back!! The whole restaurant isn't vegan, so make sure to specify you'd like the vegan options only.
While we were in town we made sure to visit our friends at Camellia Bean Company. Their creamy beans are a staple in my family's kitchens, and my kitchen is never without at least one bag. Allison Hayward Costa, great-granddaughter of the company's founder gave us the grand tour of their packing facilities, and loaded us up with pounds of beans for the road. They came in handy as we continued our journey to Los Angeles. I used their famous red beans in a recent blog post for Curried Red Bean Tacos with Peach Salsa. 
One of our most memorable experiences in Louisiana was at the Whitney Plantation, about 1 hour northwest of New Orleans. Opened to the public in 2015, the Whitney Plantation is the country's first museum dedicated to telling the story of slavery through the lens of those who were enslaved in the southern United States. The founder, John Cummings III, purchased the plantation as investment property in 1999, and upon learning of its history as a brutal sugar plantation realized that he nor other white Americans knew very much about the reality of slavery. He decided to turn the old plantation into a museum that would "pay homage to all slaves on the plantation itself and to all of those who lived elsewhere in the US South." 
The New York Times wrote this piece about the plantation, Mr. Cummings, and the Whitney's director Dr. Ibrahim Seck. Also, watch this great video from the Atlantic (this was how I discovered the Whitney back in 2015).
For more photos and video from our full trip head to my Instagram #JennéAcrosstheUSA