I'm excited to announce the pre-order of my cookbook, SWEET POTATO SOUL. Purchase your copy today at Amazon, Barnes & Noble, Books-A-Million, Indie Bound, or iBooks.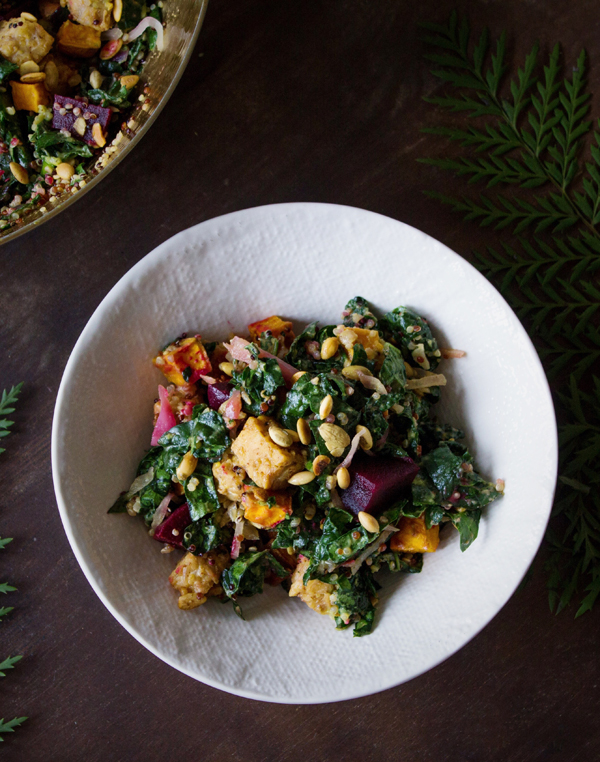 Fall is here and all I want is to cozy up in front of my computer and watch movies while sipping hot chocolate, and eating a hearty healthy comforting meal. Enter this fabulous Fall Maple Tempeh Buddha Bowl. I can guarantee I will be eating this delicious creation as often as I can. It's got all of the flavors and textures I love: roasted sweet potatoes, fresh massaged kale, sweet and tangy tempeh, sauerkraut, and crunchy pumpkin seeds on top. All the balance a girl could want!
This recipe and video comes at a great time because my friend Isabelle (The Plantiful) and I just launched our new Buddha Bowl Challenge––sign up here! For weeks we've been creating autumnal Buddha bowl recipes for our meal plan. Now that fall is actually here I'm ready to get started and dig in.
I've been so busy lately, but thank God my job is FOOD. I don't know how busy people manage to put healthy balanced food on the table if they aren't a chef, and if they don't follow a meal plan. I can hardly feed myself on days when I'm not recipe testing or making a video. Oh, and don't let it be a day when I'm shooting or testing baked goods. Sugar for breakfast lunch and dinner. But truly I try to stay on point with my meal planning and making Buddha bowls like this one. That's why I get so pumped about the 30-Day Buddha Bowl Challenge. I follow the program that we created, and it makes my life a lot easier 🙂
I hope you like this new video. I think we did a good job at evoking autumn for this Buddha bowl. Let me know your thoughts in the comments or on YouTube! Recipe below the video. xo

Maple Mustard Tempeh Buddha Bowl Salad
If you're new to tempeh you're in for a treat. Any kind of tempeh will work for this recipe (original, 3 grain, etc). Tempeh needs time to absorb the flavors of the marinade so I recommend marinating it for at least one hour in this dressing. If you don't have that much time, steam the tempeh for 10 minutes before marinating it for at least 30 minutes.
Ingredients
tempeh marinade
1/4

cup

apple cider vinegar

2

tbsp

tamari soy sauce

2

tbsp

maple syrup

3

tbsp

stone ground mustard or dijon mustard

1

tsp

fresh black pepper

1/2

tsp

cayenne pepper
Buddha bowl/Salad Ingredients
1

package tempeh

cubed

2

sweet potatoes

cubed & roasted at 375° for 35 minutes

2

medium beets

steamed and cubed (or roasted)

1

cup

quinoa

cooked

1/2

cup

sauerkraut

1

bunch of kale

stemmed, washed, and chopped into thin ribbons

1

avocado

1/2

cup

toasted pumpkin seeds
Instructions
Marinade
Place ingredients into a bowl and whisk to combine.

Toss in the cubed tempeh, and stir well to coat it in the marinade.

Cover and allow the tempeh to marinate for at least 1 hour, or up to overnight.
Make your bowl
Heat 1 tbsp of oil in a large skillet.

Add the marinated tempeh, and be sure to reserve the marinade liquid (you will need to use it for the salad dressing).

Cook the tempeh on medium heat until brown on all sides.

Place the chopped kale into a large mixing bowl, and drizzle the remaining marinade liquid over it.

Add diced avocado, and use your hands to massage the avocado and dressing into the kale. Massage it until it is tender, about 3 minutes.

Add the sweet potato, beets, quinoa, sauerkraut, and tempeh. Toss well to make a salad. Top with pumpkin seeds.

If you would rather serve the Buddha bowl with the ingredients still separate, place each ingredient into a bowl, and top with pumpkin seeds.