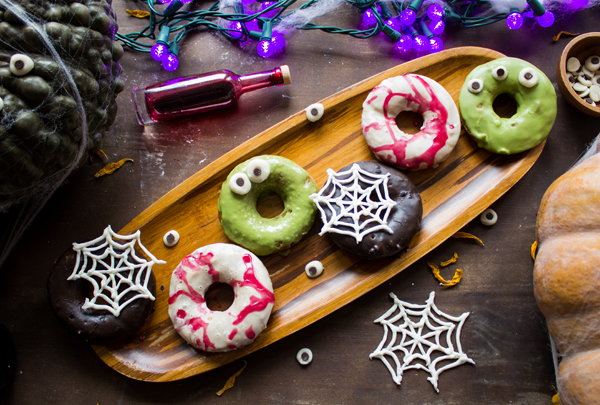 Happy Halloween my friends!! This year I'm going all out with crazy face paint, wacky hair, and spooky donuts. These delicious vegan sweet potato Halloween donuts are moist, rich, and so much fun to decorate.
A few months ago I made another cross country move. This time from Los Angeles to my hometown, Atlanta. The move has been amazing! I love my new house, and it's wonderful living near my family! I'm also very excited about fall, my favorite season. The leaves are changing and everyday is sunny and cool-ish. I'm also pleasantly surprised by the enthusiasm with which my new neighbors celebrate Halloween! I admit, I will need to step my game up next year to compete with the neighbors. But one thing is for sure, can't nobody compete with my Halloween donuts!
Where to find Halloween Donuts
I know so many people are wondering where they can find Halloween donuts this year. Sure, you can buy them at the store, but why not make your own at home? If you have children, making and decorating these sweet potato Halloween donuts at home becomes an exciting adventure. Each of the colorful and spooky frostings is made from scratch, and each donut decorated by hand. I think this would also be a great activity for an adult Halloween party! Every step is easy, and so much fun!
How to make spooky Halloween icing
Skip the chemical food dyes and make your own! It's easy, fun, and adds delicious flavor to the icing.
Green Slime Icing: My favorite ingredient for the color green is matcha powder. Matcha is green tea powder, and has an earthy taste. Culinary grade matcha is suitable for this recipe. However, for the best flavor and brightest green, use ceremonial grade matcha. A little goes a long way.
Midnight Black Icing: For the darkest icing I used black cocoa powder! Black cocoa powder is made by neutralizing the natural acidity in cocoa powder. This process turns the cocoa powder black, and gives it a super rich chocolatey flavor, so tasty on the sweet potato donuts.
Red Blood Splatter: Beet juice is the perfect natural red food coloring! To make, simply boil a diced beet in water (enough to cover) until tender. Remove the beet, and reduce the liquid by simmering on low heat for 15 minutes. Now you have concentrated red food coloring…blood!
How to make Hard Candy Spider Webs & Eyes
I love the edible spider webs and googly eyes on these donuts. Can you get Halloween donuts like this at "Krispy Skreme"? No sir!
To make the hard candy you: 
Mix powdered sugar, cornstarch, light corn syrup, and soy milk.
Transfer the mixture to a piping bag (or plastic zipper bag with a whole cut out)
"Draw" spider webs and eye balls on parchment paper with the icing. Place a chocolate chip in the center of each as you go, so it hardens in place.
Let the candy harden for 8 hours at room temperature before removing from the parchment paper.
Obviously, you'll want to plan accordingly for the wait time.
Halloween Donuts Recipe Notes
These sweet potato Halloween donuts were adapted from a non-vegan pumpkin cake donut recipe on the King Arthur Flour website. The recipe creates a moist and rich vegan cake donut, decadent enough to be served as a Halloween sweet treat.

I purchased my silicon donut mold on Amazon for less than $10. You can also use this batter to make cupcakes and muffins.

The prep time and cook time estimates do not take into account the making of the googly eyes and spider webs which must set overnight to harden.

Plan accordingly!
The Halloween donuts will stay fresh for 2-3 days. Store in airtight container to keep moist.
More Vegan Halloween Recipes
Vegan Halloween Donuts
These delicious baked Halloween donuts are moist, rich, and fun to decorate with homemade colorful icings (all natural) and spooky toppings.
Ingredients
1¾

cups

+ 2 tbsp unbleached all-purpose flour or white whole wheat flour

1½

tsp

pumpkin pie spice or 1 tsp cinnamon + 1/4 tsp freshly ground nutmeg + 1/4 tsp ground ginger

1½

tsp

baking powder

1

tsp

salt

2

tbsp

ground flax seed + 4 tbsp water

this is equivalent to 2 "flax eggs"

½

cup

vegetable oil

1 to 1½

cups

vegan cane sugar

1½

cups

sweet potato purée

I used canned

1

tsp

vinegar

white or apple cider
Halloween Icings
White frosting red blood splatter

1-2 tsp beet juice for blood

Black icing & spider webs

1 tsp black cocoa powder for icing and web recipe below

Green slime with googly eyes

1 tsp matcha for icing

2

cup

powdered sugar

3

tbsp

soy milk

or other non-dairy milk

1

tsp

vanilla extract
Spider webs and Googly eyes
1

cup

powdered sugar

1

tsp

arrowroot or cornstarch

1

tbsp

light corn syrup

2

tsp

soy milk

or other non-dairy milk

mini vegan chocolate chips

like Enjoy Life
Instructions
Donuts
Preheat the oven to 350°F. Lightly grease a donut pan or two (recipe makes 12 donuts). If you are using a silicon donut mold you won't need to grease it.

Mix together the dry ingredients (flour to salt).

In a separate bowl mix together the wet ingredients (flax "egg" to vinegar).

Pour the wet into the dry and stir to combine. Careful not to overmix the batter.

Fill the donut pans/mold using about 1/4 cup of batter for each donut.

Bake for 18-20 minutes. A toothpick should come out dry when testing doneness.

Set the donuts onto a cooling rack to cool.

Once cool, ice the donuts and top with spider webs and eyeballs (recipe below).
Icing
Sift the powdered sugar into a small mixing bowl. Stir in the soy milk and vanilla, and continue to stir until it is smooth. If yours is too thick add more soy milk, too thin add more sugar.

Now separate the icing between 3 bowls large enough for dipping a donut. Remove about 2 tbsp of icing from one of the bowls and put into a smaller bowl (that's for your blood splatter icing).

Keep one bowl of icing white. For the red, black, and green icings simply stir in 1 teaspoon of coloring to each bowl. Stir until smooth.
Spider webs & googly eyes
Whisk together the sugar, cornstarch, corn syrup, and soy milk. Stir well until well combined and smooth. It will be thick so you may need your hands to knead the paste together.

Place it into a piping bag or plastic zip bag with the tip cut off (it should be cut very tiny to create a very thin spider web…wider for the eyes).

Squeeze the paste onto wax paper, parchment or split in the shape of round eyeballs (then top with mini chocolate chips before hardening). Do the same to create spider webs (draw a spider web on paper and place under the parchment to trace over).

Allow the eyeballs and spider webs to harden on your counter at least 8 hours.