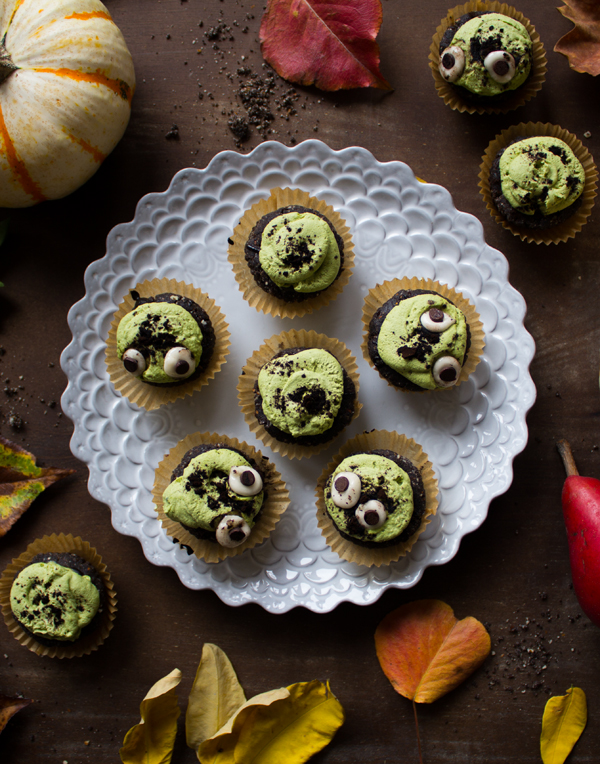 Is it Halloween yet? Not since I was a kid have I been so excited about this day. Back then, of course, it was all about dressing up to go door to door for candy. I remember coming home and categorizing the goodies from my bag––I always used an old pillow case because those pumpkin buckets were far too small. Now it's all about making my own treats like these raw chocolate matcha cupcakes with raw ganache in the center, and the sweet potato donuts with spooky toppings that I shared last week.
I was originally going to make Halloween themed macaroons, but when my oven broke I was forced to come up with another idea. These raw chocolate matcha cupcakes are the perfect solution for a no-oven kitchen. By avoiding flour, refined sugar, and processed fats I also managed to create a healthy Halloween dessert. These cupcakes rely on dates, coconut nectar, and agave for sweetness, and almond and coconut flour for body. The combination of the coconut cream matcha icing and the black cocoa powder is my favorite part, it tastes like a matcha Oreo cookie. Top these no-bake cupcakes with the googly eyes from my vegan donut recipe, and you're good to go!
🎃 I'm also celebrating 80,000 YouTube followers!! It feels like it took forever to get this far, and I'm so proud of the videos Maxx and I produce each week 🎉 If you haven't subscribed yet, please do so here!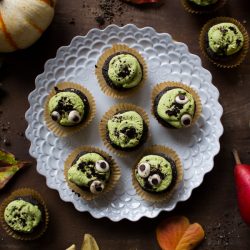 Halloween No-bake Chocolate Matcha Cupcakes
Double this recipe if necessary (though don't double the ganache because you'll probably have left overs anyway). I posted the googly eye recipe on my last Halloween post here. Technically they aren't raw because some of the ingredients have been heated above 118° before making their way to the grocery store. I'm throwing that note in so the raw purists don't get too mad at me.
Ingredients
Chocolate cupcake base
1/2

c

almond flour

1/2

cup

raw almonds

or skip the almond flour and use 1 cup raw almonds

1/2

c

coconut flour

2

tbsp

cocoa powder

1 tbsp regular + 1 tbsp black cocoa powder

1

tsp

espresso powder

1

c

Medjool dates

pitted
Matcha Icing
1

cup

coconut cream

1

tsp

agave

or coconut nectar

1

tbsp

matcha powder

or more if you want it greener (not too much though)
Raw Chocolate Ganache Cream
1/4

c

coconut nectar or agave nectar

1/4

c

cocoa powder

2 tbsp regular + 2 tbsp black cocoa powder

2

tbsp

coconut oil
Instructions
Chocolate cupcake base
Place almond flour, almonds, coconut flour, cocoa powder, and espresso in a food processor and blend until the almonds are ground and grainy.

Add the dates, and blend until all of the ingredients have combined and are sticky. The texture should look similar to wet sand...though delicious.

Line 9 mini cupcake tins with cupcake liners.

Form the batter into 9 balls, and press them into the cupcake tin.

Use your finger to create a deep well in the center of each cupcake.
Matcha Icing
Place the coconut cream in a standing mixer, or a large bowl. Beat in the mixer, with a hand mixer, or with a handheld whisk until the cream is fluffy and holds a medium peak.

Add the agave and matcha, and continue to beat until well combined.

Scoop the icing into a piping bag or ziplock bag (before icing you'll cut on tiny tip off), and place in the refrigerator to firm and chill.
Raw Chocolate Ganache Cream
Place the ingredients into a small mixing bowl, and whisk until combined and goopy.

If you use the coconut nectar then the cream will be super sticky, sort of like molasses.

Spoon about a teaspoon into the center of each cupcake.
Ice cupcakes
Ice cupcakes with the green matcha icing.

Sprinkle some black cocoa powder on top of the cupcakes, or drizzle some of the left over chocolate cream onto the icing.

HAPPY HALLOWEEN!!