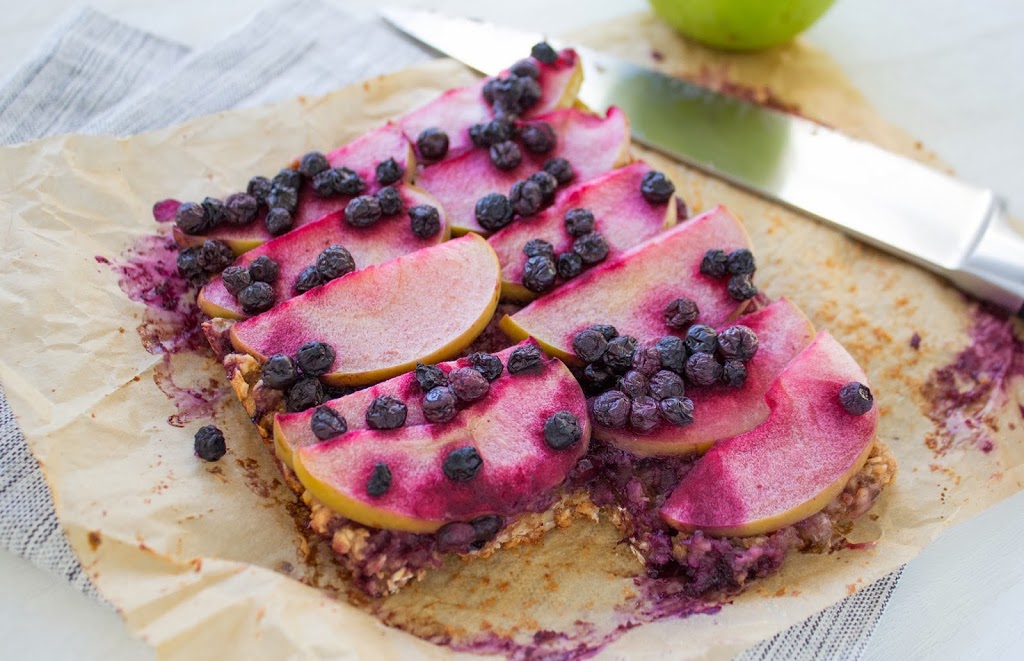 Lucky me! I'm on my way to Costa Rica today for a week of sun, yoga, and lots of beach time. I'm going to be at a little place in Golfito called Rancho Burica. My friend Kristin will be teaching yoga at the resort next door, The Yoga Farm. Care to join us? I'll be down there until Tuesday afternoon.
Before I go, I want to share my newest set of recipes with you. These two go together perfectly. Firstly, a recipe and video for homemade almond butter. Delicious!
Secondly, a recipe for a vegan and gluten-free Apple Berry Tart that uses almond butter in a yummy way.The tart is perfect for any time of day—breakfast, snack, or dessert. And it's really pretty 🙂
1 lb raw almonds (roasted at 350° for 9 minutes. Cool for 30 minutes before blending.)
Place your roasted almonds into your food processor and blend. It will take about 10 minutes for the almonds to turn into almond butter. At first it will be a fine powder, then that thickens up, then it becomes clumpy, and eventually it becomes the smoothest almond butter. Enjoy the almond butter on slices of fruit, on sandwiches, in sauces, desserts (like the recipe below), or wherever your heart desires.
Check out my latest cooking video—it's all about how to make this yummy stuff!
Apple Berry Tart
Ingredients
½

cup

almond butter

½

cup

maple syrup

¼

cup

chopped walnuts

1

cup

quick cooking oats

1

tsp

cinnamon

1

tsp

vanilla extract

dash of sea salt

1

good baking apple

I used granny smith, thinly sliced

½

cup

frozen blueberries

½

lemon
Instructions
Toss your sliced apples and blueberries with the juice of half a lemon. Set aside.

Preheat oven to 350º and line a baking dish (6x6) with parchment paper. In a mixing bowl combine the almond butter, maple syrup, vanilla, and cinnamon. Stir well. Add the oats and walnuts and stir to create a sticky batter. Press the batter firmly into the parchment-lined baking dish. Make sure it's spread evenly.

Place a layer of apples onto the oat crust, allowing some overlap. Spread the blueberries over the apples.

Tightly cover the baking dish with aluminum foil and bake for 30 minutes. Remove the aluminum and bake for another 15 minutes.

Allow to cool for at least 10 minutes before eating.
See you when I return from Costa Rica!
Pura Vida!!