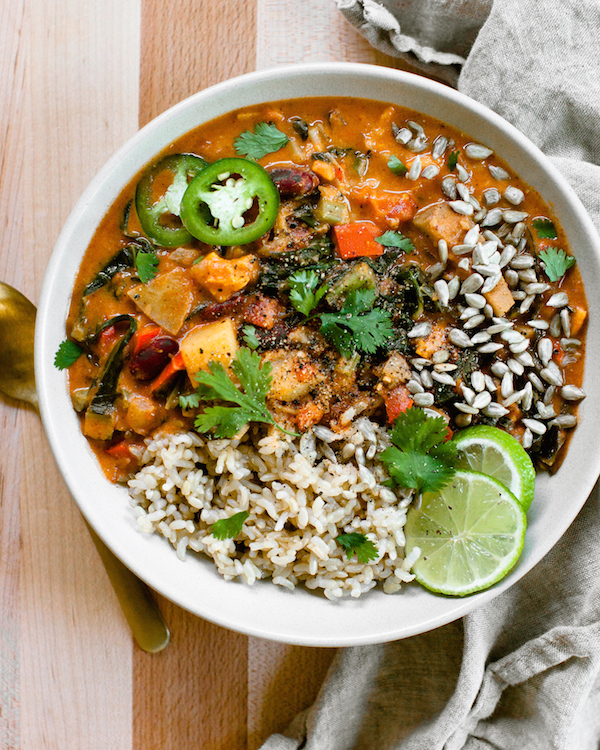 The greatest gift I received right after having my baby was the gift of healthy prepared food. A week or so before Baby J was born, I invited my friends over to help me cook. I pulled out my favorite recipes, and they got to work. By the time they left I had a freezer full of delicious meals––beet burgers, kabocha squash soup, lentil soup from my cookbook, mushroom broth, sweet potato muffins, and more! In the days following the birth, Maxx and I ate warm home cooked meals while revelling in our new life as parents. It was wonderful!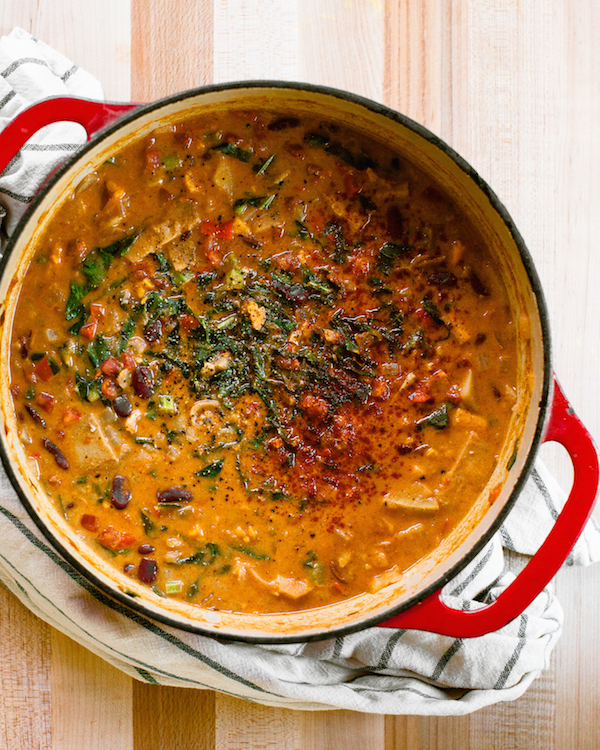 Then as soon as we were craving something new to eat, my friend Brandi, who is a doula and mother of 3, came by to gift us a pot of her amazing West African peanut stew. As many of you know, I'm kind-of-allergic-to/not-a-fan-of peanuts. Brandi has a peanut-free household, so she made this classic stew with sunflower seed butter, and let me tell you, it was incredible: full of flavor, slightly spicy, warm, creamy, and filling. Since that day Brandi's nut-free West African peanut stew has become a staple in our house.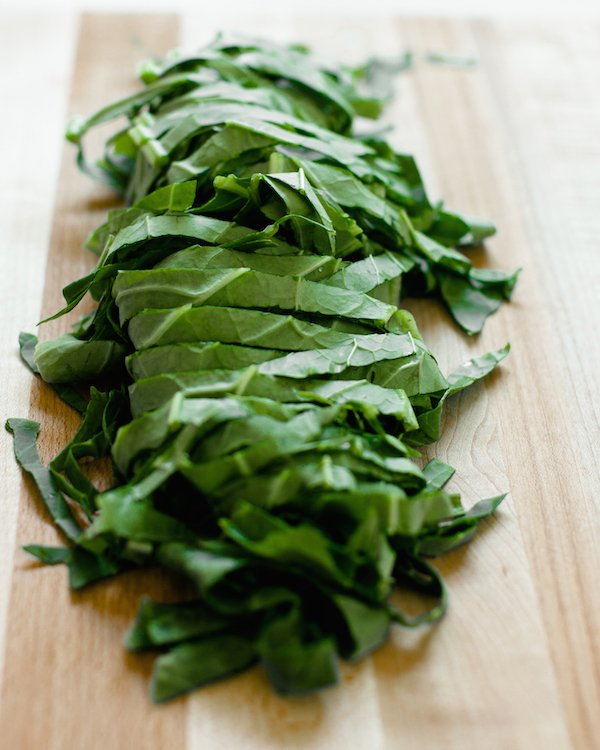 In addition to being super tasty and hearty, it is very easy to make. Her original recipe has chunky pieces of jackfruit and sweet potato, and I adapted it by adding kidney beans and white potatoes to the mix. If I don't have sunflower seed butter on hand to replace the peanut butter, I'll use homemade almond butter or even tahini. I love that this colorful stew is also bulked up with bright and nutritious collard greens. We like to serve it over rice or quinoa for a complete and balanced meal.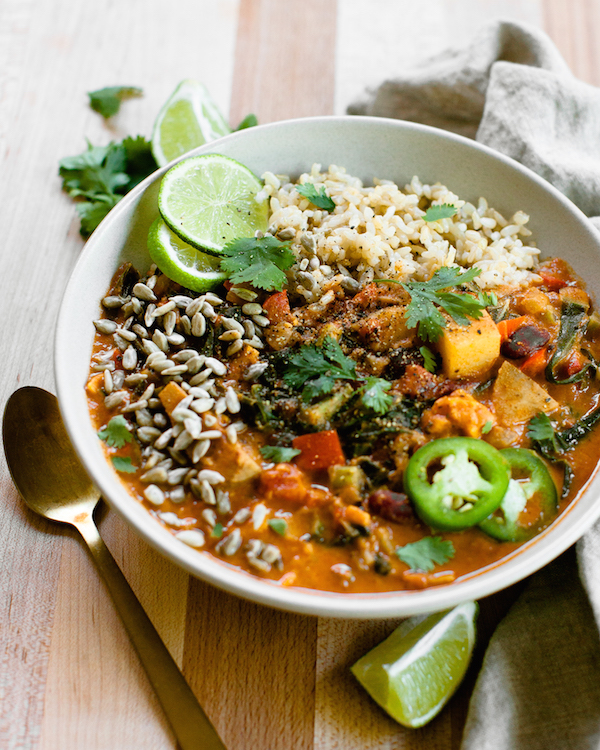 I'm grateful to my friend Brandi for introducing me to her take on West African peanut stew. I know a lot of pregnant women, so I'll be paying it forward by making them a pot of this nourishing goodness when their babies arrive 💗 Hope you'll try it too!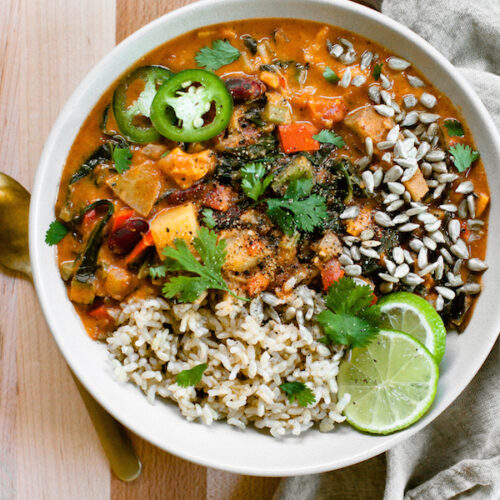 Nut-Free Vegan West African Peanut Stew
If you don't have sunflower seed butter on hand, but want to keep it nut-free, try using tahini. You can make your own sunflower seed butter by blending toasted sunflower seeds in a food processor until creamy--about 10 minutes. Or you can find sunflower seed butter at the store. I buy the canned jackfruit at Trader Joes.
Ingredients
2

tbsp

grapeseed oil

or other neutral cooking oil

1

medium red or yellow onion

diced

3

garlic

minced

2

inch

ginger

minced

1

red bell pepper

seeded & diced

1/2

jalapeño

seeded & diced

1

tbsp

ground cumin

1

tsp

whole coriander seed

1

medium sweet potato

cubed

1

yukon gold potato or red skin potato

cubed

1 14-

oz

can diced tomatoes or 3 ripe diced tomatoes

4-6

cups

water or vegetable broth

1

can unripe jackfruit

chunks halved

2

cups

cooked kidney beans

or 1 can

1 1/2

tbsp

vegetable bouillon paste

I use Better Than Bouillon brand. Skip if using veggie broth

2

tsp

smoked paprika

1

tbsp

harissa paste

*optional

1/2-1

c

sunflower seed butter

1

tsp

sea salt + more to taste

1

bunch collard greens

sliced into thin ribbons (removing the stem is optional since you're cutting them so thin)
For serving
black pepper

cilantro

fresh lime

cooked rice
Instructions
Warm oil in a large pot on medium-high heat.

Add the onions, garlic, ginger, bell pepper, and jalapeño, plus a pinch of salt and saute until onions are translucent.

Add the cumin and coriander, and stir. Cook for another 30 seconds or so.

Add the sweet potato, yukon potato, tomatoes, the water or broth, bouillon, jackfruit, and beans.

Bring to a simmer and add the bouillon paste.

Cook with the lid ajar for about 20 minutes, or until the potatoes are tender but not mushy.

Add the smoked paprika and harissa if using, and stir well.

Stir in the sunflower seed butter. Add up to 1 cup if you'd like it very thick.

Then add the salt.

Lastly, add the collard greens and cook another 5 minutes until they are bright green and tender.

Season to taste with more salt if necessary.

Serve with fresh black pepper, cilantro, and lime over rice.