The best thing about Tuesdays are the tacos. Am I right? And honestly, I couldn't have imagined enjoying a homemade taco without guacamole, until I made these Indian inspired sweet potato tacos. These jawns are delicious! Let me tell you. I tossed the sweet potatoes  and cauliflower in a blend of curry powder, cumin seeds, smoked paprika, and garlic powder then I fried them in the air fryer. The result: tender sweet potatoes and crispy cauliflower––perfect for tacos!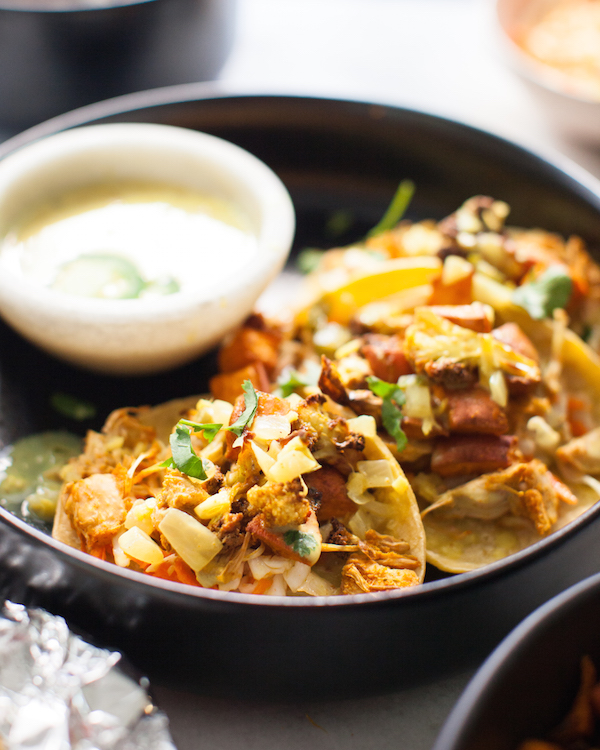 But a taco must have more than a fried sweet potato filling. I topped these with a creamy coconut curry sauce and a simple carrot cabbage slaw––for that ever important cooling crunch. This recipe has a few parts, but it really is so easy to make. I found it easy to make everything at the same time. So while the curry sauce is simmering, you can make the sweet potatoes and cauliflower, then the jackfruit. And while that cooks you can make the carrot cabbage slaw. About 10 minutes before you're ready to eat, toss your tortillas into the (toaster)oven to warm up, and mince a bit of cilantro for garnishing.
I made this recipe in collaboration with Philips Air Fryer for my Instagram, and have since fallen deeper in love with air fryers. I use mine daily now, and it has almost replaced the Instant Pot for my favorite kitchen appliance. If you don't have an air fryer, add a little more coconut oil to the vegetables and roast them. It will take double the time, so plan on getting them into the oven before you make the curry sauce.
If you love tacos, check out these other amazing vegan taco recipes!
Easy Lentil Tacos with Mango Guacamole
Curried Red Bean Tacos with Peach Salsa
Indian-Inspired Sweet Potato Tacos
To reheat the sweet potatoes and cauliflower, put them back in the air fryer or oven at 350° for 5 (air fryer) or 10 (oven) minutes.
Ingredients
Coconut Curry Sauce
2

tsp

curry powder

1

tsp

turmeric powder

1

tsp

smoked paprika

1

tsp

cumin seeds

1

tsp

coriander seeds

1/2

onion

diced

1

clove

garlic

minced

1

" knob fresh ginger

minced

14

oz

can full fat coconut milk

1

tsp

salt
Crispy Sweet Potatoes & Cauliflower
2

tsp

curry powder

1 1/2

tsp

salt

1

tsp

smoked paprika

1

tsp

garlic powder

1

tsp

cumin seeds

1/2

tsp

cayenne pepper

+ more if you like it spicy

1

large sweet potato

cubed (peeling optional)

1

medium head of cauliflower

chopped (you can use the small leaves and as much of the stalk as you'd like)

2

tsp

coconut oil
Jackfruit
1

can unripe green jackfruit

drained & pulled apart (do not use jackfruit in syrup)

1

tsp

coconut oil
Carrot Cabbage Slaw
1

large carrot

shredded

1/2

head of cabbage

shredded

2

tbsp

fresh lime juice

2

tbsp

apple cider vinegar

1

tbsp

maple syrup

1

tbsp

dijon mustard

1

tsp

cumin seeds

½

tsp

salt

¼

cup

extra virgin olive oil or avocado oil
To serve
fresh cilantro

sliced jalapeño pepper

lime
Instructions
Curry Sauce
Warm 1-2 tbsp oil in a saucepan on medium-high heat.

Add the curry powder, turmeric, paprika, cumin seeds, and coriander seeds. Toast for about 20-30 seconds, stirring a bit.

Add the onions, garlic, and ginger. Sauté until onions are translucent on medium heat, about 5 minutes.

Add the coconut milk and salt, and bring to a simmer.

Simmer for 10 minutes.

Add lime juice.

Allow to cool until safe enough to blend.

Transfer to the blender, and blend until smooth, about 20-30 seconds if you're using a Vitamix.

Season to taste with more salt and lime.
Sweet Potatoes & Cauliflower
Combine the spices in a small bowl, and stir well.

Place the sweet potatoes and cauliflower in a mixing bowl, and add 2 tsp of coconut oil (1 full tbsp if you're roasting them in the oven), toss.

Sprinkle on about 2/3 of the spice blend, and toss again.

Following your air fryer instructions, fry the vegetables at 375° for 10 minutes.

Stir, then fry another 10 minutes, or until sweet potatoes are tender and cauliflower is crunchy. NOTE: Depending on the size of your air fryer, you may need to do this in batches.

If you are roasting the veggies, spread them on a baking sheet and roast at 375° for about 40 minutes.
Jackfruit
Toss the jackfruit with 1 tsp coconut oil, then with the remaining spice blend.

Air fry for 10 minutes, until edges are crispy.
Carrot Cabbage Slaw
Place the carrots and cabbage in a mixing bowl.

Combine the remaining ingredients in a jar with lid. Shake well to blend.

Pour over the carrots and cabbage, and lightly massage with your hands.
Assemble Tacos
Serve tacos in warm tortillas filled with the sweet potato, cauliflower, and jackfruit, and topped with the curry sauce and slaw. Garnish with fresh cilantro and jalapeño pepper slices.