This blog post is sponsored by OPI! Everyone's favorite nail polish brand has Nature Strong, their vegan collection, and I'm the lucky ambassador. The Nature Strong collection of polish is 9-free and made with ingredients sourced from nature. It's vegan and cruelty free!

Kabocha Caramelized Onion spread is my favorite kabocha squash recipe! It is the perfect combination of savory and sweet. Serve this addictive spread over toast, as a dip, or as a delicious sandwich filling. I love whipping this recipe up for holiday soirees. It's easy to make, and tastes like the holidays!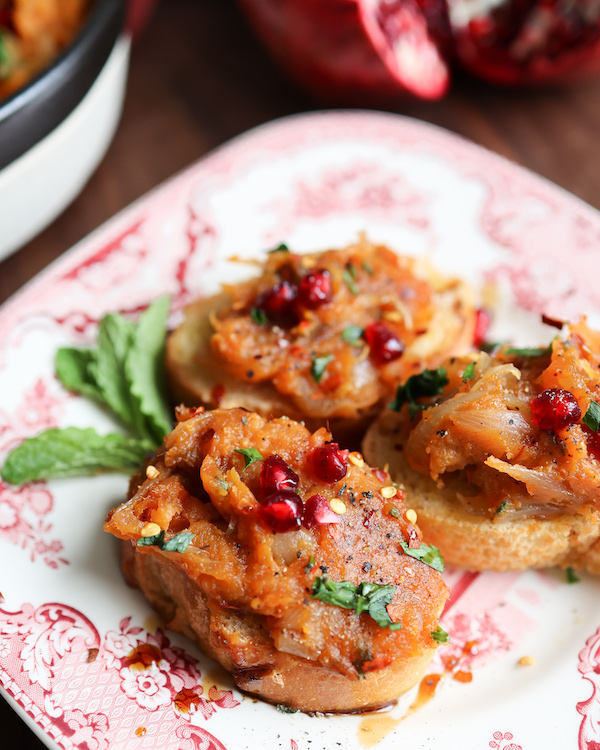 I'm throwing a small Christmas/housewarming party! I've chosen my outfit, decorated the house, invited guests, and now I'm working on my menu. Of course, the first dish on the list is this kabocha caramelized onion spread. It's the simplicity and flavor explosion for me. With just a few quality ingredients, you can't go wrong with this unique vegan kabocha squash recipe. 
Kabocha Squash is Amazing
I first fell in love with kabocha squash when I was working at Peacefood Cafe in New York City. Long time readers may remember my early kabocha squash recipes. Kabocha squash is very similar to sweet potatoes. It's also starchy, sweet, and filled with beta-carotene which gives it it's orange hue. However, kabocha squash is starchier and drier than jewel and garnet sweet potatoes. To make this spread I mix the squash with sweet potato for a creamier texture. 
How to choose a kabocha squash 
Pick a squash that feels dense and heavy for its size

The squash should be firm all around

The darker the skin the better––in my opinion
Perfect Pairings 
For parties and groups I always serve this spread on mini toasts. Finish it with a drizzle of olive oil and a sprinkle of parsley

A dry white wine!

With smoky collard greens
NAIL POLISH PAIRING: For this party I'm painting my nails in Intentions Are Rose Gold from the Nature Strong collection by OPI. I love a good glitter polish, and this one is both beautiful and long-lasting. Nature Strong nail polishes are made with ingredients sourced from potatoes, sugar cane, and even corn! I love all 30 shades, but Intentions are Rose Gold is my favorite for holiday celebrations. Don't forget the Nature Strong Top Coat!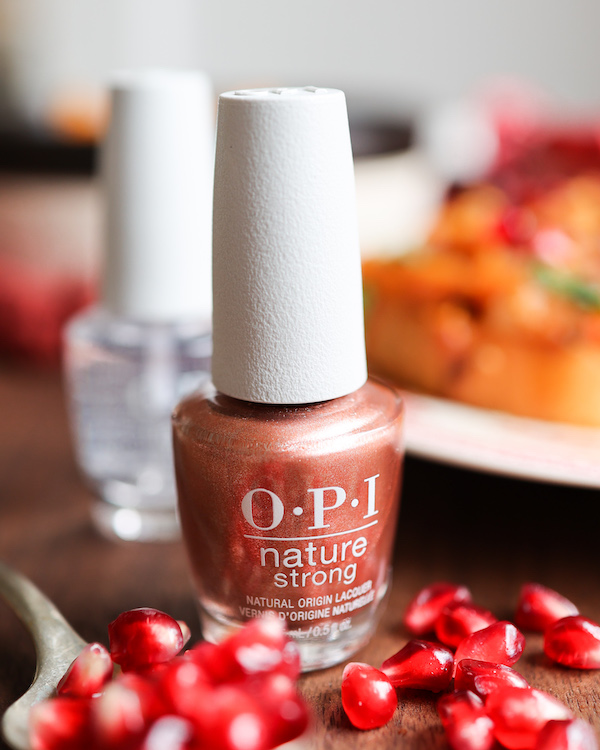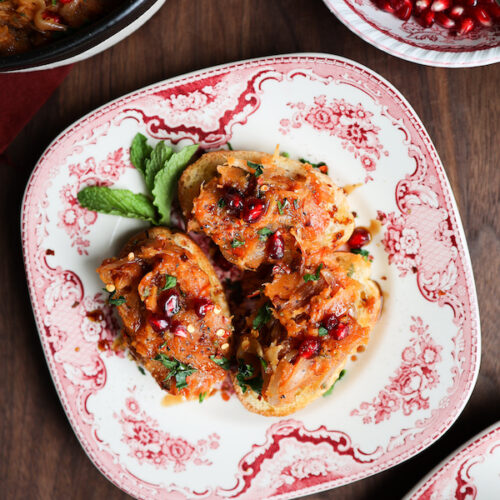 Kabocha Caramelized Onion Spread | Best Kabocha Squash Recipe
Delicious silky kabocha caramelized onion spread perfect for topping crostini and dipping. Delicious on sandwiches too! This recipe is adapted from a New York Times recipe. Another adaptation, with only sweet potatoes, appears on my blog here.
Ingredients
4

cups

kabocha squash

peeled & cubed (about ½ a small squash)

1

cup

sweet potato puree

from one baked sweet potato

1

tsp

red chili flakes

2

yellow onions thinly sliced

2

tbsp

apple cider vinegar

1

tsp

maple syrup

1

tbsp

fresh sage

minced

½

tsp

salt

½

tsp

black pepper plus more for garnish

Pomegranate molasses for drizzling

1

baguette

sliced

1/4

cup

fresh parsley and mint for garnish
Instructions
Place kabocha squash into a steam basket. Steam for 10-15 minutes, until tender. The sweet potato can be steamed with the squash as well.

Warm 2 tbsp oil over medium heat in a large skillet.

Add the sliced onions, and sauté until they begin to turn translucent.

Reduce the heat to low and caramelize the onions for about 30 minutes, stirring every so often.

Once the onions are soft and golden, remove from the heat and stir in the apple cider vinegar to deglaze the pan.

Add the cooked kabocha squash and sweet potatoes to the pan with the onions, and mash.

Add the maple syrup, fresh sage, salt, and black pepper, and stir well.

Season to taste with more salt if needed.

Toast the bread, and top with kabocha squash spread.

Garnish with a drizzle of pomegranate molasses and herbs.