This year I'll be celebrating my birthday twice. First it was when I made this scrumptious sweet potato & caramelized onion toast; next it'll be on my actual birthday down in Tulum, Mexico. Just one more week until I'm livin' la vida beach bum, chiilin' seaside, sippin' on agua de coco, enriching my complexion under the Mexican sun.
For now I'm making the most of this winter wonder…winter wasteland called NYC. With rubber boots up to my knees and garments covering all but my eyes, I'm successfully making through the season. Last Saturday's snow storm was an absolute treat. We filmed the video for this recipe, and were able to watch the snowfall from my "penthouse" uptown apartment. I don't think I've ever had as much fun exploring my neighborhood as when we finally ventured out to experience the storm. Into my late-20s I've been able to maintain a bit of the sense of adventure I had as a kid; but I guess snow will do that to you.
Snow, birthday celebrations, and sweet potatoes 😉
Let's talk about this recipe, shall we? This one has an exciting story behind it. The North Carolina Sweet Potato Commission reached out to me to become one of their #sweettaters, an ambassador for my favorite food in the whole wide world! That's pretty major, ain't it? So, for the next month I'll be making some incredibly delicious recipes using rich and creamy North Carolina sweet potatoes. To see my recipes, plus those created by other ambassadors, check out the commission's IG account @sweet_taters.
I really cannot imagine a better ambassadorship for Sweet Potato Soul. It's giving me an extra opportunity to remind you that sweet potatoes are so lovely because they're 1.) full of beta-carotene to give you a nourished glow, 2.) incredibly versatile (check out the 'sweet potato' tag on my recipe page, and, 3.) available ALL.YEAR.ROUND.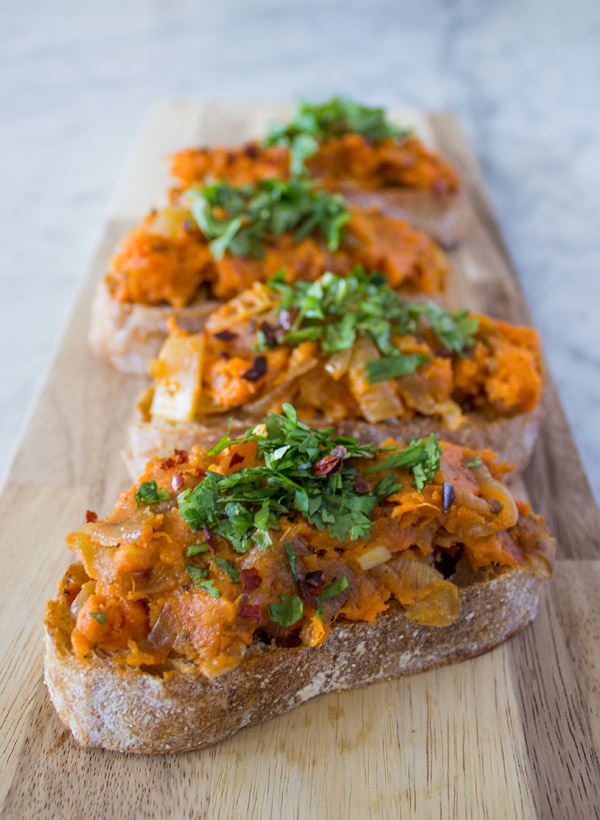 I chose to make this sweet potato & caramelized onion toast for my birthday because I wanted to show you guys a really fantastic (easy, healthy, and delicious) cold weather appetizer. Both caramelized onions and sweet potatoes represent comfort food to me, so they're a great choice for an "omg, I'm nearing 30, what is going on!?!?!" birthday treat. Even if it isn't your birthday or you're not in need of consolation from a meal, you'll love this recipe.
Sweet Potato & Caramelized Onion Toast
This recipe is perfect as an appetizer for any occasion, including as a finger food for parties. I like it best when the bread is cut thickly. If you don't eat bread, enjoy the sweet potato & caramelized onion mash with romaine lettuce, gluten-free crackers, tortilla chips, any vegan gluten-free bread. It's also great with a spoon!
Ingredients
4

medium sweet potatoes

peeled & cubed

1

tsp

red chili flakes

2

yellow onions

thinly sliced

2

tbsp

apple cider vinegar

1

tsp

maple syrup or Bee Free Honee

1

tsp

herbes de Provence OR 1 tbsp fresh sage

minced

½

tsp

black pepper

plus more for garnish

1

loaf ciabatta bread

or another variety (rye and sourdough are also perfect)

1/4

cup

fresh parsley

for garnish
Instructions
Preheat oven to 400°.

Toss the cubed sweet potatoes with a couple tablespoons of oil, then spread them evenly onto a baking sheet or cast iron; followed by a sprinkle of salt and red chili flakes.

Roast for 40 minutes, until tender.

Warm 2 tbsp oil over medium heat in a large skillet.

Add the sliced onions, and sauté until they begin to turn translucent.

Reduce the heat to low and caramelize the onions for about 30 minutes, stirring every so often.

Once the onions are soft and golden, remove from the heat and stir in the apple cider vinegar to deglaze the pan.

When the sweet potatoes are roasted and tender, mash them with a fork along with the herbs and pepper.

Mix in the caramelized onions, and mash until combined.

Season to taste with sea salt, about ½ teaspoon to start, if needed.

Toast the bread, and serve the sweet potato mash over it.

Garnish with fresh parsley.