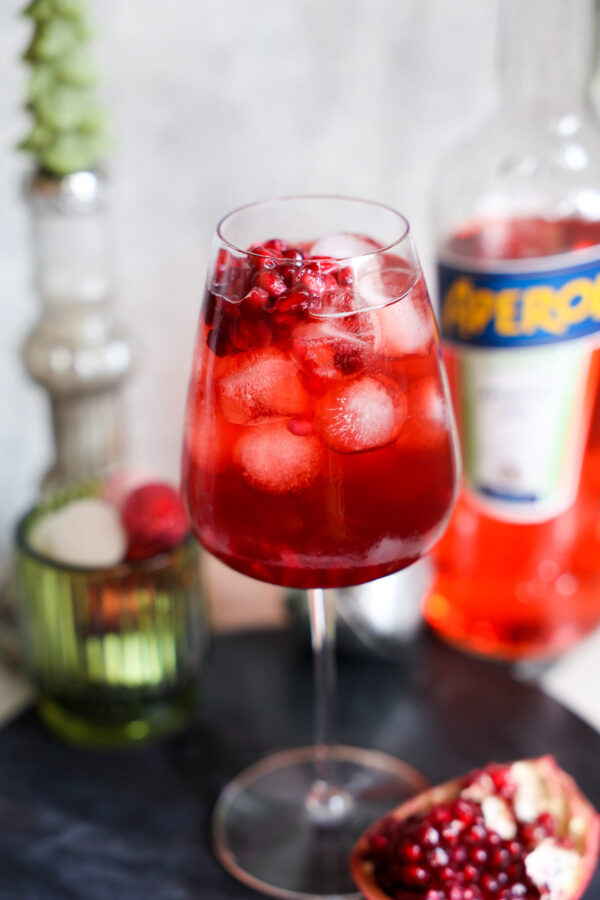 Heaven in a glass is an apt description for my Pomegranate Aperol Spritz. This is another gorgeous cocktail from my growing holiday cocktails series. This drink transports me to lunch in Italy, brunch with the girls, while also transporting me to Christmas Day with my family, or a snowy day. This spritz reminds me of luxury and comfort all at the same time. Let me transport your taste buds to a comfortable but luxurious heaven in 3-4 easy ingredients (no shaker needed)!

Aperol
This liqueur is citrusy and bright! It will add a zesty sweetness to your drink.
Sparkling Wine
This white wine makes up the majority of our cocktail. It's bubbly, light and fresh making it perfect for day/brunch drinking and still appropriate to have as an evening drink.
Pomegranate Juice
We only use a splash in this recipe to add a little more flavor (and color) to the already delicious base. The tart quality pairs well with the citrusy Aperol.
Pomegranate Arils (optional)
Serving this spritz with a little bit of garnish elevates it that much more, though the drink is beautiful without it!

This recipe doesn't need any special assembly or even a shaker. All you need are ice cubes (I used these really pretty ones from Amazon), Aperol, and sparkling wine. Pour all of the ingredients into a wine glass and then garnish with the pomegranate arils.
Almost any in season juice or fruit can be used to replace the pomegranate flavors above. Some good examples would be orange or blackberry spritz. The sparkling white wine can be replaced with any sparkling drink like a prosecco. I used a canned sparkling wine to avoid opening a brand new wine bottle, but of course a full bottle works just as well. Aperol also has many different flavors to choose from or you could use a different liqueur (but you do risk changing the flavor profile of the drink in that case).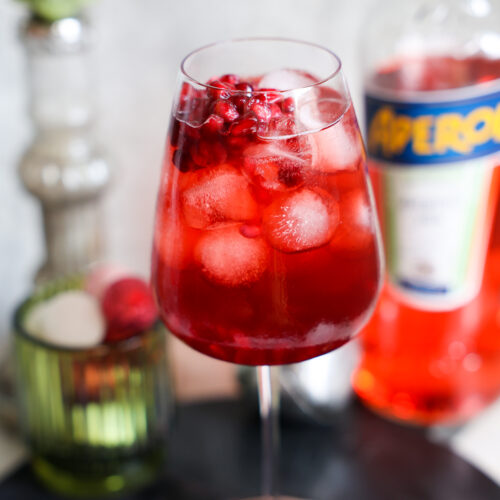 Pomegranate Aperol Spritz
Ingredients
3

ounces

Aperol

1

oz

pomegranate juice

4

ounces

sparkling wine

pomegranate arils for garnish
Instructions
Add to a wine glass filled with ice. Stir.

Garnish with pomegranate seeds!