I'm excited to announce the pre-order of my cookbook, SWEET POTATO SOUL. Purchase your copy today at Amazon, Barnes & Noble, Books-A-Million, Indie Bound, or iBooks.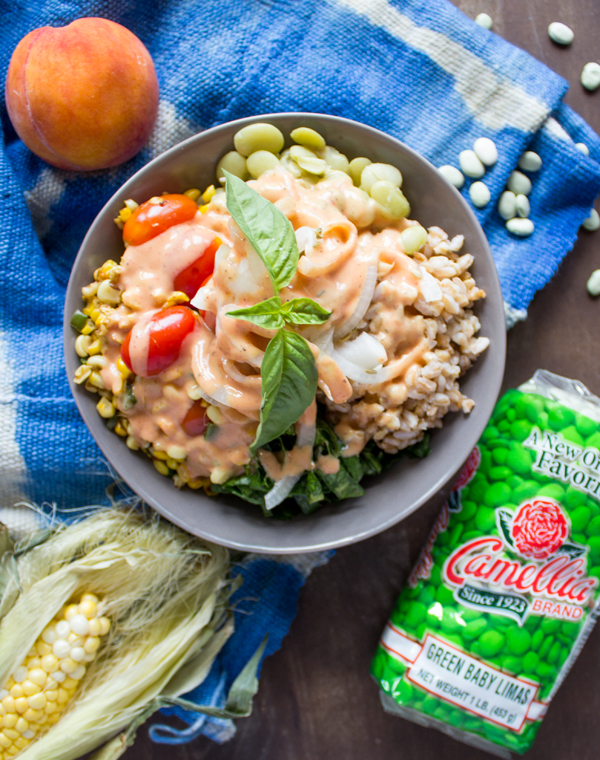 When I think of Southern food I don't immediately picture fried chicken, cheesy cholesterol laden grits, and heart attack inducing desserts. Those foods are narrow representations of a cuisine built on fresh ingredients grown in fertile soil, and inspired by the Native, African, Caribbean, European, and Creole people who made the south their home (whether by force or by choice). When I think of Southern food I think of deep-green collards and mustard greens, juicy corn, a plethora of cornmeals, succotash, sweet potatoes, intoxicatingly fragrant peaches, magical black berries, and fluffy biscuits. Overwhelmingly I recognize Southern food as clean, fresh, nutritious, and full of love. The fried stuff  is certainly a part of Southern culture, but it isn't the entirety.
Being a proud Georgia peach, I like to make Southern food at least once a week. Come over to my house and you'll be greeted with buttermilk waffles, red beans & rice, sweet potato biscuits, or collard greens (made in all sorts of ways). In this new Southern Buddha Bowl recipe I wanted to showcase some of my very favorite Southern ingredients in one down-right tasty vegan bowl. I was lucky enough to partner with my favorite bean brand, Camellia, of New Orleans on this recipe and video. My dad introduced me to their beans years ago, and I have been stocking up every time I'm in NOLA ever since.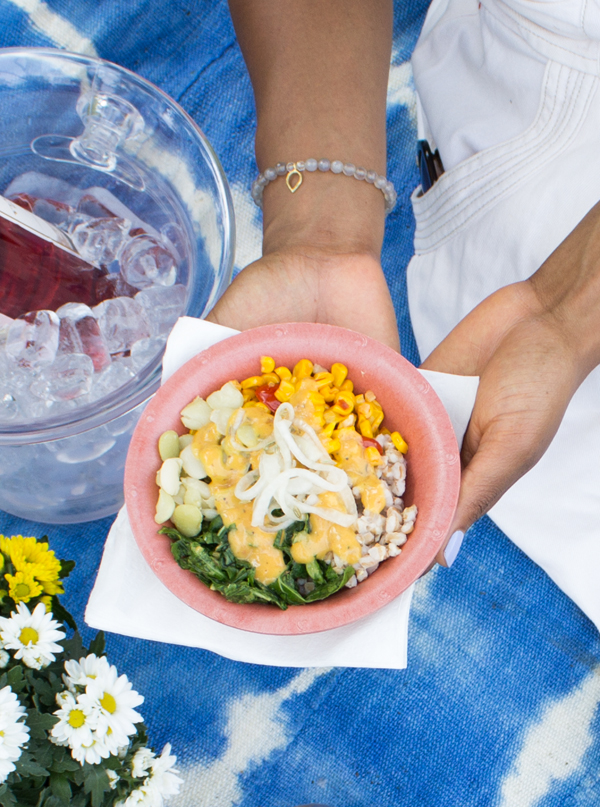 Lima Beans
Who over said Southerns can't be vegan has never tasted creamy Camellia beans. I used their green lima beans (a staple of succotash) in this Buddha bowl. Plus, farm fresh corn, charred tomatoes, Italian farro, pickled Vidalia onions, and a creamy Georgia peach dressing. Oh, and raw collards. Gotta have them greens to complete a Buddha bowl!
This recipe is absolutely perfect for a late-summer lunch or dinner, and a must-have at a picnic. You'll love how all of the flavors combine to create an absolutely delicious balanced vegan meal. I highly recommend ordering some Camellia beans to make this. They are the creamiest beans I know of 🙂
Southern Lima Bean Buddha Bowl
Feel free to double the Buddha bowl recipe for more. All of the recipe parts (aside from the raw collards) freeze very well. For efficiency, I recommend following the instructions in the order I've written them. There are a lot of parts to this recipe, but not a lot of active time.
Ingredients
Farro
1

cup

farro

soaked 1 hour

2

cups

water or vegetable broth

1

tsp

sea salt
Quick-pickled onions
1

cup

apple cider vinegar

2

tbsp

sugar

1

tsp

salt

1/2

tsp

fennel seeds

1

vidalia onion

thinly sliced (about 1/6 inch slices)
Corn sauté
1

cup

cherry tomatoes

whole or halved

2

jalapeño peppers

minced

2

ears of corn

shucked and kernels cut off

1/2

tsp

sea salt
Peach Vinaigrette
2

ripe peaches

chopped

2

tbsp

apple cider vinegar

2

tbsp

dijon mustard

1

tsp

thyme

1

tsp

sea salt + 1/2 tsp to taste

1

tsp

black pepper

1/4

cup

extra virgin olive oil
Collards
1

bunch collards

stems removed, thinly sliced into 1/4-inch wide ribbons

1/3

cup

peach vinaigrette
Instructions
Lima Beans
Bring water to a boil.

Rinse the lima beans (after they have soaked 8 hours), and drop them into the boiling water along with bay leaf.

Bring to a simmer, and continue to cook with the lid ajar for at least one hour or until the lima beans are tender.
Farro
Bring the water to a boil, and add the farro and salt.

Do not use salt if you're cooking the farro in salted vegetable broth.

Bring the grain to a simmer, and cook with lid ajar for 30-45 minutes, or until tender.
Quick-pickled onions
Combine the vinegar, sugar, salt, and fennel seeds in a medium mixing bowl.

Add the sliced onions, and massage gently to cover completely with the pickling liquid.

Set aside on the kitchen counter and allow them to pickle for about 1 hour.
Corn sauté
Heat a large skillet with a drizzle of oil (or avoid oil if you're using a cast iron skillet).

Add the tomatoes, jalapeño, and corn, and cook until it begins to brown and cook through (about 15 minutes).
Peach Vinaigrette
Place the peaches, vinegar, mustard, thyme, salt, and pepper in a blender, and blend until it begins to become creamy.

Slowly drizzle in the olive oil, and continue to blend until it is absolutely creamy.
Collards
Place the collard ribbons in a large mixing bowl, then add in the peach vinaigrette.

Use your clean hands to massage the collards for about 3 minutes, or until the greens are tender.
Assemble the Buddha bowl
Place 1/2 cup of the lima beans, farro, corn saute, and collards in each bowl. Top with the pickled onions and peach vinaigrette. Enjoy!!
Good news! We just relaunched Buddhalicious, my vegan meal plan program based on Buddha bowls! Enrollment ends on August 14th, so sign up today 🙂