This post is sponsored by Barilla. We teamed up to introduce you to their new line of one-ingredient legume pastas made from chickpeas or red lentils. If you love pasta, and you love getting the most nutrition out of every meal, then you're going to love their new legume pastas, and this Spring Veggie Pasta recipe.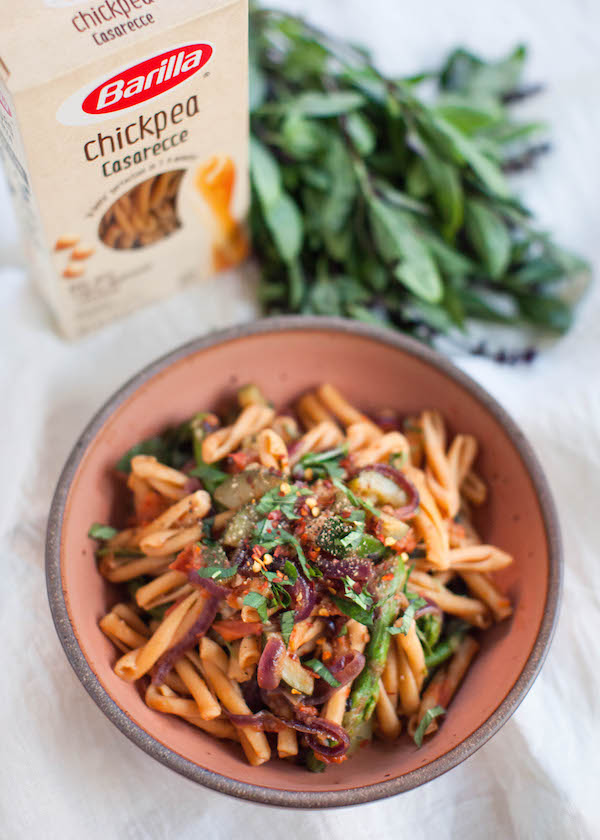 My favorite season in Los Angeles is spring! The weather is still cool, and the extra rain even makes this super-dry city look temporarily green and lush. Last spring, it was such a nice surprise to see bright green wild grass sprouting up all over the city.
This coming spring is extra special because I'm looking forward to watching my little one sprout up alongside the LA foliage. This is my first journey into motherhood, so I'm sure there will be many unexpected twists and turns, but one thing I know is that my winter baby and I will make it to the end of the "fourth trimester" right in the middle of spring. I hope the renewing energy of the season will be the perfect setting for all the new directions our life together will take 🙂
And while I'll have to be patient when it comes to feeding my baby any fun kitchen creations, nourishing myself will be as important as ever this year, and this Spring Veggie Pasta will be a seasonal go-to for sure! It's made with grilled or sautéed asparagus, zucchini, onions, tomato, and basil (of course) ––all my favorite spring flavors.
And I didn't use just any old pasta for this dish. Because I'm trying to get the most nutrition out of every meal, I used the new legume pastas from Barilla––specifically the Chickpea Casarecce. The only ingredient in this pasta is chickpea flour, so you're getting all the good stuff found in beans: fiber, B vitamins, iron, protein, and potassium. I love it when I finish a bowl of pasta and feel nourished and energized!
Though it's a complete meal on its own, I also like to pair this Spring Veggie Pasta with a salad to make the meal even more nutritious.
You can find the Barilla Legume pasta on Amazon, and at select grocery stores nationwide. The pastas come in four varieties: Chickpea Rotini, Chickpea Casarecce, Red Lentil Penne, and Red Lentil Rotini. Have fun exploring them all!
For more on the new pastas from Barilla, visit www.barilla.com/legume. Need more recipe ideas? Check out these other recipes I created using the Barilla Legume pasta: Eggplant Red Lentil Penne Pasta, Mediterranean Pasta Salad, Oyster Mushroom Red Lentil Pasta Alfredo, Spicy Pasta Arrabbiata, Pasta Puttanesca.
Spring Veggie Pasta
Ingredients
1

box Barilla Chickpea Casarecce

2

tablespoons

grapeseed oil

2

cloves

garlic

minced

2

ripe tomatoes

diced

¼

red onion

thinly sliced

1

large zucchini

sliced into rounds or half-moon shapes

1

cup

asparagus stalks

about ½ bunch or ¼ lb, quartered width-wise

½

teaspoon

sea salt + more to taste

½

teaspoon

freshly ground black pepper

1

bunch fresh basil

about 1 cups, chopped

Extra virgin olive oil
Instructions
In a skillet, warm the oil over medium heat.

Add the minced garlic, and sauté until it turns slightly golden. Be careful not to burn it.

Add the tomatoes and stir. Cook on medium-low heat until tomatoes are soft (about 5 minutes). If you would like to sauté the other veggies (onion, zucchini, asparagus), add them now, and continue to cook for another 8-10 minutes until veggies are tender but not overcooked. The asparagus should look bright green, and still retain some of its crunch.

Alternatively, you can grill the vegetables on an indoor stovetop or outdoor grill. Grill on each side until veggies are tender and the asparagus still retains some of its crunch.

To make the pasta: boil 4 quarts of salted water, add pasta and boil for 6-7 minutes for al dente pasta (I add 1-2 more minutes because I like a softer pasta). Drain well, then toss immediately with a drizzle of extra virgin olive oil in the colander.

Toss the cooked pasta in the skillet with the tomatoes and vegetables. Season with salt and pepper.

Stir in half of the chopped basil, then serve garnished with a little more basil and olive oil on top.