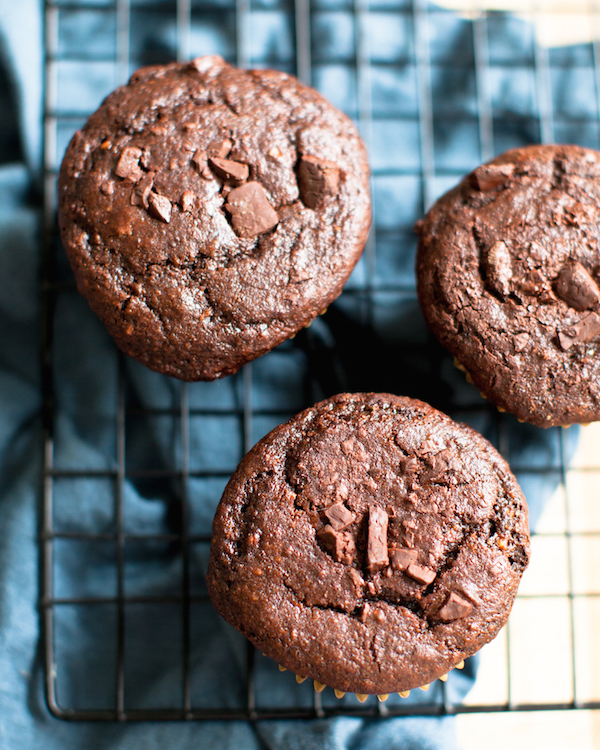 I have been sitting on this recipe for far too long: over 18 months! My apologies in advance. Once you try these, you'll be totally annoyed that I kept these amazing muffins to myself for so long. These sweet potato chocolate muffins are moist, fluffy, super tasty, and they've got the world's best muffin tops––with perfectly crispy edges. My only challenge with these muffins is not eating them all in one day! And sweet potato isn't the only special ingredient that makes these muffins so amazing. Keep reading to see what the secret ingredient is…
I know I'm not the only one in the mood for baking now that we're all stuck in the house––hello Covid-19. And while I've got plenty of recipes that I love, I'm only ever in the mood for these sweet potato chocolate muffins. Must have something to do with the fact that they're made with my favorite ingredients: sweet potato and chocolate.
But they've got a special secret ingredient too. Something that makes them extra fluffy and moist, even on day 2 and 3. Any guesses what it could be??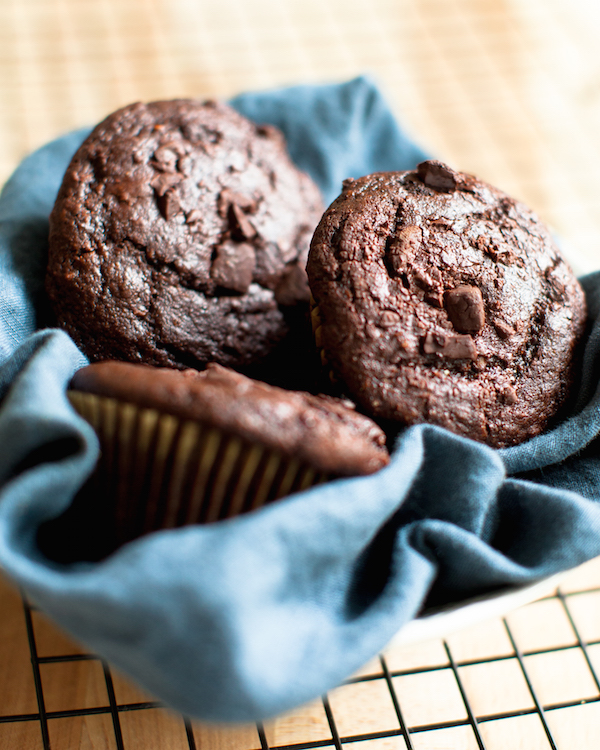 Almond flour!! This ingredient, widely used in gluten-free baking, is my favorite thing to combine with wheat flour to guarantee a fluffy treat with the perfect crumb. Almond flour holds just the right amount of moisture, and prevents the muffins from drying out or becoming tough. I also love that you can make your own almond flour at home by blending raw almonds in a high speed blender or food processor. That will save you a little money, and works in a pinch if you run out of the pre-ground stuff.
I'm also a huge fan of using apple cider vinegar in vegan baking. This ingredient reacts with the baking soda and makes the muffins rise to perfect heights. I use a whole tablespoon of apple cider vinegar in this recipe, but don't worry, you won't taste it at all. If you don't have apple cider vinegar, then use white vinegar or fresh lemon juice.
If you're wondering why it took me 18 months to share this recipe, it's because every time I made them, I had no control and ate them all before taking good photos. That's also why most of the photos in this post have only 3 muffins. What is wrong with me?! 😂 Last photo (under the recipe) is proof that these do indeed make a whole muffin tray. Enjoy this recipe and the video!!
Sweet Potato Chocolate Muffins
Real talk: I haven't made these without almond flour. So if you have an allergy I'm not exactly sure how an alternative will turn out. You could try replacing the almond flour with wheat flour, or with a flour made from sunflower seeds or pumpkin seeds. Let me know how they turn out if you play around with that.
Ingredients
1

tablespoon

ground flax seed + 2 tablespoon water

1

cup

whole wheat pastry flour

1

cup

almond flour

1/2

cup

unsweetened cocoa powder

1

teaspoon

baking soda

1/2

teaspoon

salt

1/2

cup

cane sugar + 1/2 cup coconut sugar

or brown sugar

1

cup

plain unsweetened soy milk

or other plain unsweetened plant milk

1

tablespoon

apple cider vinegar

1/2

cup

sweet potato puree

microwave or bake sweet potato and mash the filling (in the video I said 1/4 cup, but meant 1/2 cup)

1

teaspoon

vanilla

1/2

cup

grapeseed oil

do 1/4 cup to cut back on oil. Works fine, but muffins aren't as rich

1/4

cup

dark baking chocolate

chopped, or use vegan chocolate chips
Instructions
Preheat oven to 400°, and fill muffin cups with liners.

Make your flax seed "egg", by combining the ground flax and water in a small bowl. Set aside to thicken.

Combine the dry ingredients––flour, almond flour, cocoa powder, baking soda, salt, and sugar––in a mixing bowl. Whisk well.

In another bowl, combine the soy milk, apple cider vinegar, flax seed mixture, sweet potato puree, vanilla, and oil. Whisk well.

Pour the wet ingredients into the dry, and mix well. Careful not to over mix.

Fold in the chocolate chips.

Spoon the batter into the muffin cups. They will probably reach the top of your cups. That's great! Get ready for some over flowing delicious muffin tops.

Bake for 25-30 minutes. Test with a toothpick after 25.

Allow to cool for about 10-15 minutes before eating!
Check out my other favorite muffin recipe: Sweet Potato Oat Bran Muffins! Perfect for your quarantine baking 😉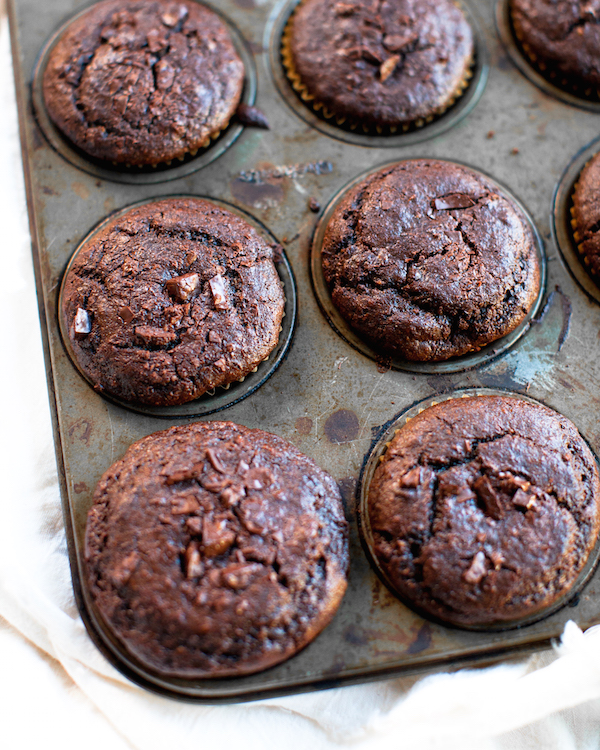 Watch the full video below!