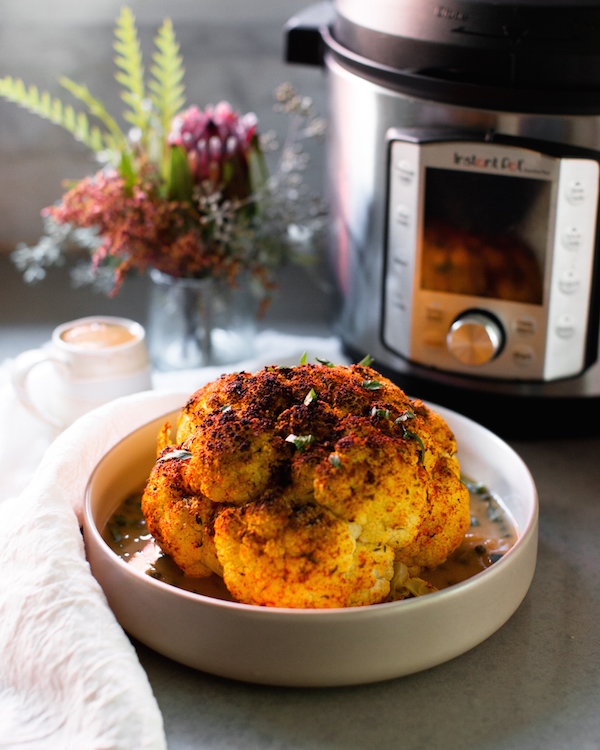 You're going to love these delicious, easy, and nutritious vegan Instant Pot recipes!
Buying an Instant Pot was the best kitchen appliance purchase I've ever made. Seriously, this thing is a lifesaver! While being a full-time mama to Baby J and a full-time business owner, throwing everything for a meal into the Instant Pot is sometimes the easiest way to get dinner done. Instant Pot didn't sponsor this post, but I highly recommend you get yourself one!
What can you cook in the Instant Pot?
Almost anything! The appliance has a few different models, but with each one you can pressure cook, sauté, slow cook, & steam. I love to cook beans in the Instant Pot because soaking isn't necessary. Since they don't need to soak, you saved an extra step the night before! However, soaked beans do cook more evenly, so keep that in mind.
The vegan Instant Pot recipes below are a great place to get started. They're so good, you might even add them to your weekly meal rotation.

Instant Pot breakfast recipes
First up is breakfast. Set it & forget it while you shower or get ready for the day & come back to the kitchen for a hot, already cooked meal. But don't worry; if you don't have an Instant Pot, you can cook these recipes using traditional methods as well!

Instant Pot Bean & Lentil Recipes
There are SO many of my recipes that can be made in the Instant Pot, but these four are already adapted for the appliance. For other recipes, simply follow the recipe guidelines below to adapt for the Instant Pot!
Okay, beans & breakfast. Is that it?
Hardly! There are so many options when it comes to vegan Instant Pot recipes and the ones listed here are just some of my favorites. You can use the Instant Pot like a regular slow cooker, but it also replaces many other appliances. You don't have to worry about overcooking rice on the stove, & you can even make vegan yogurt with it. Here are some other delicious meal ideas to make in your Instant Pot.
Which of these recipes have you tried? Leave a comment below, and don't forget to rate the recipes!