This post is sponsored by the new Emeril Lagasse Power Air Fryer 360. I've been using it to make all sorts of delicious recipes including this cauliflower crust pizza. This countertop appliance replaces many other appliances because you can use it to air fry, bake, roast, broil, and even dehydrate. From entertaining friends to prepping your meals for the week, the Power Air Fryer 360 makes life in the kitchen so much easier!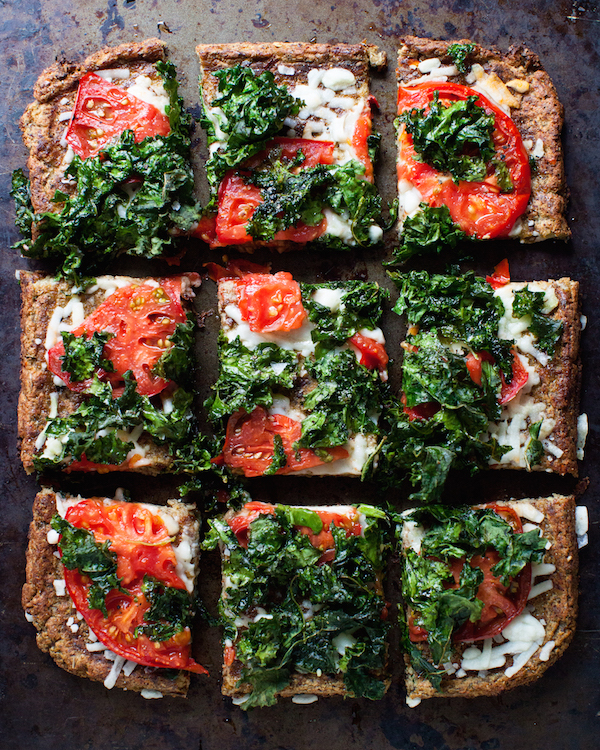 What can't you do with cauliflower? From crudité to vegan fried chick'n cauliflower makes it happen. One of my favorite ways to use it is for cauliflower crust pizza. Actually, I had forgotten about this terrific recipe. I used to make it for my clients all the time when I was a vegan chef, and they of course loved it. You can top it just how you would a traditional pizza, only you just bulked up the nutritional value by swapping wheat flour for cauliflower––perhaps the world's most versatile vegetable.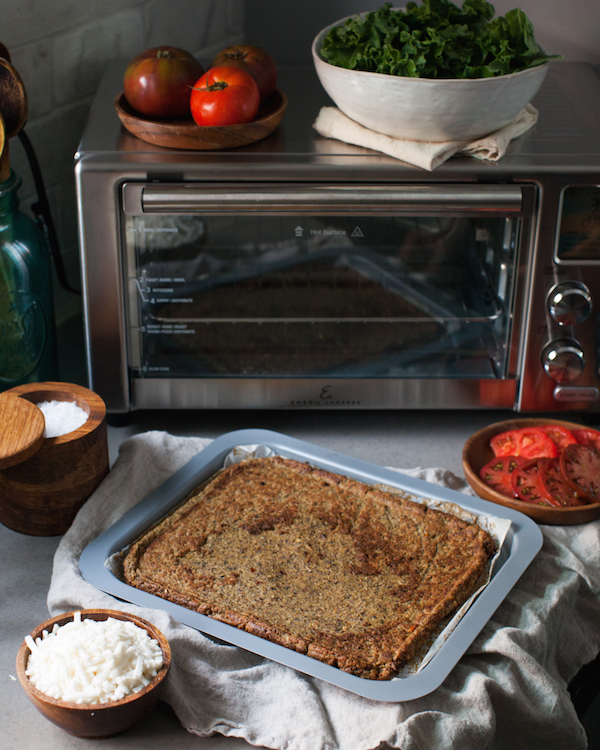 One of my top 5 kitchen appliances is definitely the countertop oven aka toaster oven aka this Emeril Lagasse Power Airfryer 360. Yes, it air fries, but it also bakes, roasts, dehydrates, rotessories (can you rotisserie a cauliflower?!), broils, reheats, and makes pizza. That last feature––makes pizza––is the one I'm most often in the mood for, and I don't like to turn on my built in oven if I don't have to. Actually, I cannot remember the last time I turned that thing on! The Power Airfryer 360 replaces so many bulky appliances, like the stand alone air fryer and dehydrator, and apparently my oven too. Even for pizza!
I chose to top this cauliflower pizza with kale and wild mushrooms I got at Sunday's farmer's market. You, of course, can top it with whatever you're into. You could keep it simple and do tomato sauce and vegan cheese, go all Hawaiian and top it with pineapple and BBQ sauce, or do what I did and top a cruciferous with another cruciferous. So healthy 😉 
The pizza crust is simple and straightforward, which is why it makes a great base for any topping. I use a food processor to mince/grate the cauliflower, then mix it with a few herbs and spices, nutritional yeast, rice flour, and a flaxseed "egg" to hold it all together. This cauliflower pizza crust is as good as any store-bought one, only better and fresher. You could even make a few crusts and freeze them for later because pizza!
Vegan Cauliflower Crust Pizza
Ingredients
5

tablespoons

ground flaxseed + ½ cup water

1

cauliflower

about 4-5 cups

½

cup

brown rice flour

¼

cup

nutritional yeast

1

teaspoon

dried basil

1

teaspoon

dried oregano

1

teaspoon

garlic powder

½

tsp

red pepper flakes

1

tsp

salt
Toppings:
½

cup

meltable vegan cheese

1 to

mato

sliced

6

cups

kale

chopped (massaged gently with 1/2 tsp olive oil)
Instructions
Preheat the oven to 425º, and line a baking sheet with parchment paper.

Mix the flaxseed and water in a small bowl, and let sit.

Pulse the cauliflower in a food processor until it's minced finely, similar to the texture of wet sand or quinoa.

Warm 1 tablespoon of grapeseed oil in a skillet on medium heat, then add the cauliflower. Stir, and cook for about 5 minutes.

Remove from heat.

In a large mixing bowl combine the remaining crust ingredients, the cooked cauliflower, and the flax "egg". Stir well.

Use a spatula to transfer the batter to the baking sheet, and spread it evenly over the parchment paper. It should be no more than 1/3" thick. If it's any thicker, save the excess to bake later.

Bake for 20 minutes, then remove from oven and flip.

Bake for another 10 minutes.

Massage your kale with 1 teaspoon of olive oil.

Top the cauliflower pizza crust with vegan cheese, sliced tomatoes, and kale.

Bake another 10 minutes, or until the kale is crispy and tender.

Give it about 10 minutes out of the oven to cool a bit before serving.