Healthy pancakes can be just as delicious and fluffy! These vegan gluten free pancakes are made with wholesome almond flour and teff flour, ripe banana, and ground flax seed. Have you noticed that gluten free pancakes often stick to the pan? Not these! Keep reading for my tips to make them extra fluffy and prevent sticking.
There's just something about waking up to the smell of sweet pancakes on a weekend morning. Okay, I'm the one doing the cooking and it is Baby J waking up to them, but I love a big, filling weekend breakfast. Pancakes, an oatmilk matcha latte, vegan sausage, and tofu scramble are the best morning treat in my opinion. These vegan pancakes are made with a gluten-free flour blend that pairs perfectly with real maple syrup and fresh fruit.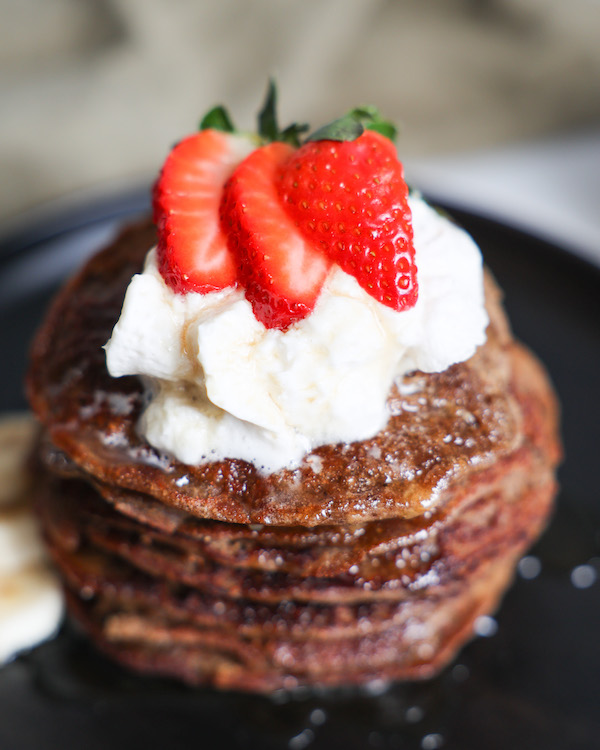 I'm not gluten-free, but I don't go out of my way to consume gluten. With that said, I love cooking and baking with wholesome foods that contain gluten, like teff, sourdough, freekeh, or spelt flour. They contain the most nutrients and follow my 80:20 rule of eating 80% whole foods.
These almond flour pancakes are delicious whether you're gluten-free or not. The pancake batter is made without eggs and is also dairy-free, making them completely vegan-friendly. Gluten-free pancakes don't have to be bland, chewy, or dry either. This gluten-free pancake recipe is fluffy and mouthwatering.
Why I love these Vegan Gluten Free Pancakes
Nutritious
Easy to make
Nutty rich flavor
Wholesome simple ingredients
Will keep you full for hours
Protein & fiber rich

What's in the pancakes?
Almond Flour vs Almond Meal
Use Almond Flour, not almond meal for the best pancakes. Almond flour is made with blanched (peeled) almonds giving it a softer and lighter texture. Almond meal is ground almonds that contain the skin. Though I recommend using almond flour for these pancakes, in a bind you can blend your own almonds to make almond meal. The pancakes will still be delicious, just heavier and not as fluffy. Buy it at your local grocery store or online.
Teff Flour: Teff is a gluten-free grain from Ethiopia. It's the main ingredient in injera, Ethiopian flatbread. It has an earthy flavor and is high in protein and fiber. It is also a rich source of plant based iron, B vitamins, and calcium. Buy teff flour at your local health food store or online. Make sure to use teff flour and not whole teff.
Flax Seed Meal: Use a mixture of ground flax seed and water to make a vegan flax egg which will bind the pancake ingredients and help them rise. Flax is a great source of Omega 3 fatty acids.
Apple Cider Vinegar: I ALWAYS use apple cider vinegar in my pancakes, whether they are gluten-free or not. Apple cider mixed with non-dairy milk makes a sort of vegan buttermilk. This reacts with the baking powder and helps them rise and become fluffy.

How to prevent pancake batter from sticking
The trick to preventing these vegan gluten free pancakes from sticking is to cover the skillet with a lid immediately after adding the batter. Cook for 4 minutes on medium heat before flipping. This negates the need to wait for bubbles to show on the surface before flipping. Continue to cook uncovered.
Because you cannot cover a griddle, I recommend frying them in a well greased skillet. Use a cast iron skillet or safe non-stick pan––I recommend Caraway or GreenPan.
Make sure to add plenty of vegan butter to the pan before frying.
The pan should be hot before adding the batter. Test this by adding a drop of the batter to the greased skillet. It should sizzle immediately upon impact. Heat the pan on medium flame for 5 minutes before adding the vegan butter and batter.
Use a pancake spatula to flip.
Suitable Swaps
Nut allergy? Use oat flour in place of almond flour. Oat flour has a tendency to stick, so use 1/4 cup of rice flour too. That looks like 3/4 cups oat flour 1/4 cup rice flour.
No vegan butter? Fry the pancakes in coconut oil for similar results.
Out of apple cider vinegar? Use fresh lemon juice instead.
How to Keep Leftover Pancakes
I don't recommend keeping leftover batter. They will not be as fluffy when made with batter that has sat for long. So cook all of the batter, and store extra pancakes in an airtight container in the refrigerator. To reheat warm them in the toaster oven or microwave.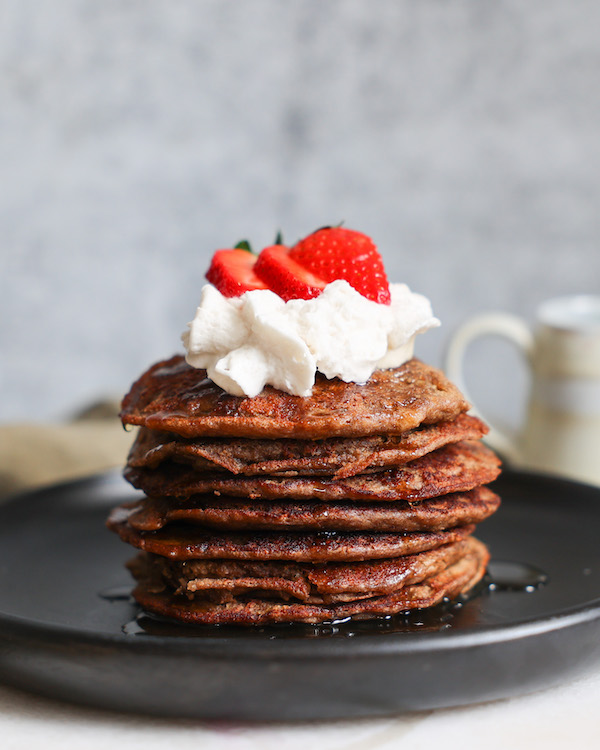 How to Top these Pancakes
Still not convinced these vegan gluten-free pancakes are going to be good? There are oh-so-many options for topping these pancakes! I like to top with maple syrup, fresh berries like strawberries, raspberries, sliced bananas, blueberries, or blackberries. Adding chopped and toasted nuts like walnuts or pecans are also a great option! Top with vegan whipped cream, peanut butter and vegan chocolate chips (or mix those into the batter) for a bit of extra protein and sweetness.
Try these other vegan gluten free breakfast recipes
Sweet Potato Breakfast Burrito
Vegan Gluten Free Pancakes | Almond Flour Pancakes
If you do not have teff flour you can sub that for one of the following gluten free flours: buckwheat flour, brown rice flour, coconut flour, gf oat flour, or a gluten free vegan flour blend. I love teff flour because it is high in protein, fiber, minerals, and vitamins. It is the flour used to make Ethiopian Injera bread 🙂 I buy my almond flour from teff flour online at Thrive Market, and other gluten free grains mentioned too.
Ingredients
1

cup

almond flour

1/2

cup

teff flour

1

tbsp

coconut sugar

or brown sugar

1

tsp

cinnamon

2

tsp

baking powder

1/8

tsp

salt

1

tbsp

flax seed meal + 2 tbsp water

1

ripe banana

1

cup

plain unsweetened soy milk

or other non-dairy milk

2

tsp

apple cider vinegar

1

tsp

vanilla extract

2

tbsp

vegan butter for frying

or coconut oil

top with: walnuts

berries, cacao nibs, maple syrup
Instructions
In a small bowl combine ground flax seed meal with water to make a flax egg. Let it sit for about 5 minutes to thicken.

In a large mixing bowl combine the almond flour, teff flour, baking powder, cinnamon, salt, and coconut sugar. Whisk well to combine.

In another mixing bowl, mash a ripe banana then add non-dairy milk, apple cider vinegar, vanilla extract, and flax egg.

Pour the wet into the dry, and use a whisk to mix well.

Warm and grease a skillet on medium heat, then pour in your pancake batter to make 3-4 medium size pancakes (about 3" diameter). Immediatly cover the skillet with a lid and cook on medium heat for 3 minutes.

Remove the lid and flip the pancakes. Cook on the other side for an additional 3 minutes, until crisp around the edges. Repeat with the remaining batter.

Serve topped with sliced banana, fresh fruit, nuts, cacao nibs, vegan whipped cream, and/or maple syrup.
Notes
To keep pancakes warm: place on an oven safe dish and place in the oven (or toaster oven) on 250°.