This vegan peach pie recipe is sponsored by Country Crock to celebrate the launch of their new Plant Butter. Country Crock's Plant Butter tastes just like real butter, and acts like it too, as you'll see in my amazing vegan peach pie recipe below…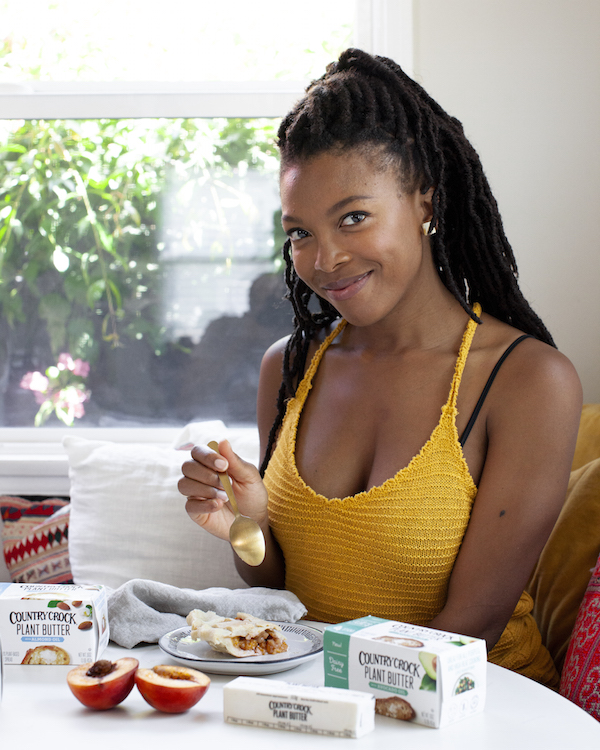 As a Southern girl there are two things that will never go out of style for me: peaches and butter. And in typical Southern girl fashion I was raised to find all sorts of ways to use them both. My family would use butter to make everything from savory butterbeans and succotash, to the fluffiest biscuits, sweetest candied yams, and flakiest pie crusts. I'd put butter in my oatmeal in the morning, and my steamed veggies at night. Basically, if it didn't have butter, I probably wasn't eating it.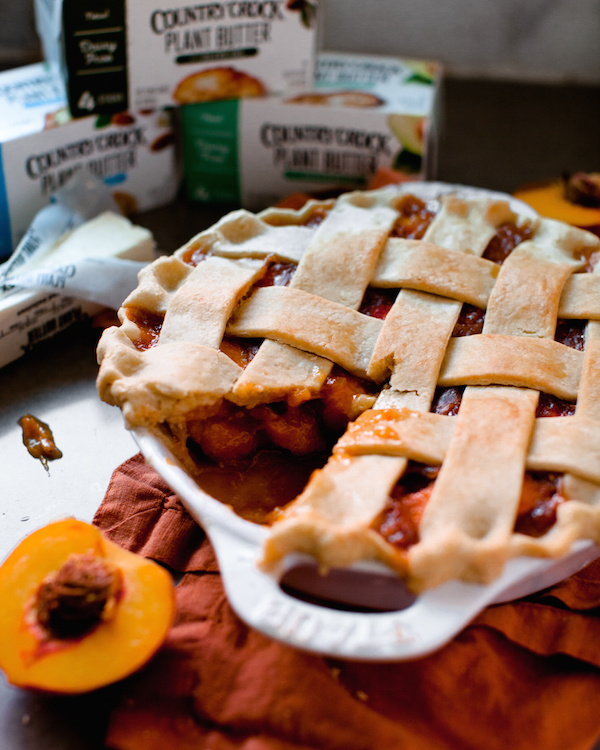 Then there are peaches. Y'all, I am a Georgia Peach. Born and raised in the land of peaches. They are my favorite fruit, and peach season is what I live for. There is nothing better than a fragrant, candy sweet, drip-down-your-arm-juicy yellow peach. I can snack on them all day long, but the bounty of peach season (typically between May and August) makes you want to cook and bake with them too. I've used peaches in salads, Buddha bowls, a panzanella, savory toast, cocktails (peach colada recipe in my cookbook), ice cream, salsa, and more. And lately, I have been craving peach pie.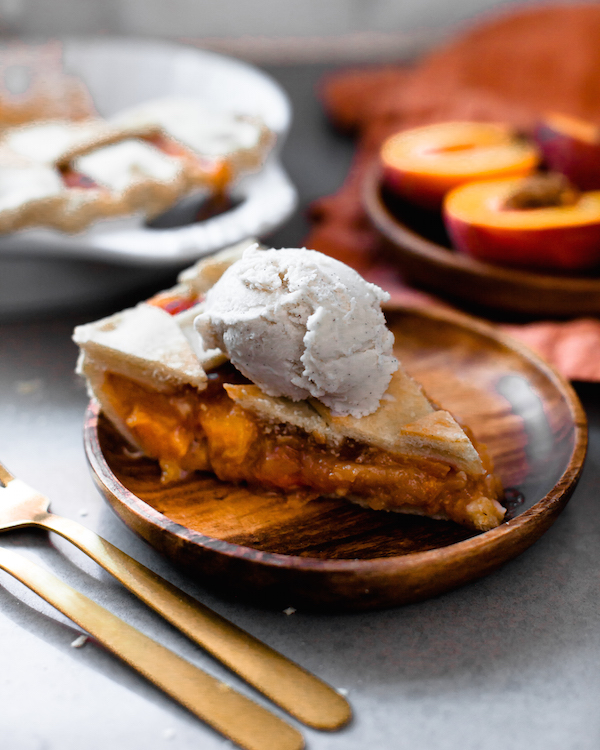 Whether you are a long time fan of peach pie, or you haven't even heard of this perfection, this recipe is going to make your day. Get you feelin' all peachy and bright 😉
When Country Crock reached out to me to celebrate the launch of their new dairy-free and vegan Plant Butter, I figured the best way to put it to the test would be to make a pie. If it could make a flaky buttery pie crust, then we were in business.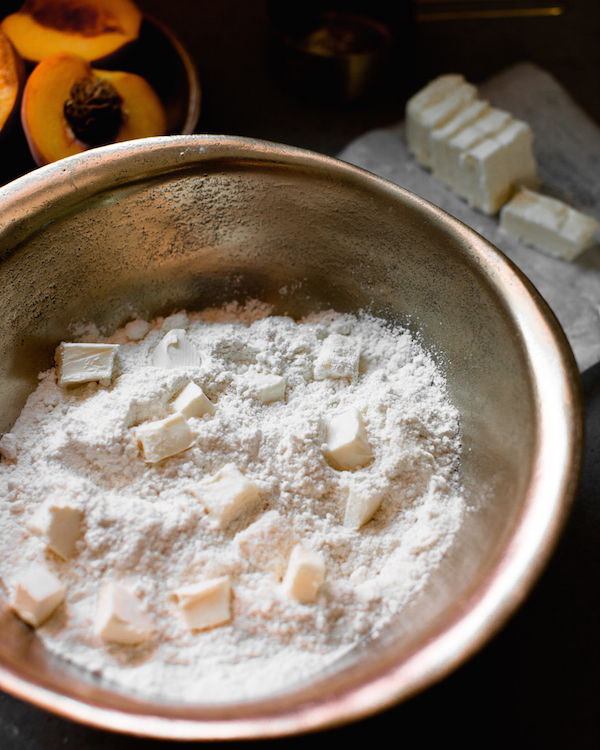 Making a flaky vegan pie crust with vegan butter is the same as doing it with dairy butter. You need flour, sugar, fat (the Plant Butter), and ice cold water. And you need at least an hour to let it set before rolling out for the pie. Country Crock has three varieties of their Plant Butter, one features almond oil, another with avocado oil, and the third with olive oil, which I think is so cool. Turns out they can all be used for pie crusts. Use a pastry blender to cut the cold Plant Butter into the flour for the best texture! Once rolled out, my pie crusts looked amazing. Once the whole pie was baked with that pretty lattice on top, I was super impressed. Upon first bite, I knew it was perfection! 
So make your vegan peach pie with Plant Butter for a perfect buttery crust, y'all! But don't stop there. For the best peach pie filling you must use the best ripe yellow peaches. White peaches won't work because they are too mild. Buy your peaches from a farmer's market, and be sure to ask the vendor if they have any overripe and bruised peaches they can sell you. Trust me, these peaches are the sweetest and juiciest of the bunch, and it won't matter if they're beat up because they're going into a pie. These peachy rejects are also a lot less expensive than the pretty snacking ones. I paid just $3-4 for organic peaches each time I tested this recipe. If you can't get them from the farmer's market, let your peaches ripen on the counter stem side down until they're fragrant and soft.
The filling of this pie is pretty simple to make. I recommend preparing the pie crust then keeping it in the fridge until you're ready to fill it. And before you've started preparing the sliced & sugared peaches for the filling, have your lattice strips cut and ready too. I just leave mine on the counter until I'm ready to top the pie. Lastly, keep in mind the peach slices need about 1 hour to sit and bathe in sugar (yum). If you can, do this right after making the pie crusts so they can sit at the same time. This pie takes a little while (don't they all?), but it's worth every second in the end…and it will make your house smell like heaven as it bakes.
 Onto the recipe!!!

Perfect Vegan Peach Pie
Recipe adapted from Taste of Home magazine.
Ingredients
Vegan double pie crust (9" pie dish)
2 cups white flour
1 tablespoon white cane sugar
1 teaspoon salt
½ cup + 2 tbsp Country Crock Plant Butter, cut into little cubes
½ cup ice cold water
Vegan peach pie filling
8 ripe yellow peaches, about 4 ½ cups, peeled and sliced (see tip below for peeling peaches)
¼ cup + 2 tbsp white cane sugar
¼ cup packed brown sugar (dark or light will work. Darker makes for a more robust flavor)
3 tablespoons cornstarch
¼ teaspoon ground nutmeg
¼ teaspoon ground cinnamon
¼ teaspoon ground cardamom
⅛ teaspoon salt
2 teaspoons freshly squeezed lemon juice
1 tablespoon Country Crock Plant Butter
2 tablespoons non-dairy milk for "egg" wash (optional)
Instructions
Pie crust
In a mixing bowl, whisk together the flour, sugar, and salt.
Add the Plant Butter and cut it into the flour using a pastry blender. The result should be pea sized pieces blended with the flour. NOTE: If you don't have one you can try pulsing together the flour and Plant Butter in a food processor, being careful not to over mix and heat the butter. Or cut it together using 2 knives (watch this video to see how).
Add the ice cold water 2 tablespoons at a time and use a wooden spoon to stir. After adding ½ cup of the water, the dough should stick together when tested with your hands. If it seems too dry, add 2 more tablespoons of ice cold water.
Form the dough into 2 equal balls, and wrap with parchment paper or plastic wrap, and set in the refrigerator to set.
Pie filling
In a mixing bowl toss the peach slices with the white and brown sugar. Stir well and set aside for an hour.
Drain the peaches from their liquid. Set the peaches aside, you'll use the liquid next.
Preheat oven to 400°.
Combine the cornstarch, nutmeg, cinnamon, and cardamom in a saucepan over medium heat, then slowly pour the liquid into the pan. Whisk as you pour to break up any clumps.
Bring to a simmer and continue whisking until it has thickened. If it thickens too much, add 2-4 tbsp of water.
Remove from the heat and stir in the lemon juice and Plant Butter.
Fold in the sliced peaches, then pour them into the pie crust.
Cover with the second pie crust in a lattice pattern, or another pattern, and seal the edges.
Brush the top pie crust and edges with non-dairy milk, then cover the edges with aluminum foil.
Bake for 50 minutes.
Allow it to cool for an hour or so before serving. Allow it to cool completely or chill for a less messy filling. All are delicious, especially when topped with vegan vanilla ice cream.
How to peel peaches
Bring 3 quarts of water to a boil in a saucepan.
Cut an x at the bottom of each peach.
Blanch/boil peaches (as many as can fit in the pan) for 30-60 seconds.
Transfer to an ice bath immediately upon removal from the boiling water.
Allow to cool completely then gently peel skins off from the x cut.