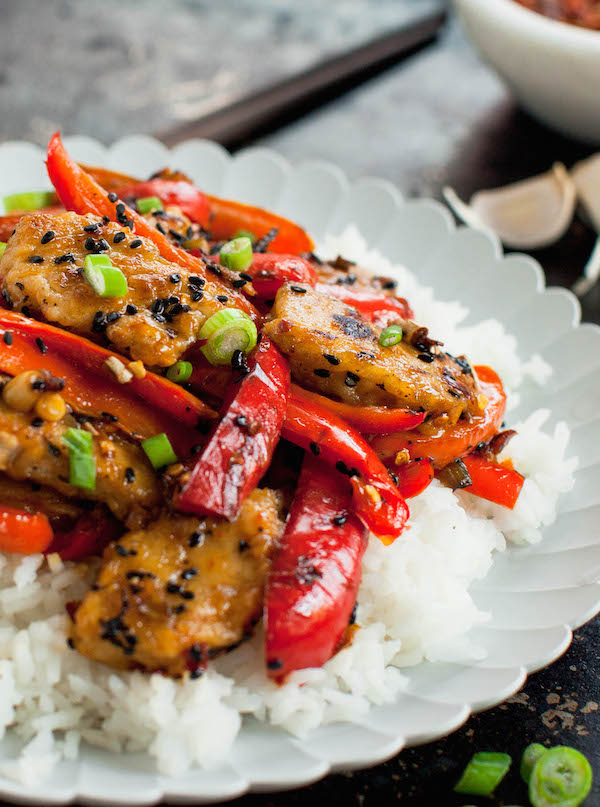 One of the most common questions I'm asked from non-vegans is, "Do you miss meat?" To be honest, becoming vegan completely changed the way I look at animals products. I simply do not see animal products as food anymore. On top of that, it's the seasoning and preparation that make animal based foods taste good to us. Ever tasted a boiled and unseasoned piece of meat? Not very good. Animal flesh is a canvas—what we really love is the vegan stuff that makes it delicious.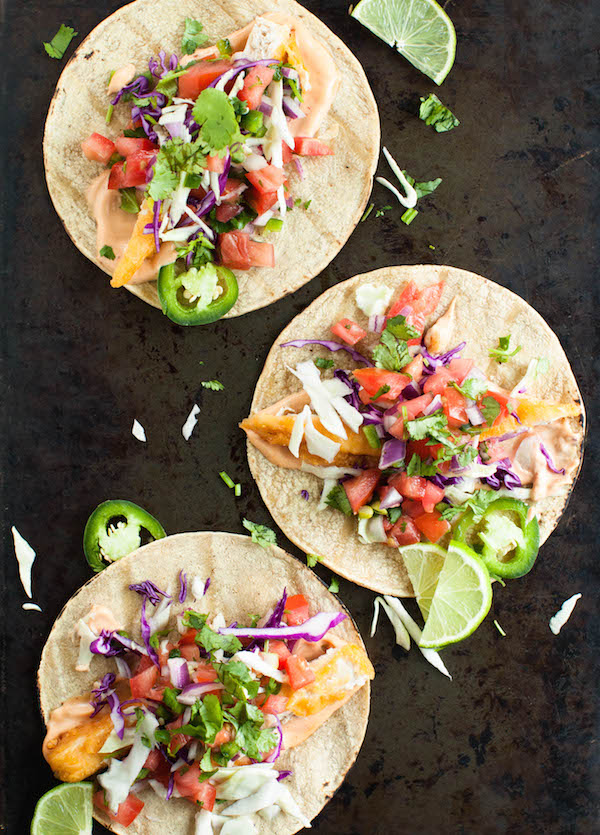 I'd be lying if I said that I don't like plant-based alternatives to meat. They add a great texture and heartiness to meals. Just like animal flesh can be a canvas, so can plant-based meat alternatives like Gardein. I love that we don't need to harm animals to have that meaty texture and rich-umami flavor. Cut out the middleman, and get it from plants!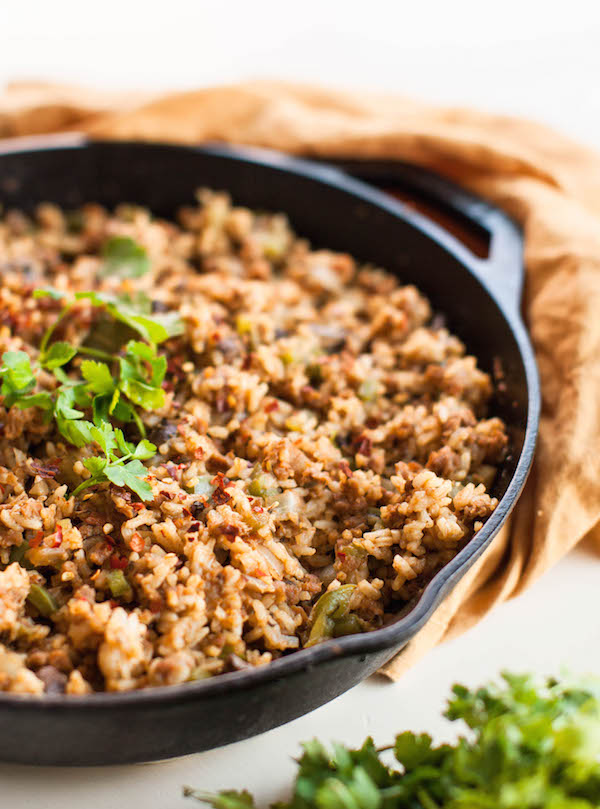 One of the other most common questions I get is, "How can I go vegan in my household of meat eaters?" This challenge confronts many mothers and fathers who do the cooking for their meat-loving families, and teenagers who want to go vegan but have to rely on the food their parents prepare. I always point them in the direction of Gardein. As you'll see in my recipes below, Gardein is a better-for-you (and better-for-animals-&-the-environment) plant protein that can be used in place of meat for all sorts of recipes. Gardein makes it possible for the whole family to enjoy delicious, filling, familiar food without having to prepare special meals for each person. And this is not one of those hard-to-find products; Gardein is available everywhere from Walmart, to Whole Foods, to Kroger, even Costco!! People, it has never been easier to go vegan!!
Watch the video below to see how easy it is to make amazing classic recipes using Gardein!
Which of these vegan recipes for meat lovers (& vegans) do you plan on making first? As you can see in the video, I'm in love with the Gardein Fishless Filets, especially inside of my "fish" tacos. Gardein has dozens of other products, so be sure to try them all. Download a coupon on their site and get to cookin'!
Want more great vegan recipes for meat lovers? Check out my cookbook, Sweet Potato Soul! I also recommend the following recipes: Beet Black Bean Burgers, Korean BBQ Jackfruit Tacos, Spicy Fried Caulifower "Chicken", Jerk Jackfruit Tacos, Chipotle Oyster Mushroom Sliders, Chicken & Waffles, Easy Chickpea Tuna Salad.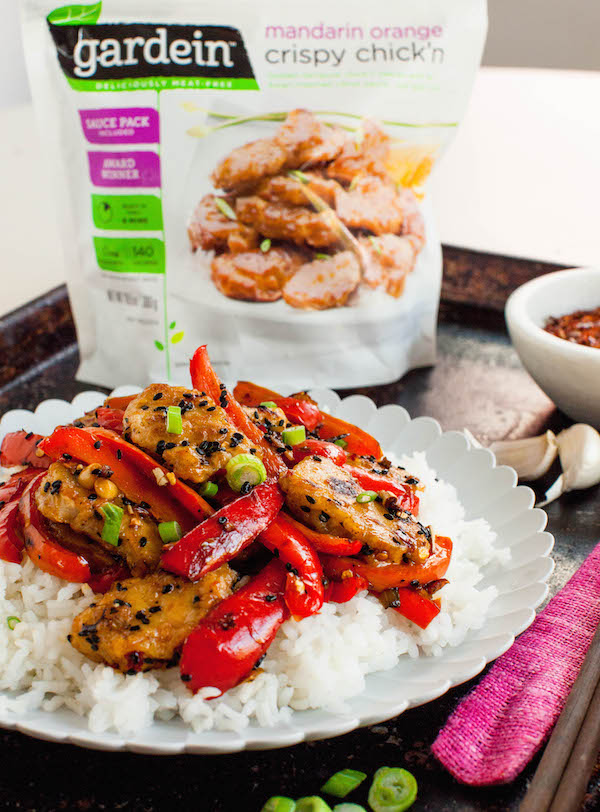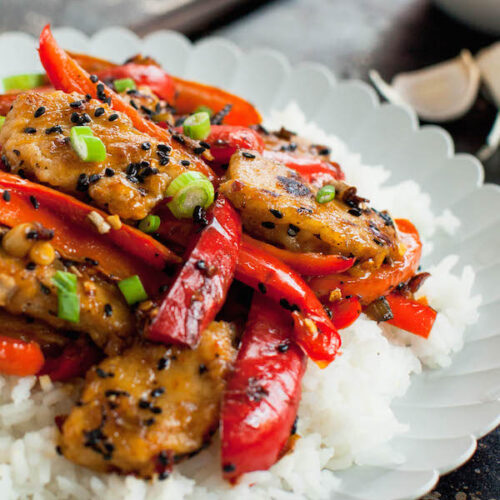 Take Out Style Kung-Pao Chicken | Vegan Recipes for Meat Lovers
This delicious "Take Out Style Kung Pao Chicken" was adapted from a non-vegan/vegetarian
Serious Eats recipe
with the same name. I often use non-vegan recipes as jumping off points for veganizing foods. 99% of the time the seasonings are already vegan, so it's really just about replacing the animal foods. Meat is so easy to replace, especially with Gardein products. Other options you can use in place of Gardein in this recipe are: tofu and mushrooms (especially oyster, maitake, and shiitake). This is definitely one of my favorite vegan recipes for meat lovers.
Ingredients
2

tablespoons

grapeseed oil or other neutral cooking oil

1

package Gardein Crispy Chick'n

3

green onion

white and light green parts only,chopped

1

tablespoon

fresh ginger

minced

2

cloves

of garlic

minced

2

large red bell pepper

chopped

1

tablespoon

tamari soy sauce

1

tablespoon

dry sherry or Shoaxing vinegar

1

tablespoon

distilled white vinegar

3

tablespoons

veggie broth

1

tablespoon

cane sugar

1

teaspoon

roasted sesame oil

2

teaspoons

arrowroot powder or cornstarch

1/2

cup

roasted peanuts or 3 tbsp sesame seeds

1

tablespoon

red chili flakes
Instructions
Warm oil in a large skillet or wok, then add the Crispy Chick'n and cook on each side for about 3 minutes (6 min total), or until it is crispy and golden.

Remove from the pan, and set aside.

Into the same skillet or wok, add the green onion, garlic, ginger, and red bell pepper. Sauté until tender, about 5 minutes.

While the veggies cook, make your sauce.

In a small mixing bowl combine the soy sauce, vinegars, veggie broth, sugar, sesame oil, and cornstarch. Stir well to break up any clumps from the arrowroot/cornstarch.

Once the veggies are tender, and to your liking, drop the Crispy Chick'n into the pan, and pour the sauce over it, and reduce the heat to low. Add the peanuts/sesame seeds and chili flakes. Stir well to coat as the sauce thickens.

Remove it from the heat, and serve over rice, and garnish with more green onion.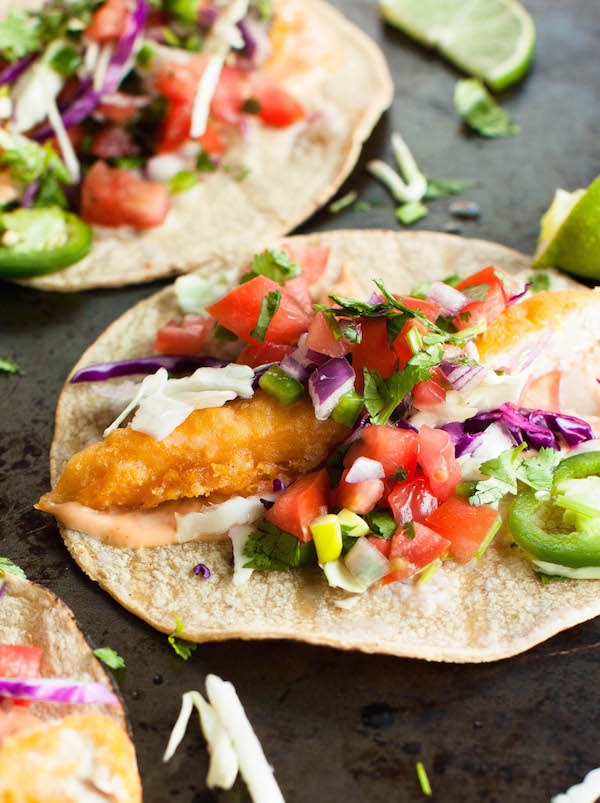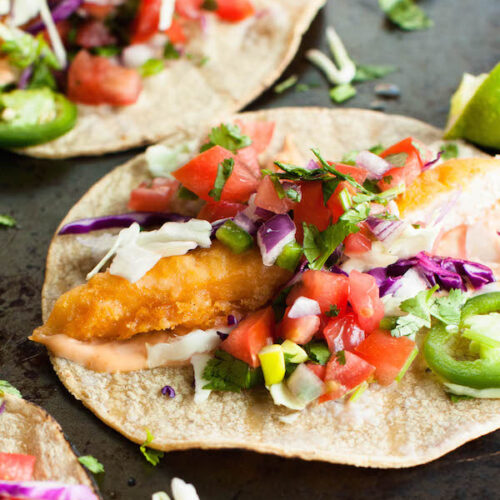 Classic Vegan Fish Tacos Vegan | Recipes for Meat Lovers
Gardein Fishless Filets capture the essence of seafood without harming animals! This is my favorite of their products, and tacos are my favorite way to use it!
Ingredients
1

package of Gardein Fishless Filets

1

medium tomato

finely chopped

3

tbsp

red onion

peeled and finely chopped

1/4

cup

roughly chopped cilantro

1

jalapeño

halved lengthwise, seeded and minced

2

limes

1 halved and 1 cut into wedges

sea salt

Freshly ground black pepper

1/2

cup

vegan mayonnaise

2

tablespoons

adobo sauce from a can of chipotle peppers

1

cup

shredded green cabbage

1

cup

shredded red cabbage

8 6-

inch

corn tortillas

warmed over open flame, in a skillet, or in the microwave
Instructions
Preheat oven to 425°, and line a baking sheet with parchment paper.

Place the Fishless Filets evenly onto the baking sheet, and bake for about 15 minutes, or until they are crispy and golden.

While the filets are in the oven, make the salsa and other fillings.

Into a mixing bowl add the tomato, onion, cilantro, jalapeño pepper, lime juice, salt, and pepper. Stir well and season with more salt or lime to taste.

In a small bowl combine the vegan mayo and adobo sauce. Stir until combined.

Warm the tortillas.

To assemble the tacos: Cut the Fishless Filets into strips. Spread some of the vegan chipotle mayo onto the bottom of the tortillas, and top with Fishless Filets, salsa, and cabbage. Serve with more cilantro, fresh jalapeño pepper, and lime juice.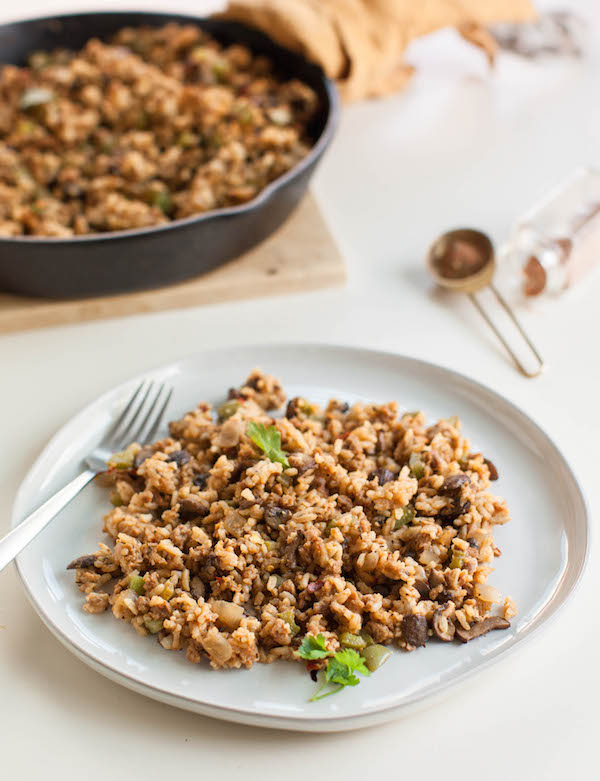 Meaty Vegan Dirty Rice
Dirty Rice is a classic and delicious Creole dish. I grew up eating this, though my mom always made it from a package mix. If you like Creole and Southern food, you will love this recipe. It's great to make for weekend meal planning, because it just gets yummier as the days go by. Use pre-cooked rice for this dish. It's best with cold or leftover rice. Look for Porcini powder online, on Amazon. If you'd like to replace the Gardein, use lentils, or more mushrooms (a variety of oyster, maitake, baby bella, and other wild varietals would be ideal).
Ingredients
2

tablespoons

grapeseed oil or other neutral cooking oil

1

yellow onion

diced

1

green bell pepper

diced

2

sticks celery diced

4

garlic cloves minced

3

green onions

diced

10

oz

mushrooms

thinly sliced & chopped

1

bay leaf

1/2

package Gardein Beefless Ground

1

cup veggie broth

1/2

tsp

dry thyme

2

teaspoons

porcini mushroom powder

*optional

2

tablespoons

homemade Creole seasoning (recipe in my cookbook)

+ more to taste

5

cups

cooked white rice

2-4

tablespoons

soy sauce

¼

cup

parsley chopped

Hot sauce for serving
Instructions
Warm oil in a large skillet. Add the onions, bell pepper, and celery and sauté on medium heat for about 2 minutes.

Add the garlic and green onions, and continue to cook until the onions are translucent.

Add the mushrooms, and sauté for about 5-8 minutes. Once the mushrooms are tender, add the bay leaf, Gardein Beefless Ground, veggie broth, thyme, porcini mushroom powder, and Creole seasoning. Stir well, and cook for about 2 minutes before adding the cooked rice and soy sauce.

Stir well and make sure all of the rice is coated and dirty.

Season to taste with more soy sauce, salt, or Creole seasoning.

Remove from the heat and serve with fresh parsley and hot sauce.