This post is sponsored by Lundberg Family Farms, maker of high quality organic and non-GMO rice products. I used their Organic California White Jasmine Rice in this Vegan Thai Green Curry.  I love using this variety of rice in my Thai dishes because it is fragrant and tender. Thailand is one of my favorite countries, and the delicate aroma of this rice brings back fond memories of my time there. 
My family and I have always connected over Thai food. The booths at our favorite Thai restaurant in Atlanta became our second dining room. Whenever friends or family would come to visit, we'd take them there. Whenever someone claimed to have never tried Thai food, we'd take them straight there. Even now, when I visit, we go there. 
I remember as a kid being in love with the strong flavors, bright colors, thrilling spiciness, and freshness of my meal. I also loved that it seemed so exotic and unique compared to the soul food and everyday meals my family cooked. In each booth of the restaurant there was a framed photograph of some beautiful scene in Thailand: a colorful market full of fruits and veggies, a jungle waterfall, a rice field surrounded by hills. The images along with the food would transport me to a tropical paradise.
One year I had the idea to make a Thai inspired dinner for Thanksgiving. I was probably 12. My family completely indulged me by taking me grocery shopping and helping me cook. It was raining like crazy that day, so we grilled one of the dishes––a Thai chicken satay–– in the garage––with the doors open, of course. Rain pouring down, cold air swirling around, nothing could stop me from making that meal. I remember being upset that my Nana had also prepared some traditional American Thanksgiving staples like collard greens and rolls. But the whole thing came together, and I felt so proud.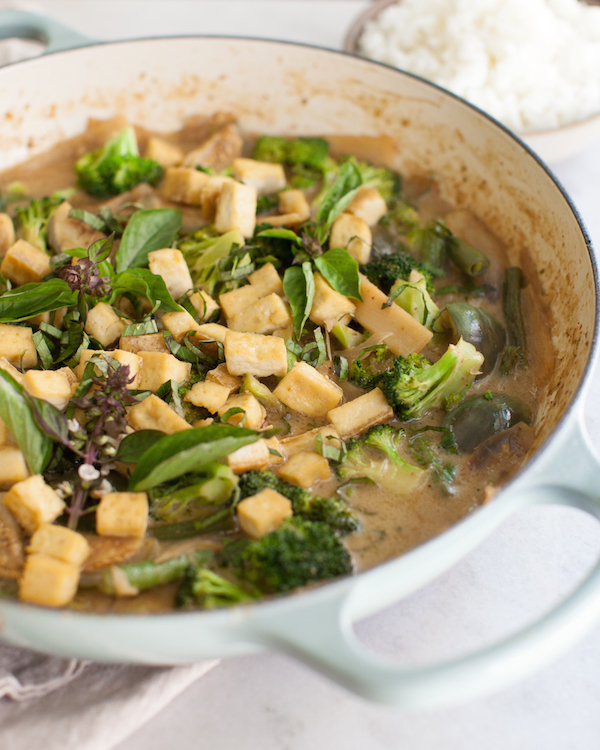 In 2011 I went on a 2 month solo trip to Thailand. There I learned how to make Thai curries––which are very labor intensive, and use ingredients that are difficult to find in most parts of the US––and other Thai staples. I ate street food in Bangkok, made dinner with ingredients I'd help harvest at permaculture farms, and took a cooking class in every town I visited. I was in heaven! 
Since then I've been trying to recreate those flavors of Thailand in my own kitchen because it reminds me of my family, and my trip to Thailand too. This Thai-inspired Green Curry is one of my favorite meals to make. I use a store-bought curry paste, Thai eggplants (which are in season where I live in the summer), Thai basil (which you can grow yourself), broccoli, bamboo shoots, crispy tofu, and I serve it over Lundberg Family Farms white Jasmine rice. Every bite reminds me of eating Thai food around the table with my family.
Believe it or not, my 18-month-old daughter is also a fan! I avoid adding more Thai chili when I plan to serve it to her, so that the spice stays mild. I mince all of the ingredients, and serve it over the Lundberg California White Jasmine Rice which is perfectly tender and fluffy, and great for a toddler with lots of teeth. It makes me happy to know that my daughter also loves Thai food as much as I do. I haven't taken her to a restaurant for the real thing yet, but once she's older I know we'll make it a part of our family tradition, just like it was in mine. 
I love sharing my classic family recipes with you guys, and I want to see yours too! Lundberg is putting together a resource for inspiration for family meals, and you can submit your own through www.lundbergfamilytable.com or by posting on Instagram using #LundbergFamilyTable. It doesn't even have to be a rice recipe, or use Lundberg products! As part of their Lundberg Family Table campaign, Lundberg is also donating to local food pantries to do their part in helping reduce food insecurity. 
Vegan Thai Green Curry
Ingredients
1

cup

Lundberg Family Farms White Jasmine Rice

3

tbsp

coconut oil

1

block extra firm tofu

pressed at least 20 minutes

1

large shallot

thinly sliced

2

cloves

garlic

minced

1

" knob fresh ginger

minced or grated (about packed 1 tbsp)

3-4

tbsp

Thai green curry paste

3-4

Thai eggplant

quartered

½

lb

green beans

about 1 large handful, ends trimmed, and halved

½

cup

bamboo shoots

14-

oz

can full fat coconut milk

1

tsp

sugar

optional

1

broccoli crown

chopped

¼

cup

Thai basil

1-2

tbsp

soy sauce

1

lime
Instructions
Follow the package instructions to make the rice stove-top.

I like to make my rice in the Instant Pot. To do so, rinse the rice thoroughly in a mesh strainer.

Add to the Instant Pot along with 1 ¼ cup water, 1 tsp of oil, and ½ tsp salt.

Set to pressure cook for 3 minutes. Allow it to natural steam release before opening.

Fluff with a fork and serve.




To make the tofu: Make sure you've pressed it at least 20 minutes before cooking. To press, simply wrap the tofu in a paper towel, place on a plate with high sides (so the water doesn't drip over), and place something heavy on top. I usually use a baking dish topped with cookbooks.

Preheat the oven to 400°.

Cut the tofu into small cubes, then toss with about 1 tbsp of coconut oil.

Spread them evenly over a baking sheet lined with parchment paper, and sprinkle with salt.

Bake for 35-45 minutes, or until golden and crispy.




To make the curry: Warm 1 tbsp of coconut oil in a wok or large skillet over medium-high heat.

Add the shallot, garlic, and ginger, and sauté until the shallots have become tender.

Add the curry paste, and stir for about 15 seconds.

Add the eggplant and green beans, and cook for another minute or so.

Add the bamboo shoots, followed by the coconut milk, and stir.

Bring to a simmer, and cook for 10 minutes, or until the eggplant is fairly tender, but not completely cooked.

Stir in sugar and 1 cup of water.

Then add the broccoli, and cook for another 10 minutes until it is tender but still bright, and the other veggies are also tender.

Stir in the Thai basil leaves, soy sauce, and juice of 1 lime.

Season to taste with more soy sauce if needed.

Top with the crispy tofu, and serve over white Jasmine rice.

Garnish with more Thai basil and a slice of lime.