Want to save time in the kitchen, but still eat well and feel great? These 15 minute vegan meals check off all the boxes. They're colorful, delicious, nutritious, and filling. Don't miss the video midway through this post, to see how I make these 3 fabulous recipes in such a short amount of time.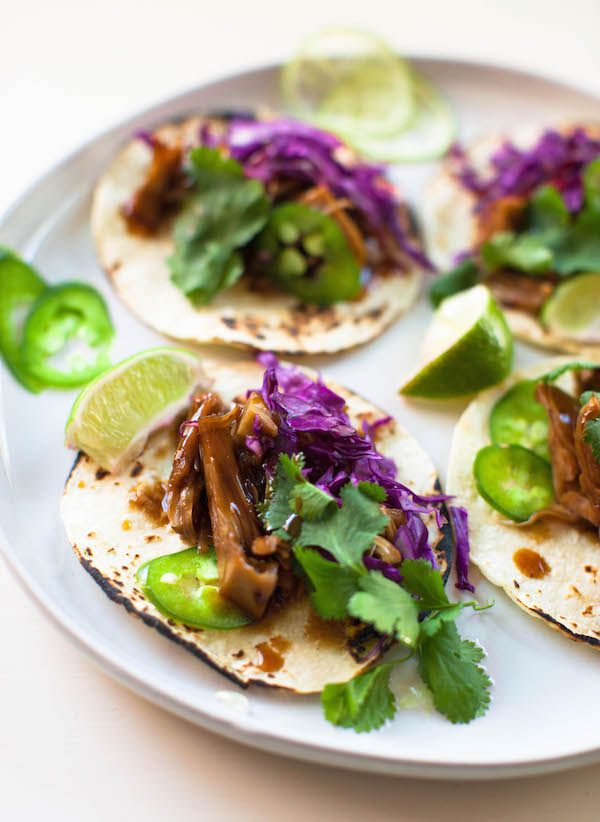 Good news, you can make a delicious and filling vegan meal in under 15 minutes! No ninja kitchen skills required! In my last blog post for 5 ingredient vegan recipes, I talked about how I love to cook and to eat, but I don't always have the time or energy to make a masterpiece. At the same time, I am so spoiled that nothing less than amazing will do. And why not? It's a crappy myth that vegan cooking has to require skill, time, and patience. On the contrary! I made every recipe for this new video and blog post in under 15 minutes, and you can too.
Click here to subscribe to my YouTube channel for more weekly cooking videos!
Keep scrolling to get the recipes for all of the 15 minute vegan meals I shared in this video. And don't miss more 15 minute vegan meals here, and 5 ingredient vegan recipes here and here. Send this video or blog post to all the people in your life who say they can't go vegan because it takes too much time and effort 🙂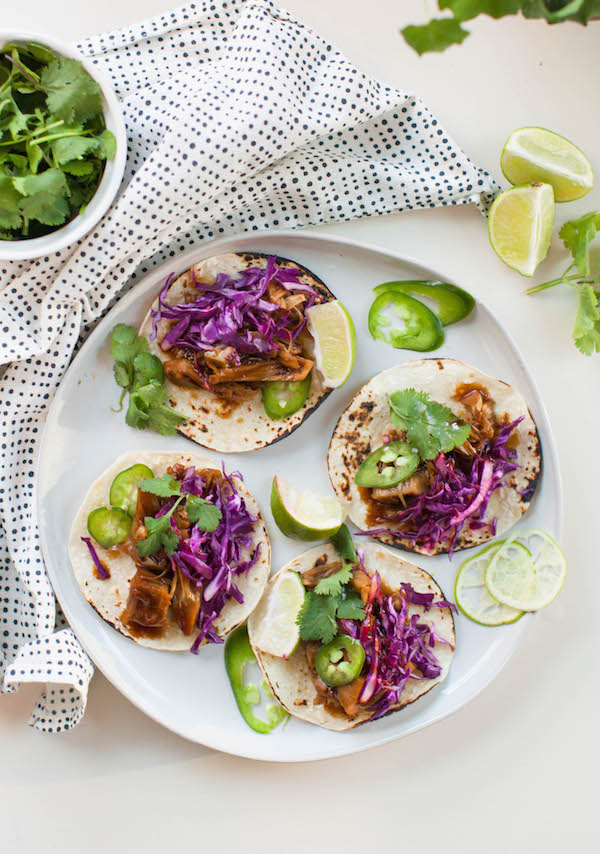 First let's start with the Korean BBQ Jackfruit Tacos. Sounds restaurant fancy, doesn't it? I bought a tasty vegan Korean BBQ sauce at my local Sprouts grocery store, and cooked some shredded jackfruit in it for 10 minutes, then put it all in a hot tortilla. 15 minutes later I have a delicious meal that is just as great as any you could expect to eat at a restaurant. Sure, you could get even more fancy by serving these with a kimchi slaw, and mango guacamole, but save that for when you feel like spending more time in the kitchen (or buy those things pre-made). These 15 minute tacos will hit all the spots. Add them—along with the other recipes in this 15 minute vegan meal roundup—to your weekly meal plan schedule.
Jackfruit might sound like a fancy ingredient, but you can actually buy it at your local Trader Joe's grocery store. I've also found it at Caribbean and Asian markets. Look for green or unripened jackfruit in brine in a can. You can also buy it online. If you can't find jackfruit, you can make these tacos with mushrooms—I especially like doing a  blend of oyster, shiitake, and enoki, but even baby bella will do—other good substitutions might be extra-firm tofu, tempeh, or something like Gardein or Beyond Meat.
KOREAN BBQ JACKFRUIT TACOS | 15 Minute Vegan Meals
For this 15 minute vegan meal it is important that you use green or unripened jackfruit in brine. This most often comes in a can. I buy it from Trader Joe's and from Caribbean or Asian markets. You may encounter ripe jackfruit in syrup, that will not work for this recipe. I have not found green jackfruit in any other form than a can, in the United States. Let me know if you have 🙂 Double the ingredients to make more.
Ingredients
1

can of green jackfruit

, shredded with a fork (see the video for an example)

3/4

cup

vegan Korean bbq sauce or a traditional American BBQ sauce

1

ripe avocado

1/2

cup

red cabbage

1/4

cup

fresh cilantro

2

limes

6

corn tortillas

or 8 mini corn tortillas
Instructions
Place the shredded green jackfruit into a sauce pot, and cover with the Korean BBQ sauce. Stir well, and cook covered on medium-low heat for 10 minutes. The jackfruit and sauce should be gently simmering, but not boiling.

While the jackfruit is cooking prepare your other taco ingredients. Slice the avocado, shred or thinly slice the cabbage, chop the cilantro, slice the lime, and warm the tortillas.

Once the jackfruit is cooked, fill the warm tortillas with all of the ingredients, and drizzle any left over sauce from the pot onto the tacos. Squeeze fresh lime juice over them, and serve.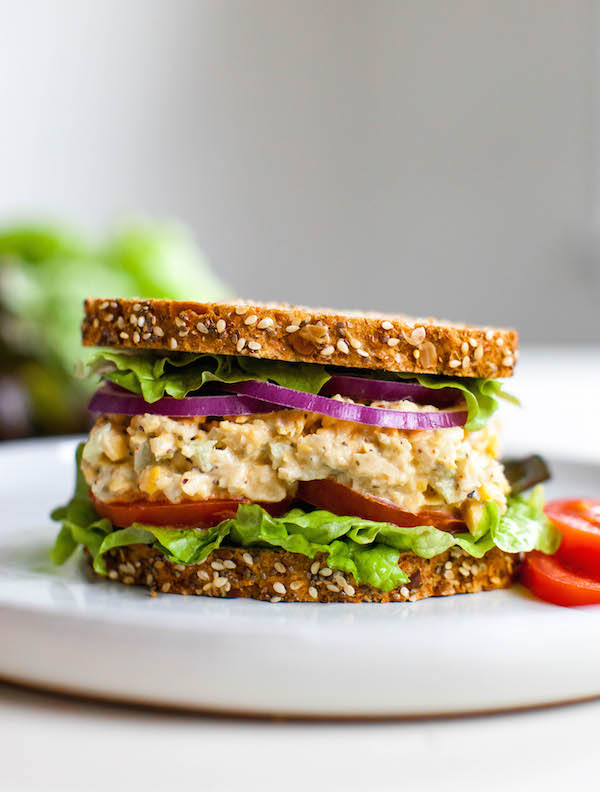 I've shared this chickpea tuna salad on my blog before, and it's been one of the most popular recipes on SPS for years! I understand why! You can turn to this yummy dish to get all the tasty goodness of a tuna salad without having to eat the body of another animal, worry about toxins like mercury, or consume cholesterol. Win win win!! I love serving this chickpea mash between two slices of my favorite sandwich bread, on top of avocado toast, as part of a Buddha Bowl, as a dip for crudité, or tossed into a massaged kale salad. Serving it in a sandwich is probably the easiest, and most balanced.
You'll need a food processor to best make this chickpea mash. A blender will most likely blend the ingredients unevenly, or turn the chickpeas into hummus. The best choice for making this without a food processor is to mash the ingredients together with a fork. Just make sure to mince your celery if you plan on doing it that way.
CHICKPEA TUNA SANDWICH | 15 Minute Vegan Meals
This chickpea tuna is one of my favorite recipes. It just happens to be incredibly easy to make. Use a food processor to make the mash. If you don't have one the best option is to mash the chickpeas with a fork. Be sure to mince the celery if you plan on doing that. A food processor will not work as well as a food processor. Ume plum vinegar can be found at health food stores like Whole Foods, or online. It is about $3.50 a bottle, so not very expensive. It's super salty and has a special tang that really elevates this recipe. If you don't have any you can use apple cider vinegar or white vinegar.
Ingredients
14-

oz

can of salt-free chickpeas

drained and rinsed

¼

cup

vegan mayo

Just Mayo is my favorite brand OR ¼ cup + 2 tbsp mashed avocado

1

tbsp

dijon or whole grain mustard

1½

tbsp

ume plum vinegar

add a splash more if you are using avocado instead of mayo

1

teaspoon

dulse seaweed

optional, but it adds a sea flavor. find it at health food stores or online

2

tsp

celery seeds

1

celery rib

chopped

½

tsp

freshly ground black pepper

¼

tsp

cayenne pepper

more to taste or crushed chili flakes

4

leaves

romaine or kale

1

ripe tomato

sliced

1/4

red onion

very thinly sliced

4

slices

toasted bread
Instructions
Place the chickpeas, Just mayo, mustard, ume vinegar, dulse, celery seeds, celery, black pepper, and cayenne pepper into a food processor.

Pulse a few times until incorporated and minced. Careful not to overblend. You shouldn't be pulsing more than 20 seconds.

Lightly toast your bread, then fill each sandwich with lettuce, chickpea "tuna" mash, tomato, and onion.

If you plan on packing the sandwich for later, wrap it tightly in parchment paper to keep the filling intact.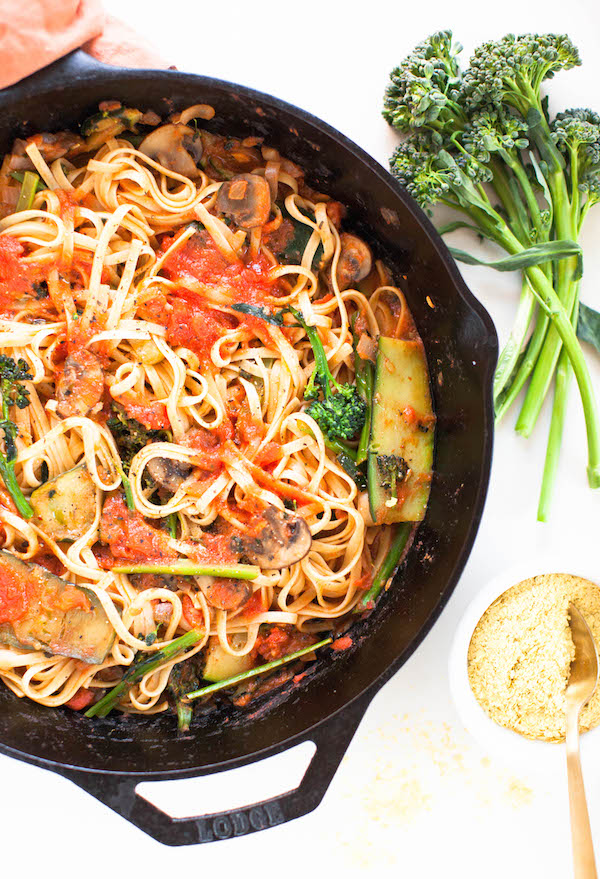 I don't eat pasta often, but when I do it is a treat! Pasta is the epitome of the 15 minute vegan meal. I almost didn't include it in this roundup because it seems so obvious, until I realized that I may be taking for granted the fact that you can balance out all of that refined flour by adding nutritious broccolini (or other green veggies) and mushrooms. I also really wanted to share this recipe because it utilizes one of my favorite cooking techniques, which I call "the smash". To speed up the cook time of your vegetables and to get them to quickly caramelize, and to make your mushrooms more flavorful and meaty, cook them on medium or medium-high heat and place the flat lid of a pan directly on top of them. The heavier the lid, the better. "Smashing" them will allow them to more quickly release their liquids, and the result tastes similar to roasting. I learned this technique from a vegan cooking video. If you have two cast iron skillets you can cook the veggies in one, and place the clean bottom of the other one directly on top of your veggies or mushrooms. I swear, you will love the smash technique! If you need a visual check out the video above.
BROCOLLINI MUSHROOM LINGUINE | 15 Minute Vegan Meals
Of course if you are gluten-free you can use your favorite gf pasta for this recipe. You can also use other types of green veggies, or normal broccoli. Just make sure to cut your veggies small enough so they will cook quickly. Any other type of mushroom will work in this recipe too. My favorites are oyster and maitake. Mushroom pasta will always be one of my favorite 15 minute vegan meals.
Ingredients
1 10-

oz

package of baby bella mushrooms

or another type of mushroom

1

bunch of broccolini

about 2 cups,

2

zucchini squashes

thinly sliced

1-2

tablespoons

grapeseed oil

1/2

teaspoon

sea salt + more to taste

1

jar vegan marinara tomato sauce

1

teaspoon

fennel seeds

1

teaspoon

red chili flakes

1

package of linguine

4 servings worth (so probably 2/3 of the package)

nutritional yeast and black pepper for serving
Instructions
Start by bringing the water for the pasta to a boil. How much pasta you decide to prepare will dictate how much water you need, obviously. Follow package instructions if necessary. Once the water comes to a boil add the pasta and cook for the amount of time instructed by the package.

Thinly slice the mushrooms, broccolini stems and florets, and zucchini.

Warm 1-2 tablespoons of grapeseed oil in a large cast iron skillet or frying pan.

Add the sliced mushrooms, broccolini stems (not the florets), and zucchini, then sprinkle on the salt. Stir well, and try to evenly spread the veggies onto the bottom of the skillet. Place the lid of a smaller pan directly onto the vegetables. Yes, the lid should touch the veggies.

Cook on medium heat for 5 minutes.

Remove the lid and add the broccolini florets, stir again, then place the lid back onto the veggies. Continue cooking for another 5 minutes, or until the veggies are tender.

Remove the lid one last time, and add the tomato sauce, fennel seeds, and chili flakes. Stir well.

Drain the cooked linguine then transfer it into the skillet with the tomato sauce and veggies.

Remove from the heat, then toss the pasta in the sauce.

Serve immediately with nutritional yeast and black pepper