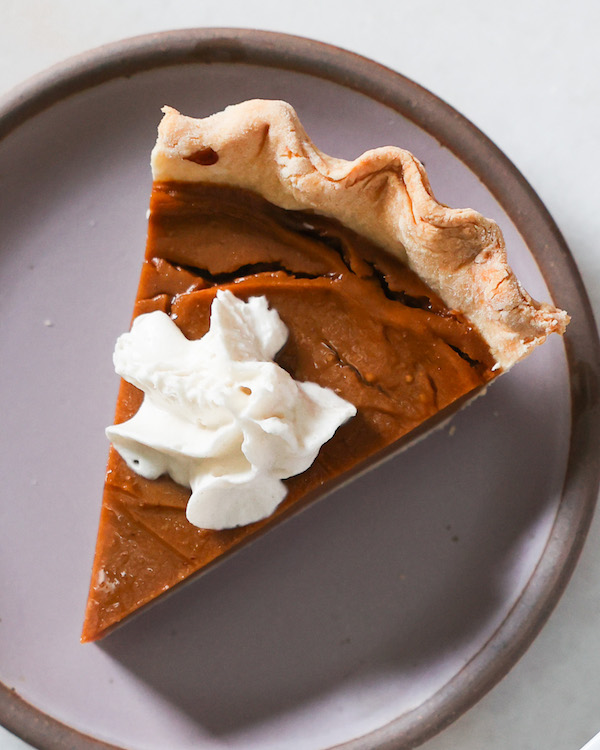 This is the best vegan sweet potato pie ever! It honestly tastes just like Nana's sweet potato pie. The texture is on point: perfectly firm yet luxuriously creamy and rich. Notes of cinnamon, nutmeg, and brown sugar bless every perfect bite. It took me years to perfect this vegan sweet potato pie recipe, but it was worth all of the effort. There's a delicious secret ingredient to replace eggs, and it isn't soy. Keep reading to discover how to make the best Southern vegan sweet potato pie this Thanksgiving and Christmas.

Why you'll LOVE this Vegan Sweet Potato Pie
This recipe is simply the best. I should know. I'm a black girl from Atlanta, GA. And I put all sorts of black girl magic into this pie!
It is everything a sweet potato pie (vegan or not) needs to be:
rich and creamy
light and heavenly
perfectly sweet
addictively delicious
way better than pumpkin pie!
No shade but…
I don't think a classic sweet potato pie should include tofu, coconut milk, maple syrup, or ginger. I'm not usually a  purist, but I am definitely one when it comes to this recipe. Did I mention sweet potato pie is my favorite food ever? My Nana makes the BEST sweet potato pie. It is the quintessential taste of my childhood and all of the love, joy, and innocence it was full of. So yes, this vegan sweet potato pie is 100% authentic.
The Secret Ingredient
Authentic sweet potato pie, but with a secret ingredient! You'd never know it from eating this pie, but sweet potatoes share the filling with butternut squash. Here's the story behind the squash: For years I tried to make the perfect sweet potato pie. Non-vegan sweet potato pie has eggs to create a firm not-mushy texture, and I just couldn't figure out how to replace eggs with a suitable vegan ingredient. Silken tofu made the pie taste like tofu. Agar (a seaweed-based thickener) made it gelatinous. Too much cornstarch made it chalky.
One day I went True Food Kitchen with family and ordered the butternut squash pie for dessert. It was firm and delicious!! Too firm for a sweet potato pie, but I knew whatever was in that pie was the secret to mine. Turns out it was just the squash!
Butternut squash is the perfect thickener and egg replacement for this pie. Its flavor is similar to sweet potato, and allows our star ingredient to shine. The texture stays authentic, creamy, and rich. You won't be able to stop at just one slice, but that's okay because this pie is full of fiber, beta-carotene, vitamin c, potassium, and healthy carbohydrates 😉
The Star Ingredients
Sweet potatoes: For the best flavor, use long-baked sweet potatoes––spuds that have been baked whole for at least one hour. Baking the sweet potato whole will make the flesh sweeter and creamier. As it bakes the sugars caramelize! Avoid canned sweet potato puree for the very best flavor.
Butternut squash: A little butternut squash is the best egg replacer in this pie. You will not taste it in the pie because the flavor is so similar to sweet potato. Oven roast your own squash for the tastiest results.
Brown sugar: This pie is sweetened with both brown and white sugar. Brown sugar adds rich caramel notes. You can use either light or dark brown sugar.
Nutmeg: Cinnamon is a must, but nutmeg takes it up 100 notches. Use freshly grated nutmeg if you can.
Cornstarch or Arrowroot powder: These thickeners are interchangeable. This recipe uses just the right amount to create the perfect texture.
Vanilla extract: A must! However, if you don't have any you can replace it with lemon juice! That's a trick my Nana taught me when I was little 😉
How to make vegan sweet potato pie
Slow bake the sweet potatoes whole to caramelize their sugars and make them extra creamy.
In a food processor or blender, blend the sweet potato, butternut squash, and other ingredients until creamy.
Pour the sweet potato pie filling into an uncooked vegan pie crust. I have a recipe for the perfect buttery crust below! I also included a recipe for my favorite nutty gluten-free crust below. Store-bought crust is acceptable.
Bake the pies (this recipe makes 2 delicious pies) for 45-50 minutes. Let them cool at least an hour before serving. You can serve sweet potato pie warm, room temperature, or chilled. My preference is room temp.
Serve with a dollop of vegan whipped cream. Thanksgiving isn't complete without this pie.

Tips for making the best vegan sweet potato pie
To bake the sweet potatoes: poke holes in them with a fork and rub the skin with a little bit of oil. Place in a baking dish and bake for at least an hour, or until very soft. The sweet potato flesh will fall right out of the peel. It is not necessary to wrap the sweet potatoes in foil before baking.
Use a plain unsweetened plant-based milk. I always use soy milk from Trader Joes or Westsoy because they have only two ingredients: soy beans and water. Almond milk often has flavor added, even if it says "plain". Coconut milk will make this pie taste like coconut so avoid that if you want authentic taste.
Use fresh high quality spice. If you only pull out the cinnamon and nutmeg once a year, check the expiration date and give it a sniff to make sure it's at its best.
Wondering, "why does my sweet potato pie fall apart?" It won't if you follow my instructions below!
Can I freeze?
Yes. Vegan sweet potato pie can be frozen up to three months. Allow the finished pies to cool completely before wrapping them in plastic wrap and storing in a freezer bag.
Before serving, remove the pie from the freezer and thaw the evening before serving it. Because it's dairy-free you can let it thaw on the counter without worry. Reheat in the oven if you'd like to serve it warm.
Try these other vegan pie recipes
Nana's Vegan Sweet Potato Pie
This is the best vegan sweet potato pie ever! It honestly tastes just like Nana's sweet potato pie. The texture is on point: perfectly firm yet luxuriously creamy and rich. Notes of cinnamon, nutmeg, and brown sugar bless every perfect bite.
Ingredients
3

cups

sweet potato mash

from home baked sweet potato

1

cup

butternut squash mash

from home baked butternut squash

1

cup

sugar

half light brown, half cane

1/2

tsp

salt

3/8

teaspoon

ground cloves

2

tsp

cinnamon

1/2

tsp

nutmeg

freshly ground if possible

1

tsp

vanilla extract

1

cup

plain unsweetened soy milk

I use Westsoy or Trader Joes brand

4

tbsp

arrowroot powder

2

vegan pie crusts

store bought or use one of my recipes below
Instructions
Preheat oven to 350°.

Place all of the filling ingredients into the blender and blend until smooth.

Fill the crusts with batter, and bake for 50 minutes.

Remove from the oven to let cool for at least 30 minutes, then set in the fridge to chill for a few more hours or overnight.
Vegan Flaky Pie Crust
This pie crust requires at least one hour to set before rolling out for use. Makes two pie crusts.
Ingredients
2 1/2

cups

all purpose flour

1

teaspoon

salt

1

tablespoon

sugar

1/2

cup

+ 2 tablespoons vegan butter

1/2

cup

+ 2-4 tablespoons ice cold water
Instructions
Combine the flour, salt, and sugar in a mixing bowl. Whisk to combine the ingredients.

Add the cubes of shortening and/or vegan butter, and use a pastry cutter to incorporate into the flour. Continue to mix with the pastry cutter until the mixture resembles coarse meal, almost pea sized.

Slowly add the ice water, 2 tablespoons at a time, and stir with a wooden spoon or your hands.

Once the dough begins to hold together form it into two tight balls.

Flatten them a bit (this will make it easier to roll out later), and wrap it in plastic wrap or parchment paper.

Place in the fridge for at least one hour.

Remove the chilled pie dough from the fridge. Let it sit on the counter for 10 minutes to soften.

Flour a clean, smooth stone surface and place one of the dough balls down onto it. If you don't have a stone surface use parchment paper.

Use a floured rolling pin to roll the dough flat. It should be about 1/8th inch thick, and wide enough to comfortably fit over your pie dish with at least 2 inches of extra space.

Remove the pie crust from the counter and place over a 9" pie dish.

Fit the dough into the pie dish, and up the edges. Cut of the excess dough and use your fingers to crimp the edges.

If you are not filling to crust right away, set it in the refrigerator until ready to use.

Repeat the rolling out steps with the remaining crust.

Now you have a flaky double crust ready to use in a pie recipe that has a crust topping, or for two separate pies.
Nutty Pecan Pie Crusts
Ingredients
2

cups

almonds

1/2

cup

pecans

1 1/4

cup

rolled oats

1

tsp

salt

2

cups

spelt flour

or gluten free flour

1/2

cup

+ 2 tbsp neutral oil

1/2

cup

+ 2 tbsp maple syrup or agave

2

tsp

vanilla
Instructions
Preheat oven to 350°.

In a food processor combine the nuts, oats, and salt. Pulse until it becomes a coarse meal.

Pour the mixture into a mixing bowl and stir in spelt flour.

Stir in the oil, syrup and vanilla. Stir well until it is all combined. It will be sticky.

Divide the dough and press firmly into one pie dish. Set the remaining aside to create a crumble for the top of the pie.

Poke fork holes into the bottoms of the pie.

Bake for 10 minutes before filling and baking pie.

Fill the pie crust with the apple pie filling, and sprinkle the remaining crumble over the top. Try to create some chunks to give the crumble varying texture. Bake for 40 minutes.