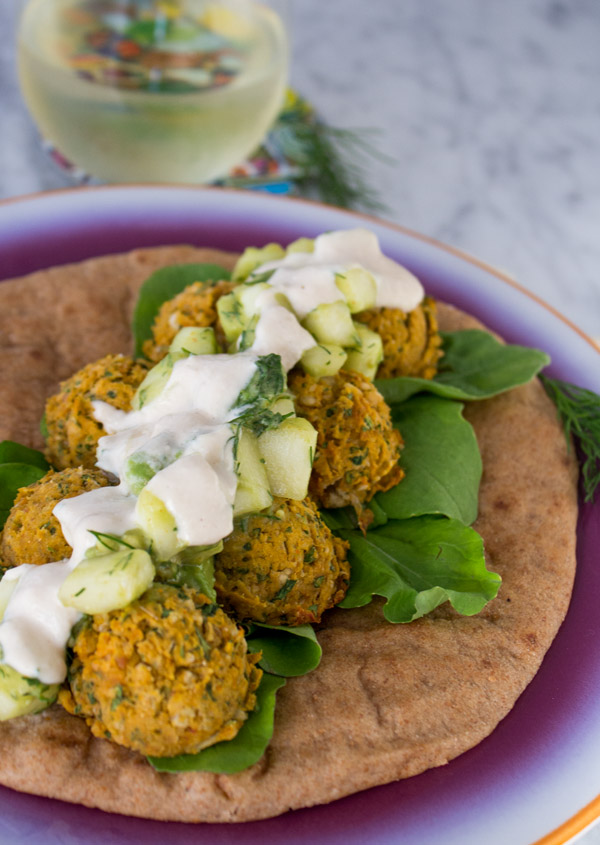 When I think about meals I couldn't live without, I think about a sweet potato falafel sandwich with all the fixings. I'm talking about creamy tahini sauce, spicy hot sauce, crunchy pickles, and fresh lettuce. Whether it's fried, baked, or even raw, I adore falafel.
I lived in Madrid for a semester in college, and Granada was a favorite weekend destination for me and my girlfriends. Unlike Madrid, Granada is highly influenced by north African and Islamic culture. The stunning Alhambra is there, after all. And it was in Granada that I had the best falafel ever.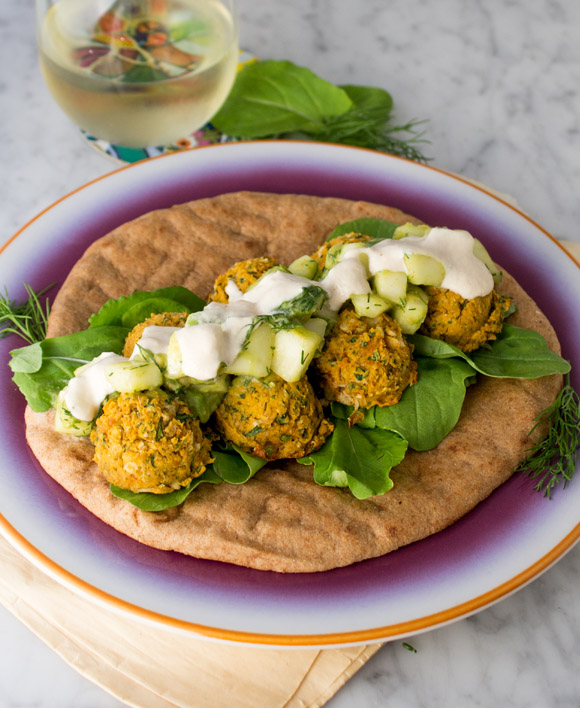 It was at a little kebab shop where our friend/my crush worked. We visited Granada twice, and ate at that kebab many times, and it's still the best I've ever had. Perhaps it was the company, perhaps it was the authentic atmosphere, perhaps it was the hookah. Or it could have just been Granada, but that falafel sandwich was magic.
I want to go back there so badly!
Until I'm able to make it back to that little kebab in Granada, I'll continue to make my own healthy falafel at home. I hook it up with tasty toppings, serve it in a pita, and close my eyes to imagine I'm enjoying it under the gaze of the Alhambra.
Sweet Potato Falafel Sandwich
All of the parts of this recipe are delicious on their own. When you combine them they're magical!
Ingredients
Sweet Potato Falafel
1

medium sweet potato

baked or steamed in the skin

14

oz

can chickpeas

rinsed

1/4

tsp

cayenne pepper

1/2

cup

fresh parsley

minced

1

clove

garlic

minced

1

tbsp

ground cumin

2

tsp

ground coriander

1

tsp

sea salt

1/2

tsp

pepper
Spicy Cucumber Avocado Salad
2

large cucumbers

peeled and seeds removed, and diced into ¾ centimeter thick cubes

1

ripe avocado

flesh diced like the cucumber

¼

cup

red onion or shallot

minced

¼

cup

fresh dill

chopped

½

tbsp

apple cider vinegar

plus a splash for good measure

1

tbsp

lemon juice

¾

tsp

sea salt

¼ -1/2

tsp

cayenne pepper
Tahini Sauce
¼

cup

tahini

2

tbsp

freshly squeezed lemon

½

cup

water

Assembling ingredients

4

big handfuls of arugula

4

pita pockets
Instructions
Sweet Potato Falafel
Preheat oven to 350° and line baking sheet with parchment paper. Place all of the ingredients into a food processor, and pulse until the ingredients are combined. Be careful not to over blend or puree. The ingredients should hold together, but maintain their texture. Use a cookie scoop (about 2 tbsp) to scoop falafel balls and place directly onto the baking sheet. Bake for 35 minutes. Allow to cool for at least 10 minutes before serving.
Spicy Cucumber Avocado Salad
Place all of the ingredients into a large mixing bowl, and stir well to combine with a large spoon.

Season to taste with a dash more sea salt, vinegar, or lemon juice if necessary.
Tahini Sauce
Place ingredients in a bowl and stir to combine. Or place ingredients into a jar with a lid, and shake until creamy.

Assemble the sandwich

Fill pita pockets with arugula, falafel, cucumber salad, and tahini. Enjoy!