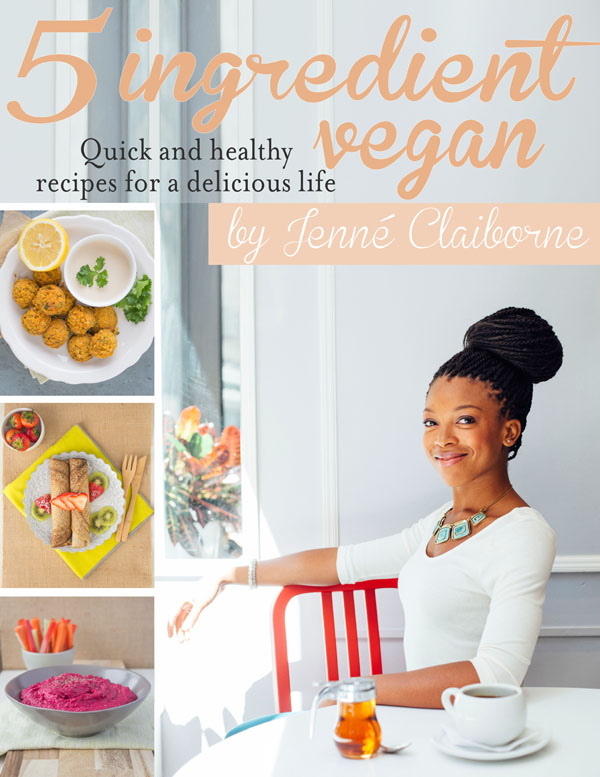 Have you noticed that things look a little different here on Sweet Potato Soul?! Welcome to the brand new site! I'm so excited about my new look. The site has all of my favorite colors (the top being turquoise, teal, and sweet potato orange), and I think it looks a lot more pro-fesh-in-AL! Play around with it. My favorite features are the navigation bar with thumbnails below, the video page, and the super fancy Recipe page. Plus, some yummy 5 ingredient recipes!
In addition to launching this pretty new home on the web, I've also just released my first full-length digital cookbook, 5 Ingredient Vegan. Check it out!! I'm selling it for just $5.55. Can't beat that deal!
It's been selling really well, and I've been getting loads of great feedback. My friends have even been posting and sharing it on Facebook. I feel so supported.
The recipes are very delicious, and easy to make. My favorites are the tahini cookies (they're dangerous and addictive though), chia seed crepes, tahini banana butter, tempeh breakfast patties, collard enchiladas, and Cajun tempeh. That's not too many favorites is it?
I'll be back soon with a colorful and spicy recipe for Memorial Day!
In the meantime, let me know what you think about the new look, and how you like the book. xoxo