This post for Vegan Hot Dog Toppings was sponsored by Lightlife! Join me at the NYC Vegetarian Food Festival on May 20-21. Lightlife is a sponsor, and I will be doing a cooking demo on Sunday (5/21). Purchase tickets here and get 40% off with code JENNE40.
I hope you enjoy the recipes and video below 🙂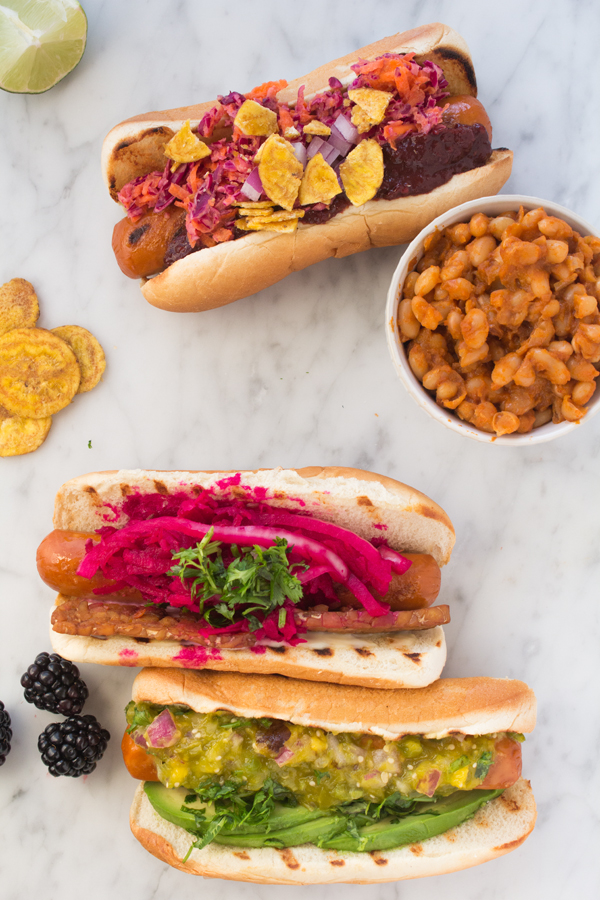 Memorial Day is right around the corner, and for millions of Americans that means the start of summer, and cookouts with grills loaded up with all sorts of meat. It's a day of increasing our collective risk for cancer. And particularly dangerous is processed meat: hot dogs, bacon, sausages, and deli lunch meats. The World Health Organization classified processed meat as a Group 1 carcinogen putting it in the same category as cigarette smoking—meaning it does cause cancer. Red meat is considered a Group 2A carcinogen meaning it probably causes cancer. To make matters worse, high cooking temperatures like in grilling creates nitrosamines, carcinogenic substances.
Vegan Hot Dog Toppings
Instead of feeding your loved ones, children, and friends processed meat and red meat, there's a simple solution: use vegan alternatives. This week I've partnered up with Lightlife to bring you 5 delicious, healthy, and very pretty vegan hot dog toppings for their 100% plant-based Smart Dogs. I've been telling friends and family about this collaboration, and everyone asks me, "do they taste like real hot dogs". All I can say is that no one will know the difference! That, and they are not going to give you cancer. Excellent!!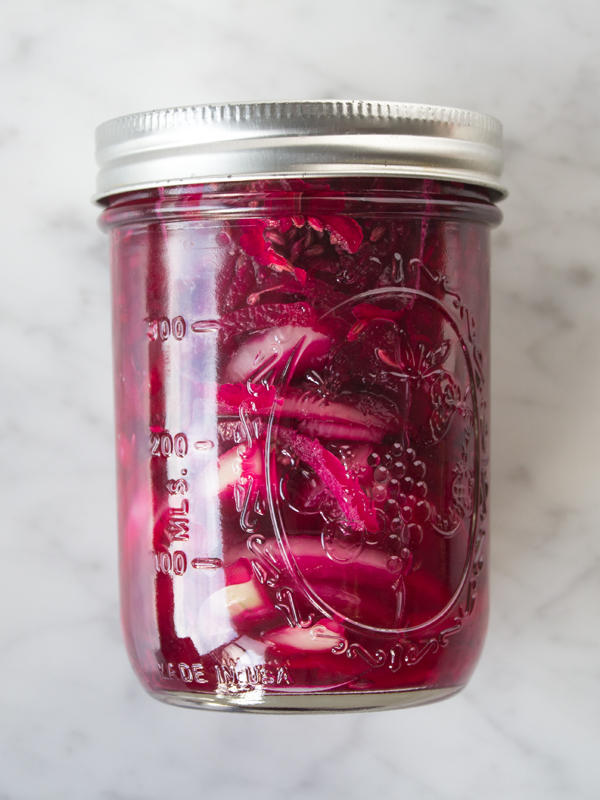 You're going to love these five vegan hot dog toppings. In my video I show you how you can mix and match them to make the ultimate vegan Smart Dogs. My favorite is the Blackberry Barbecue sauce with the Rainbow Slaw, then topped with crushed plantain chips. You'll want to show up with these vegan hot dogs and toppings to celebrations all summer. Who doesn't like colorful delicious food that doesn't make you feel bad or give you cancer? Give these a try, and please let me know how you like them!
NOTE: All of the recipes are grouped together the way I combined them in the video.
Tempeh Bacon & Quick-Pickled Beets
Combination number one is this tangy and smoky tempeh bacon and pickled beets. Tempeh bacon is super easy to make, and adds so much flavor and great texture to whatever you use it on. I always buy Lightlife brand.
Ingredients
Tempeh Bacon
1

block of Lightlife tempeh

1/4

cup

soy sauce or tamari

2

tablespoons

maple syrup or agave

2

tablespoons

smoke seasoning
Quick-Pickled Beets & Onions
1/2

cup

white vinegar

1/2

tablespoon

sugar

1

teaspoon

fennel seeds

1/2

sweet onion

thinly sliced

1

large raw beet

shredded
Instructions
Tempeh Bacon
Thinly slice the tempeh into strips.

Combine the soy sauce, maple syrup, and liquid smoke in a mixing bowl.

Add the tempeh to the marinade, and toss with your hands or a fork until all of the slices are well coated.

Place it in the refrigerator to marinate at least 1 hour, or overnight.

Preheat oven to 300° and line a baking sheet with parchment paper.

Spread the tempeh slices evenly onto the baking sheet, and bake until dry and slightly crispy around the edges, about 30 minutes.
Quick-Pickled Beets & Onions
In a jar combine vinegar, fennel seeds, and sugar, and stir.

Then drop in the onions and beets. Carefully press the vegetables to the bottom of the jar and make sure the vinegar covers them completely. Allow that to sit and marinate for about one hour before serving.
Mango Tomatillo Salsa (Spicy!)
I am obsessed with this spicy tomatillo salsa. It's so perfect for summer! If you aren't a fan of spicy, remove the jalapeño seeds before blending the salsa. If you can't get a mango, try this recipe with fresh peach, strawberries, or pineapple. Make sure to finish this vegan hot dog with ripe avocado.
Ingredients
6 to

matillos

husks removed

1

jalapeño pepper

1/2

ripe mango

diced

¼

cup

red onion

minced

¼

cup

cilantro

chopped

1/4

teaspoon

salt

1

tablespoon

fresh lime juice
Instructions
Turn on the oven broiler.

Place the tomatillos and jalapeño pepper in a baking dish (about 8x8 inches).

Broil the tomatillos and pepper until they begin to char and soften, about 15 minutes.

Place the charred tomatillos, jalapeño, mango, red onion, cilantro, salt, and lime into a blender and pulse a few times to combine. Be careful not to over blend. The salsa should be slightly chunky
Blackberry Barbecue Sauce & Rainbow Carrot Slaw
This was my favorite combination, especially topped with crumbled plantain chips. Make your own bbq sauce or use a vegan store-bought one.
Ingredients
Blackberry Barbecue Sauce

1

cup

fresh blackberries

1

teaspoon

grapeseed oil

1 1/2

cup

barbecue sauce

homemade or store-bought

Rainbow Carrot Slaw

3

tablespoons

apple cider vinegar

3

tablespoons

vegan mayo

1/2

teaspoon

sugar

2

tablespoons

dijon mustard

1

large carrot

shredded

1/4

red cabbage

shredded
Instructions
Blackberry Barbecue Sauce

Preheat oven to 350°.

Toss the blackberries with oil, and spread them onto a baking sheet.

Roast for 15 minutes, until softened and lighter in color.

Place the blackberries and barbecue sauce in a blender, and blend until creamy.

Rainbow Carrot Slaw

In a mixing bowl combine apple cider vinegar, vegan mayo, sugar, and mustard. Stir well to combine. Then add in the shredded veggies and toss. Serve immediately or allow it to marinate in the fridge before serving.
Save
Save