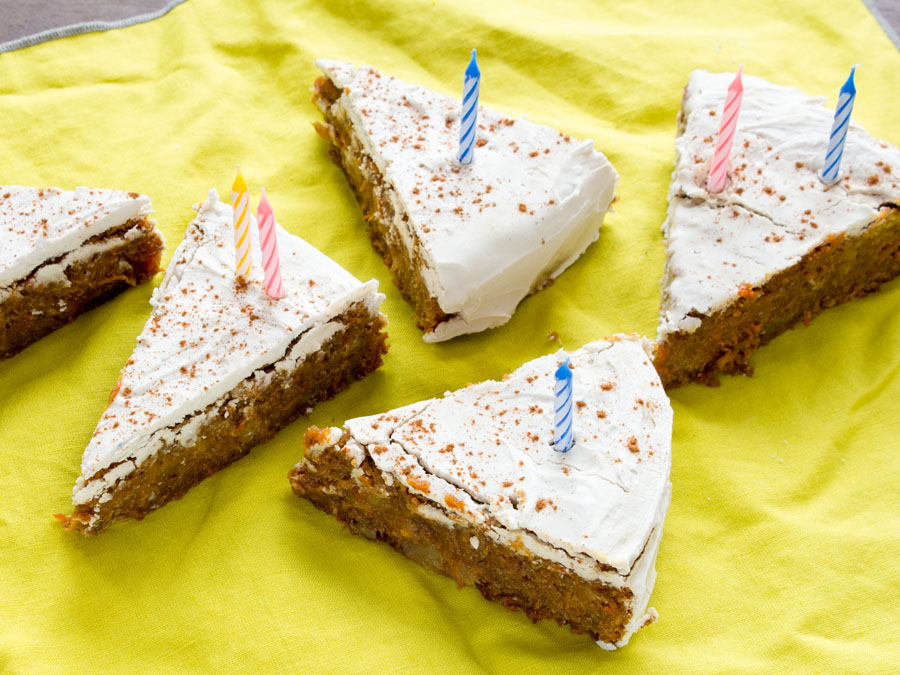 Just 3 days ago I embarked on an exciting journey. My first stop is Los Angeles, California where I'm writing from this morning. The sun is shining, the freezing winds of NYC are a thousand miles away, I'm with my friends, and I'm celebrating two birthdays; my own, and that of this blog. Sweet Potato Soul turns 5! Five years of recipes, writing, and your support. It's already been a blessed journey, and it's really only the beginning. Celebrate with me with some sweet potato cake!
I've got big plans for Sweet Potato Soul's 6th year. I'm working on my first published book, which will be a very soulful kitchen companion. I'm also on schedule to release a new video on my Youtube channel every Monday, plus some added fun bonus content mid-week. I feel as creative and inspired as ever, so expect plenty of new recipes. Also, for the next 6-7 weeks I will be traveling to 7 cities, and bringing you along for the journey. Make sure you're subscribed to my Youtube channel. First stop LA, followed by Tokyo, Japan! After that I'll be in New Orleans again, Atlanta, and the Caribbean (not sure where yet.)
This birthday has been everything I could have asked for and more. The icing on the cake? You! I am so honored and grateful for your love, support, and trust. Without someone to make my recipes, the read my words, and to watch my show this wouldn't be as fun. So while I am celebrating my own birthday, I also celebrate you and send my sincerest thanks and love. This sweet potato cake is for you!
Here's to many more years of Sweet Potato Soul!
Sweet Potato Birthday Cake!!!
Recipe with a few alternations (ex. using sweet potato instead of carrots) from Hell Yeah It's Vegan's Carrot Cake recipe. I made one cake, while her recipe suggests using 2 pans to bake 2 layers. If you bake just one cake allow 40 minutes to cook. I like the use coconut milk to make a light, yet satisfying, icing. Make sure to buy full fat coconut milk. Before using place the milk in the refrigerator to allow the cream and the liquid to separate. You'll only be using the coconut cream as the icing on the cake 🙂
Ingredients
CAKE
2⅓

c

all-purpose flour

1

tsp

baking powder

1½

tsp

baking soda

2

tsp

cinnamon

1

tsp

nutmeg

½

tsp

salt

6

tbsp

flax seed meal

¾

c

warm water

1½

c

sugar

I use a blend of cane and coconut sugars

1/2

cup

crushed pineapple

2

tsp

ginger

grated or minced

1

c

canola oil

1

tsp

vanilla

2

c

shredded sweet potato

1

c

pecans and/or walntus

chopped
ICING
2 14-

oz

cans of coconut milk

1

tsp

vanilla extract

4

tsp

maple syrup
Instructions
CAKE
Preheat oven to 350º.

Line two 8×8″ pans with parchment paper.

In a small bowl, sift together dry ingredients (flour through salt).

In a large bowl, whisk together flax seed meal and water. Beat in sugar and oil.

Add vanilla and sweet potato and mix until combined.

Add dry mix and stir until moistened.

Fold in pecans.

Pour equal parts into pans.

Bake for 18-20 min, or until a toothpick comes out clean.

Let cool in pans 10 minutes.

Use a knife to loosen edges of cake from pans.

Using parchment paper, lift cakes out of pans. Let cool fully on wire racks.
ICING
Open the can of coconut milk and scoop out the thick cream layer, leaving the liquid in the can. Place the coconut cream into a bowl.

Add the vanilla and maple syrup, and whisk until creamy and airy. If you have a hand mixer use that!

Once the cake has cooled completely ice and serve.

Store cake in the fridge to keep the icing nice and firm.