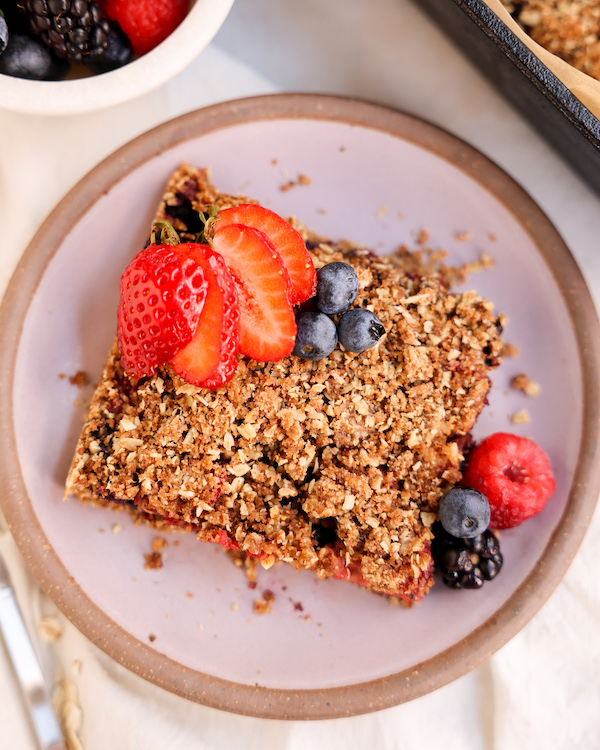 I believe in perfect recipes, and I believe this Brilliant Berry Vegan Crumble is one of them. The crust holds firm, so you can eat these by hand as bars. Or serve it topped with vegan ice cream for an even sweeter treat.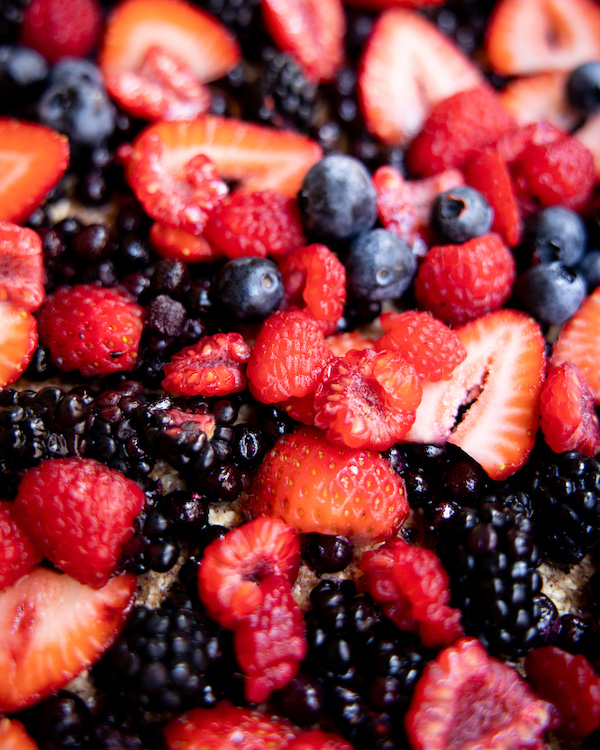 For years I made this Brilliant Berry Crumble in my cooking classes when I lived in New York. It was always a hit for the obvious reasons: it's absolutely delicious, easy to make, and on the healthier side. But people also love it because you can swap out the fruit for whatever is in season. Berries, cherries, and peaches are perfect for spring and summer, while persimmon, pear, and apple are divine in the cooler months.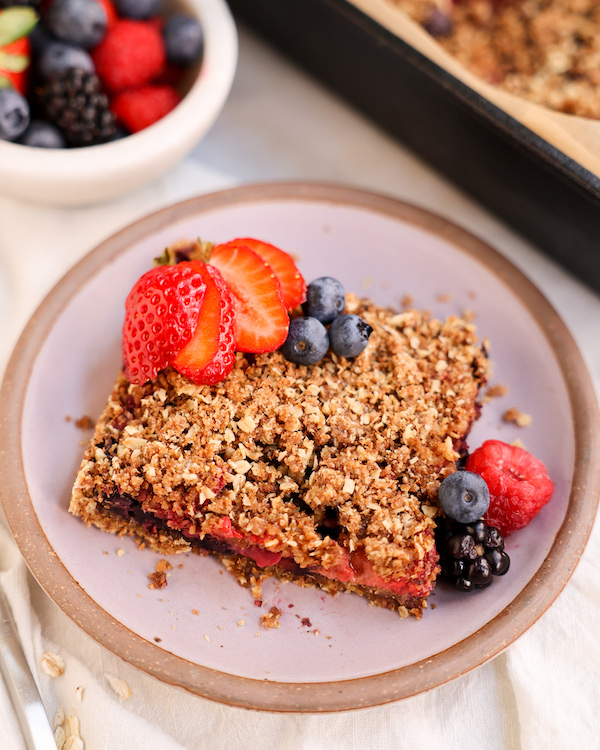 Fresh or frozen berries?
Frozen berries can be used to make this vegan treat all year. I usually use a mix of both fresh and frozen.
Did you know that frozen berries and other fruits are often more nutrient dense than fresh fruit? This is because they are picked at their peak of freshness before being flash frozen. Frozen fruit is also more affordable, stays "fresher" longer, and can be purchased even when that fruit is out of season. For this reason I am a big fan of frozen fruit––and vegetables. Frozen berries work just as well as fresh in this recipe. You don't have to thaw them before baking, but you might want to give it a couple more minutes in the oven. 
Is a vegan crumble breakfast or dessert?
Or is it a 5 star sweet snack? I don't know. How about all of the above! With ice cream it is certainly a dessert. Or you can top it with nice cream, and call it breakfast, or brunch. When I bake this vegan crumble it's all I want to eat for my snack until the last crumb is gone. 
Coconut sugar is my favorite sweetener for this vegan crumble because it gives it that characteristic flavor––not overly coconut-y, but just a hint of coconut and nice almost floral notes. Maple syrup is also delicious for the same reason.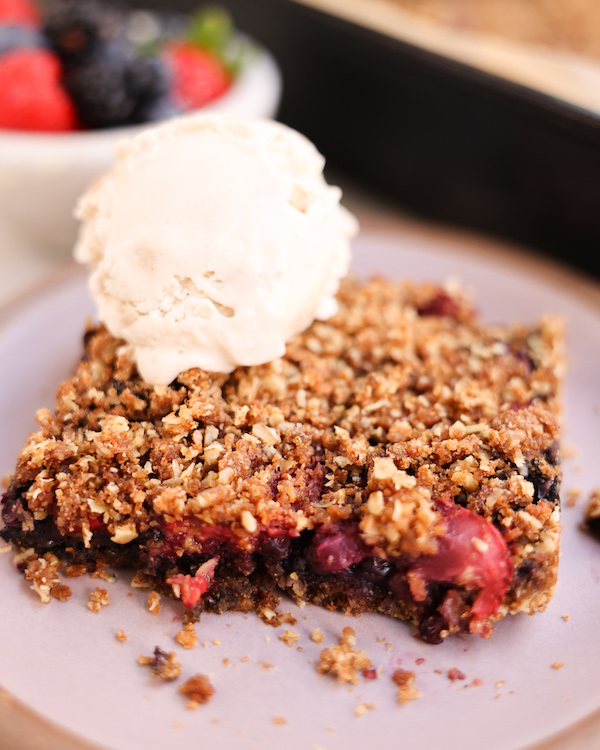 Coconut oil or Vegan Butter
It's up to you whether you use coconut oil or vegan butter as the fat. Both work well to hold the crust and crumble together. Obviously coconut oil has a strong flavor, and I love that. But if you're not a fan, use your favorite vegan butter. 
5 Tips for making this Brilliant Berry Vegan Crumble
Don't skimp on the fat. It seems like a lot of oil or butter, but it really does keep the crust and crumble moist, and gives it body and a flaky texture. 

If you don't have coconut sugar, you can use cane sugar. I haven't tried a zero calorie sweetener like monkfruit, but I think it would work in this vegan crumble. 

Old fashioned rolled oats are ideal, but instant oats will work too. Depending on the type of oat you use, the texture is different. Rolled oats make a heartier, more rustic crust and crumble, and I prefer that.

Use dampened hands to pack the crust firmly. The more firm the crust is packed before baking, the better it will hold together when you cut it into bars. 

Store the uneaten crumble in the fridge, and warm in a toaster oven for 5-10 minutes before eating. Or, you can eat it cold 🙂
Brilliant Berry Vegan Crumble
Ingredients
3

cups

rolled oats

1 3/4

cups

whole wheat pastry flour

1 1/2

cups

coconut sugar

2

tsp

cinnamon

1

tsp

sea salt

1/2

tsp

baking soda

1

cup

coconut oil or vegan butter

2

lbs

fresh or frozen berries, mixed or one type

1

tbsp

fresh lemon juice
Instructions
Preheat oven to 375° and line a 9x9" baking dish with parchment paper. 

Add the dry ingredients and oil or vegan butter to a food processor and pulse until combined. Take a palm full of the dough and squeeze it to see if it sticks together. If it doesn't, pulse longer.

Pour most of the flour blend onto the bottom of the baking sheet, reserving about 1 cup for the topping, and press evenly with damp hands.

Cover the crust evenly with the fruit. Sprinkle a bit more coconut sugar over the fruit, and drizzle the lemon juice over it.

Spread the remaining crumble on top, and bake for 30 minutes.

Let it cool for at least 10 minutes before serving.