This post is sponsored by Calphalon to help celebrate the launch of their new expertly designed Appliances line. For this slow cooker stuffing I used their brilliant and very sleek Digital Sauté Slow Cooker, which allows you to sauté, sear, brown, and slow cook all in one pot!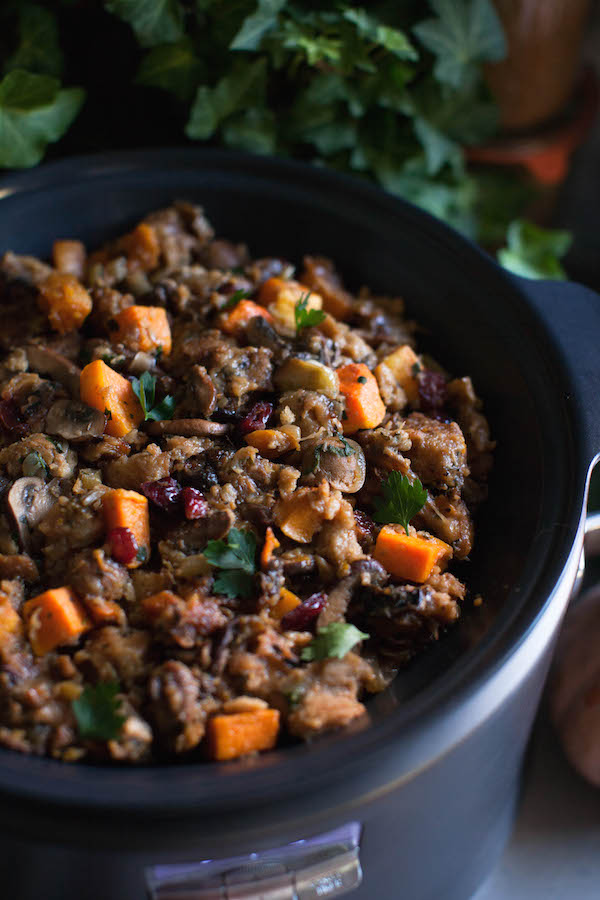 This year will mark our second 100% vegan Thanksgiving!! It'll be a small celebration, but there will be a lot of food. And yes, I'm doing all of the cooking. The holidays are such a nostalgic and special time for me, that even if I'm not back home with family, I've got to make it feel like I am. I want all of the flavors of my youth––all the delicious soul food made by my Nana––only without animal products. We *must* eat smoky collard greens, mashed potatoes with gravy, sweet potato pie, candied yams, and stuffing. Definitely stuffing! The holidays simply are not complete without it.
Last year I served the delicious cornbread stuffing from my cookbook (it's on page 132), but this year I'm playing around with something a little different: butternut squash slow cooker stuffing. Just like the stuffing my Nana would make inside of a turkey, this one is slow cooked for maximum flavor enhancement. It's moist, but not soggy, and so satisfying.
For this recipe I used the beautiful Calphalon Digital Sauté Slow Cooker for every step except the roasting. The Slow Cooker's cooking pot can be used on gas, electric, and induction stoves so absolutely no need to get the cooking started in another pan. It definitely helps cut down on clean up time. Roasted vegetables are one of my favorite things in life so I made this slow cooker stuffing with a blend of roasted butternut squash and apples. Roasting the vegetables beforehand adds an extra 45 minutes to the process, so if you'd rather just set it and forget it then you can skip that––I've noted the modification in the recipe below. The combination of butternut squash, fresh herbs, vegan sausage, and mushrooms is perfect. And the addition of tangy apple and cranberries makes the whole dish sublime!
Have you ever used porcini mushroom powder? It's exactly what it sounds like (dried mushroom powder), and it adds pure umami richness to whatever you use it in. It's not a necessity for this slow cooker stuffing, but it adds so much depth and goodness. I especially like to use it when cooking for meat eaters who expect that umami flavor—porcini powder can really come in handy if you're cooking for non-vegans this holiday. Regardless, it's delicious and you should always have it on hand!!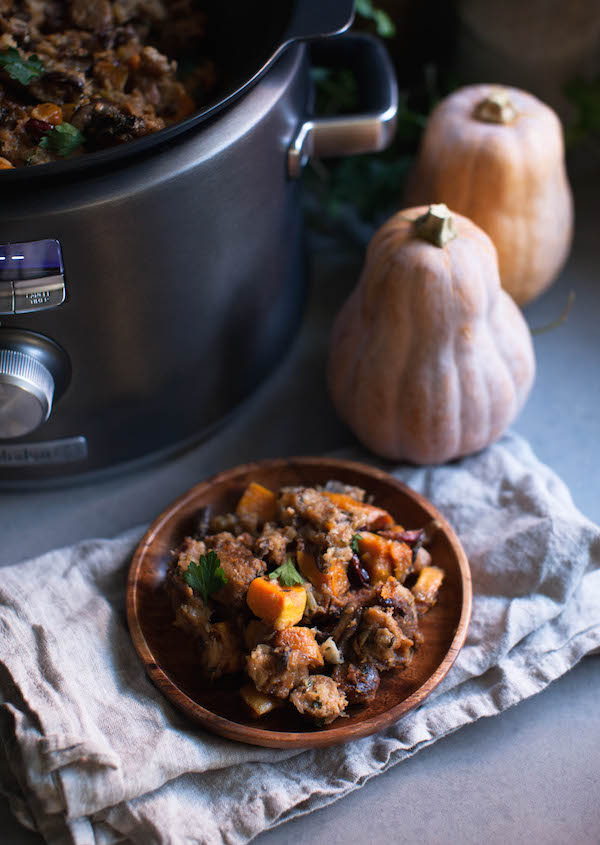 I'm looking forward to using the Calphalon Digital Sauté Slow Cooker more often. I'm especially planning to use it to make myself a bunch of stews, soups, dals, and chilis to freeze and store for when I have my baby. I just hope I have enough room in the freezer. Send me some recipes!! I'll post my favorite one in a future blog post 🙂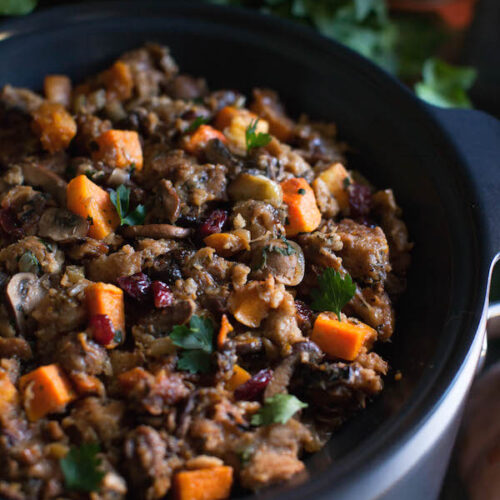 Butternut Squash Slow Cooker Stuffing
Instructions for preparing this slow cooker stuffing in the oven are also below, in case you don't have a slow cooker yet 🙂
Ingredients
1

small butternut squash

peeled & cubed (about 4-5 cups)

1

granny smith apple

cored & cubed

2

tablespoon

+ 3 tablespoons grapeseed oil

1

cup

yellow onion

diced (about ½ onion)

1

cup

celery diced

about 2 stalks

3

cloves

of garlic

minced

10

oz

baby bella mushrooms

sliced (about 2 cups)

2

vegan sausages

diced (about 1 cup)

2

teaspoon

porcini mushroom powder

optional, but a great addition

1

teaspoon

dried thyme

¼

cup

fresh parsley

minced

3

fresh sage leaves

minced

1/2

teaspoon

sea salt

add more if you're using a salt-free vegetable stock

¼

cup

dried cranberries

6

cups

sourdough croutons

2

cups

vegetable stock + more if necessary
Instructions
Toss the cubed butternut squash and apple with 2 tbsp of oil, and spread evenly onto the baking sheet. Bake for 45-55 minutes, or until squash is tender.

Add the remaining oil, and once warm add the onion, celery, and garlic. Sauté on medium heat.

Once the onions are translucent add the mushrooms and sausage. Cook for about 7 minutes, or until the mushrooms are soft.

Add the porcini powder, thyme, parsley, sage, salt, and cranberries. Stir well.

Remove from the heat.

Add the croutons, butternut squash, apple, and vegetable stock, and stir well to combine.

Place the cooking pot into the slow cooker, and cook on low for 30 minutes.

Cook on high for another 2 hours.

Allow the stuffing to cool and firm a bit before serving.
If you don't have a slow cooker: Keep the oven on after removing the butternut squash.
Once you've added the croutons, add 2 1/2 cups of vegetable stock. Stir well, and transfer to a baking dish. Cover tightly with aluminum foil, and bake for 45 minutes at 375°.
Check out my other Thanksgiving recipes here on the blog (links below), and be sure to order my cookbook for even more!